Reports 2019 Season
Page Contents:
Click to Jump to Spring Bank Match report
Click to Jump to Carr Cup report
Click to Jump to AMFC reports
Click to Jump to Snowbee Floating Line Match report
Click to Jump to Tuesday Evening Fishing reports
Click to Jump to The Pilgrimage report
Click to Jump to Anglian Water Airflo International 
Click to Jump to Anglian Water 4 Man Team Match 
Click to Jump to Fur and Feather report

Tuesday Evening Club Social Fishing at Grafham
Week 14 (Final)
What an incredibly successful series this has been; 30 anglers on the final evening and a total of 52 anglers having fished the league.
Barring a massive upset it was foreseeable that Rob Edmunds was going to win the overall Anglian Water Evening League and that Keith Gilchrist would win the Invicta Shield for top Invicta rod. Only a blank by Keith and a bag-up from Sam Edmunds could have changed the Invicta result but in the event Sam had to settle for two fish and it was Keith that got his 8 fish using a washing line set-up with most fish coming from the G marker area. The overall winner was never in doubt with Rob having secured an unchallengeable lead by week 12; a class angler beyond doubt.
One of the most notable scores on what was a tough evening for many with 11 blanks was second spot for junior member Albert Edmunds who 'roly-poly 'all evening was rewarded with 5 fish. This secured him a top 10 placing in the final table. Definitely taking after his dad!
Following fishing there was the usual refreshments at the Wheatsheaf followed by the presentations. In addition to the winners, Alan Murren was presented with a box of flies kindly donated by Rob Edmunds for his dedication to fishing the league having not missed a single evening.
Rod average: 2.1
The boat ticket was won by Albert Edmunds
***
Week 13
After the excessive heat of the previous couple of weeks, the conditions seemed much better with a slightly cooler evening and a moderate south westerly wind.
19 anglers turned out for this, the penultimate evening, with most heading for the south end of the dam. It was soon apparent that it was going to be a tough evening with very few anglers managing to get any interest. A few boats headed back towards Valley Creek and open water in front of the lodge but these areas proved to be just as difficult.
However, by around 7pm Neil Walsh extended his drift and found a pod in feeding mood near the tower and was quickly into fish. He took 6 fish on a fast glass with two Nemo Crunches between boobies and during the process broke his rod. Rob Edmunds caught 2 fish, but other than that, they were the only anglers to catch more that 1 fish and with seven blanks there were only 18 fish caught in total.
With one week to go, Rob Edmunds remains at the top of the table with Keith Gilchrist in second spot and top Invicta rod.
Rod Average 0.9
Boat ticket winner: Wayne Allan.
***
Week 12
With the strong winds during the day and the forecast predicting more wind, rain and possibly thunder storms it was understandable that turn out tonight would be low. Last week during the heatwave we were fishing in vest tops, shorts and flip flops, tonight the 13 anglers fishing arrived in heavy duty Vass waterproofs expecting the worse. However, apart from a couple of showers and thankfully no thunder storms, conditions were fairly good.

From the off most boats headed along the lodge bank and fished floating lines in the calm water. Peter Brewer, after receiving a 'tip off' from a day boat angler, headed over to the south dam. He found plenty of action on a floating line with a booby and nemo crunchers taking the fish.

Sam Edmunds and her boat partner Peter Hartley found the fish willing to chase their flies as they drifted across the mouth of Savages Creek. Pulling blobs and boobies on floating and fast glass lines they enjoyed some great sport. Sam ended the night in joint top position with Peter Brewer on 7 fish each. Peter Hartley was 2nd with 5 fish.

Else where it was fairly quiet, with the lodge bank not producing the other boats tried various areas managing to pick up the odd fish; 30 were caught in total. Then it was off to the Wheatsheaf for a well earned supper of sandwiches and chips.

Rod average: 2.3
Boat ticket winner: Edze Dijksterhuis
***
Week 11
19 anglers braved what was the an exceptionally hot evening with temperatures remaining at around 25 deg at 9:30pm.
The dam tower area and north shore is where most boats headed for and a few early fish were taken from deeper water. The boils failed to produce significant numbers with fish seeming to be at least 50 to 100 yards away from the bubbles. Paul Heavens had a double hook up with the point fish foul hooked in the tail. Sadly the dropper fish snapped off leaving quite a battle to get in the 4lb tail hooked fish.
As the evening progressed the fish came up a bit and a few boats including current second placed Keith Gilchrist headed towards the west end of the water and into Sanctuary bay, Keith finished the evening in joint top spot along with Rob Edmunds and Neil Walsh all with 4 fish.
Paul Heavens and first timer John Swain had 3 fish each but overall it was a difficult evening with six blanks and a total of 29 fish and the lowest rod average of the series so far.
Rod average 1.5
The free boat ticket was won by Albert Edmunds.
***
Week 10
Given that it was a very hot day with barely a breeze it was great to see 26 anglers turn up to support the Tuesday night league, in the hope of catching a few fish and a bit of banter in the pub afterwards.
With boats spread out from the dam to pig bay there was a good chance that fish would be found. After last week it was inevitable that a few boats would try the ' boils ' but those that did didn't stay too long as it was clear the fish were elsewhere.
The usual spots of G bouy, DWP, pylon point and hedge end proved popular. With midge tips and floaters the go to lines fished along with an attracter and nymphs as flies.
Malcolm Reece claimed 3rd place with 4 fish taken on a muskins pattern.
Keith Gilchrist was joint 2nd with 6 fish. He shared this position with Alan Briggs , who fished alongside his sister Caroline, who also managed to catch a hard fighting Grafham rainbow.
Rob Edmunds, fishing areas on the North shore, took top position with 9 fish, using a small booby and his Nemo crunchers to good effect.
Dave Segust rounded of a good evening by winning the free boat draw for the 3rd time.
Rod average: 2.1
***
Week 9
25 anglers fished this week on what was a warm humid evening. Fishing reports from those who had been out during the day were not promising and it looked like being a tough evening, and so it proved to be for most, with 9 blanks and a further 5 anglers taking just a single fish.
However, for those that decided to head for the 'boils' it was a different story with fish really going for it, especially in the early stages of the evening. Rob Edmunds and Dayood Sheik shared a boat and a catch of 28 fish. Rob caught 15 on the boils before taking a further 5 from near G marker and Dayood caught his 8 fish limit.
Rob is now well ahead in the league table with second placed Keith Gilchrist being the leading contender for the Invicta Shield for the top member, although there are several anglers all within a few points of him.
Rob Average: 2.4
The free boat ticket was won by David Moore.
***
Week 8
19 anglers went out with not too much optimism as tough going was reported from those fishing during the day. Fishing turned out to be patchy, with small pods of fish dotted about and were not easy to find. Best areas were G Buoy, Dam and Hedge End. Fish were taken on a variety of methods with lures taking their fair share.
Sam Edmunds was top rod with 8, fishing the same area near the dam where she had found fish the previous day. Malcolm Reece and David Moore got 4. Albert Edmunds got 4 and a duck, all conventionally released.
Fish caught 34.
The usual retreat to the Wheatsheaf.
Rod average. 1.78
Sam rounded off a good evening by winning the free boat.
***
Week 7
It was a gloomy evening with a northerly breeze. Most opted to go to the north shore, apparently there were some water clarity problems on the south shore in places.Those who started west of G buoy did not find much action and soon moved to join most of the other boats who were within 100 metres of the shore, between G buoy and the Willows.
Rods started bending to a variety of methods, ranging from snakes to buzzers and nymphs, also to dries later in the evening when the wind had dropped a bit. Not many fish showing but they came up to chase FABS and boobies pulled across the top, although there were many more pulls than hook ups. A total of 107 fish were landed.
Rob Edmunds was once again top rod with 15. Peter Waterhouse got 10, with Alan Briggs and Dayood Sheik on 9.
This leaves Rob at the top of the table with Keith Gilchrist close behind in second spot.
14 anglers retired to the Wheatsheaf.
Rod Average: 5.3
The boat ticket was won by Keith Gilchrist
***
 Week 6
A very damp evening; it rained very heavily for the first two hours and for the last two hours it just rained. Conditions were very flat, with hardly a breath of wind, most opted to fish along the south shore. Those who ventured to the north shore found very little action.
Nymphs and lures both produced some action. Rob Edmunds once again was top rod with his 3 weight with 6 fish. David Moore was not far behind with 5.
Our two ladies Sam and Sue did well with 4 and 3 respectively. Rod average was 2.52 with no blanks. Not a bad result as conditions looked very average when we went out and took a total of 48 fish.
We retired somewhat soggily to the Wheatsheaf to the usual copious supply of sandwiches and chips.
Rod Average: 2.5
Roger Swain won the boat ticket.
***
Week 5
Cancelled due to adverse weather.
***
Week 4
It would be difficult to pinpoint which were the successful methods with the top 3 anglers Ray Storer, Keith Gilchrist and Gary How, each with 5 fish taking on a range of methods from pulling boobies across the top, lures on everything from slow glass to di 3 and crunchers on a floater and midge tip. The most productive area continues to be the Pylon point –Church Bay area.
On what was a rather damp evening with rain during the day we still had a good turn out of 23 anglers and 41 fish were caught.
Keith now moves up into joint second spot alongside Graham Bodsworth, Rob Edmunds still leads the field.
Rod Average 1.8
The free boat ticket was won by Dave Segust
***
Week 3
Another good turn out with 23 anglers fishing. The evening started fairly bright but the sky darkened as the evening progressed and we had a short shower.
Church bay and pylon point area had a considerable number of fish rising and bow waving. Rob Edmunds tried straight-lining nymphs and also dries but soon moved to pulling a snake on an intermediate. Long casting (and he can certainly do that) with a roly-poly retrieve saw him catch fish quickly, once he had his eight he moved back to small crunchers (14's) and took another couple of good quality fish. His limit for the second successive week takes him to the top of the leader-board.
Johnny Bromilow also caught his eight fish limit fishing much closer into the bay on muskins with a floating daddy on the point. This moved Johnny up to joint 3rd  alongside  Wayne Allan and just behind Graham Bodsworth in 2nd spot.
Still early days and lots of evenings to come.
The boat ticket was won by David Moore
***
Week 2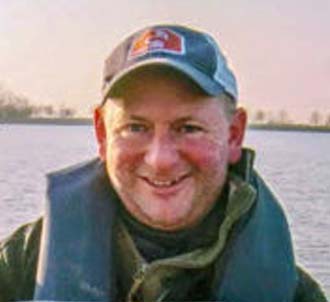 Another warm evening and bearing in mind that several regulars were occupied at a match at Stocks Reservoir we had a good turn out of 22 anglers.
There was a slight breeze and boats headed for the north shore with a few preferring the valley creek area. Top rod on the evening was Rob Edmunds who bagged up pulling. Graham Bodsworth ensured that he maintained his position at the top of the leader-board by taking 7 fish on buzzers.
The evening finished with the usual banter and refreshments at the Wheatsheaf.
Rod Average 2.1
The free boat ticket was won by David Segust
***
Week 1
A warm sunny day with a change of wind to the east was not exactly what one would hope for and anglers who had been out all day were reporting that fish were scarce with lots of blanks. The evening is often more productive on these days and we remained hopeful.
Wayne Allan and his boat partner Sue Potts headed for Gaynes unlike every other boat which headed for the north shore. Their choice paid off with Wayne taking 6 fish on a floating line and buzzers to finish top rod. 31 anglers turned up catching a total of 53 fish , an excellent start to our Tuesday evenings.
Rod Average 1.6
The free boat ticket was won by Jonny Bromilow
"Back to Top of Page"
Spring Bank trip (Norman Shippey Memorial) – Elinor 23rd March 2019
This was the first outing of the new season and we were fishing off the bank for the Norman Shippey Memorial Trophy.
Although the lake had been fishing exceptionally well, the wind had moved through 180 degrees and it was chilly. Shallow likes don't like this and instead of the '20 fish in the first hour' we were lucky to get a pull. The fish were podded up as one would expect and although these pods were all over the lake they were often just out of reach. Some of the boats seemed to be doing very well while, for most, it continued to be a struggle on the bank.
We started at 9am and had a compulsory break for lunch. The idea was that those who had caught the smallest number of fish could return to the bank first and those with the most would go last. A great idea – under normal conditions – but with so many blanks and ones, it seemed that most were restarting at the same time. However, new member Steven Brennan had somehow managed to catch 8! a great performance although he was quietly modest and said he had been fortunate to stumble on some stockies in a bay with the wind blowing on to it. There were some twos and threes, even a four, but generally it was disappointing.
The afternoon was no easier and we stopped at 4pm. Steven caught a couple more and won the day with 10. Paul Heavens, Mark Searle and, with a late burst, Graham Bodsworth all caught 6. Gary How and Tony Smith managed 4 apiece, but there were only four blanks. The total number of fish caught was 53 for a rod average of just over 2.5 which is unusually poor for such a well stocked venue.
The sweep for guessing the total was won by Sue Potts which made up for husband Neil catching more than her.
Always good fun off the bank but the next get together is on the boats at Pitsford on 1 April. This will be the first day when the whole lake is in bounds and it has been fishing its head off; which probably accounts for the fact that we have booked ALL the boats. Happy days.
Norman Shippey match results 2019
Chris McLeod
"Back to Top of Page"
Carr Cup 2019
–
Carr Cup Points after Round 7 Grafham 2019 (Final)
–
Round 7 Grafham, Tuesday 1st October 2019
On the last Carr Cup boat trip of the year we saw two sides of Grafham. The day began with a soft ripple, mainly overcast sky and a generally very fishy look to the water. We ended with a raging wind and general deluge which saw most of us get off the water early.
We all knew that the fish were not very deep and that a huge number were in the central drifts towards the dam end of the reservoir; so generally floating lines and midge tips were the favourite, although the odd glass line and even a Di5 sweep were seen. But the tactic was to keep those flies well up in the water, and not pull too hard. Just a simple figure of eight or gentle strokes, or even static, was what was required.
Although the first hour or so was quiet for most, the water then switched on massively with some serious fishmongering going on. David Moore managed 6 in just over and hour, and others were really getting into the action. It was great sport with plenty of fish to aim at and lots of contact without always getting to the net. Some were struggling though, and none less that the Carr Cup leader Mark Searle who just couldn't make them stick, while his partner Wayne Allen raced ahead to finish top rod on the day with an outstanding 17 fish. Flies were not too important but, as is so often the case, presentation was. Lots of foam bodied daddies were tied on as well as boobies, doing the job of keeping everything up, some fry patterns (including Silver Invicta) and cormorants.
The weather held for most of the day with the odd thunderstorm passing well to the south, but gradually the skies darkened, the wind strengthened and went through 180 degrees, until around 5pm most boats decided that they'd had enough for the day and, after a bumpy ride, made it back to the Lodge.
The final Carr Cup placings were decided and it was Mark Searle's to lose. After six outings, he was 2 fish ahead of Chris McLeod who was the only person who could beat him. The ultra consistent Mark, for some strange reason, just had an off day which allowed Chris to just pip him at the post. So Chris McLeod is the 2019 Carr Cup Winner. It can be a very strange game this fishing.
Thanks must go to Mark for organising this and all our matches this year. No easy task but one that he does very efficiently with no fuss, and allows us just to turn up and go fishing, long may he continue.
So that's it for Carr Cup boat matches this year, but there are plenty of bank matches to go, so do book in for those. The Invicta Fur and Feather at Elinor is on 2nd November, and we also organise the Shrimpmaster series of matches as well as the Hinckley Shield and the Locals v Army match.  All details on the website.
---
Round 6 Draycote, (Carl Hunter Bowl) Saturday 28th September 2019
Having postponed this match by the best part of two months we were looking forward to some classic top-of-the-water sport on this well stocked reservoir.
Well, the fishing was certainly in the top couple of feet but it was hardly classic dry fly conditions. Out of the harbour and straight into the teeth of a gusty westerly which dampened the spirits a little, as well as a few unprotected body parts.
Most boats headed west to Rainbow corner, B buoy and all along the main dam, where there was some shelter from the wind, although 75 yards out the water became uncomfortably choppy, and made casting and controlling the flies tricky to say the least. Floaters and midge tips with delicate nymphs were abandoned by many in favour of heavier lines and lures. The morning session from 9.30 to 1.30 produced a good few fish with Keith Gilchrist and Mark Searle ahead of most on 4 fish each. There were a few threes and twos but also a number of blanks.
A chatty get together outside the Lodge gave everyone a chance to work out where they had been going wrong, and swap tales from the morning, and most went out confident in the afternoon. The end time of 6.30 was designed to catch the predicted easing of the wind later, and that's what happened with much better conditions in the afternoon. As often happens, those who caught well in the morning carried on catching while the strugglers continued to struggle. It was apparent later that many had simply spent too long with their flies below the fish, or went to the less productive areas. The majority of the action came from fish right up in the water, and, although they were sluggish and not that willing to chase, they would grab a fly plopped in front of them. So you had to be right in the surface layers, be patient and wait to stumble on the pods which could be almost anywhere. When you found them action could be hectic as Paul Heavens, who'd had a good morning, found by hitting a purple patch and finishing very quickly after lunch.
At the weigh-in there were four members (Chris, Mark, Paul and Keith) on the full bag of 8 fish (50 Carr Cup points), although Mark and Chris McLeod managed 10 apiece, then our Ladies National Champion Sam Edmunds with four, followed by a sprinkling of threes, twos and ones, with 6 six blanks. One of those, very surprisingly, was Gary How who had shown his dedication to the club by landing back from holiday in Portugal in the small hours and only having three hours sleep.
We weighed in 4 fish with a further 4 catch and release for the Carl Hunter Bowl which was won by Chris with 18lbs 7oz. Paul Heavens came second and Keith was third.
Thanks as always to organiser Mark Searle. The next day trip to Grafham is the last boat match of the year. If Mark maintains his form of the previous six matches he will win the coveted Carr Cup club championship. But if he slips up…
---
Round 5 Pitsford, Sunday 8th September 2019
This should have been our annual outing to Ravensthorpe, but the lake was very low and coloured so the committee decided to move the event to Pitsford which had been fishing very well.
23 members and a couple of guests gathered on a chilly and very bright morning, with almost no wind. Pitsford does not like cool and sunny, so things were not looking good. Initially no fish were showing and the lake looked flat and lifeless; but these reservoirs have a habit of picking up during the day, after a cold night, as the sun warms the water. Things looked especially quiet by the dam which is where almost all of the boats started. A couple of fish came to the rods of Albert Edmunds and Steve Harding, and Mark Searle managed to 'accidentally' take one in the Sailing Club corner, but very little happened apart from this and by late morning the boats were moving away.
Looking for ripple, members gradually found themselves at the Narrows end of the Main Bowl, around T buoy. Fish were showing here and responded to nymphs, and lures ripped past the rising fish. Eventually the whole fleet was in this area with rods bending at regular intervals. It was easy to fish below the taking trout, which appeared every time a decent cloud came over, and floaters and midge tips did the damage. There was some fly about as well and that encouraged the fish to feed, but it was the initial period of cloud that produced most rises which slowly disappeared while it remained cloudy. The sun would then come out again, the fish would stop rising until the next cloud. And so the cycle continued – perhaps that's something to do with fly hatching activity?
Although it appeared that most were catching, lots of fish failed to make it all the way to the net, and there were some blanks with only two limits. Keith Gilchrist won the day with eleven fish taken on straight lined nymphs. The only other limit was taken by Chris McLeod who moves into second spot in the table just 10 points behind leader Mark Searle. Both our recently successful lady anglers caught well and they were warmly congratulated on their recent success in the Ladies National Final where Sam Edmunds regained her National Champion title and Sue Potts came third.
Thanks to Mark Searle who remains at the top of the table despite the stresses of getting us all to the water and organising the whole thing.
The next day trip is the postponed trip to Draycote on 28th September which is always a fun, fish filled event.
---
Round 4 Grafham (President's Trophy), Sunday 30th June 2019
We started the day with eighteen of us having a full English breakfast in the lodge where the draw for the day took place.
We started the match at 10am with a stiff south west breeze and good overcast conditions. Ten boats all heading for the dam area, Some starting on floating lines with nymphs while others pulled Di 3 with two blobs and one or two nymphs between them. Very quickly some boats were into fish and many were lost after a short fight, I had one fish in the boat and lost two.
The weather stayed much same all day. Mark Searle stayed on the floating line washing line and had a steady catch rate most of the day as did his boat partner Jeff Hickson once he changed to a straight floater; the pulling tactics that were very effective early on stopped working.
Gary How was stuck on seven fish for quite a while then changed to a floating line and ended up with eleven fish as did Mark. Andy Newman who had to fish on his own took ten fish and Samantha Edmunds netted nine fish, there were two bags of seven Albert Edmunds and Jeff Hickson.
The best fish of the day was taken by Steve Harding 3lb 3oz Rainbow he also had the best four fish bag of 10lb 14oz sadly he only had five fish. There were four limits in total and we caught a total of eighty one fish.
The winner of the President trophy this year is a new member Samantha Edmunds who total bag weight was 18lb, well-done Samantha, runner up was Andy Newman with 17lb 11oz, third was Mark Searle with 16lb 07oz, fourth Gary How with 15lb 15oz.
The winner of the free boat donated by Anglian Water was Andy Newman he guessed the total catch for the day would be 82 fish, well done Andy only one fish out.
---
Round 3 Eyebrook, Saturday 15th June 2019
After days of torrential rain we were concerned that the lake would have turned to chocolate and all those willing stockies would be sulking in the depths. Happily the water, at least at the dam end was perfect. The weather was forecast to be showery but with light southerly winds the twenty two members approached the water with anticipation of a fish filled day.
And things started explosively for some, with rods bending immediately in all areas anywhere near the dam. A lot of fish were landed in the first hour, but also a lot were lost. Double, treble and even quadruple hook ups were reported which inevitably resulted in lots of leaders, droppers and flies disappearing. Although favoured flies were damsels, hoppers, nymphs and the like, fish seemed to be rampaging about, often at speed, in groups and grabbing almost everything in their path. This went on for an hour or so, but not for everybody. Some boats, especially those who had ventured further afield, didn't find anything. Areas that had been so prolific a short while before were devoid of willing trout. Even in the hot spots it was a case of stumbling on the pods, and these gradually broke up and became more wary.
After 3 hours fishing we came in for lunch in the lodge and exchanged stories. The most consistent experience was that fish were usually caught in bursts, with two or three, and often to the same end of the boat, coming very quickly while the other end things were very quiet.
We returned to the water by 2pm having decided to finish at 6pm. Fortunes varied so that some members who had caught well before lunch struggled in the afternoon, and vice versa. We had already had one cloudburst and as the end of the day approached, another huge black cloud on the horizon heralded another. Sensible anglers – especially those who'd had their 8 fish – made for the jetty. Others left it a bit too long and regretted it as they were given another dousing.
We gathered in the lodge for the results. No fish were killed as it was all catch and release, with the usual ten points for turning up and five points per fish, up to a limit of 8. A few rods easily caught beyond the limit – Keith Gilchrist had 18 and Tony Smith 15. There were 7 limits and no blanks. 140 fish were caught and released at a rod average of just over 6. The sweep for guessing the total number caught was also won by Keith just to round off a good day for him.
Thanks to Mark Searle for organising things as usual – not an easy job, but he managed it and caught his 50 points as well.
The next day trip is 30th June on Grafham. We look forward to a good turnout.
---
Round 2 Rutland, Saturday 11th May 2019
Traditionally our second boat trip of the season, Rutland can be tricky this time of year. It usually gives us a range of results from empty to full bags. But this year there were no blanks and only two limits, Mark Searle and Graham Bodsworth both taking their 8. Graham and Mark now top the table with Steve Middleton hot on their tails just 5 points below.
We had a slightly disappointing twenty members fishing which is about par for this day – maybe some are put off by the size of Rutland. It can be a daunting prospect but there are plenty of fish in there and the trick is to concentrate on certain areas and not try and cover the whole lake.
After the very sociable breakfast at the Lodge, which David Moore had arranged at the very reasonable price of £5, buzzers were the order of the day fished in a variety of ways, and in a variety of locations. There had been a lot of fish at the ends of the arms but it seemed that it wasn't necessary to go that far – especially as these areas had been hammered; and the old Invicta favourite of Hideaway Bay is less popular now the Nature Reserve 50 yard boundary is more keenly policed. So most concentrated on areas nearer the Lodge and found plenty of willing fish.
Organiser Mark Searle now runs a sweep where members can try and guess the total number of fish caught. This is a lot harder than one would think, but Peter Brewer was spot on with 83. Thanks to Mark for not only doing this and catching lots of fish, but organising the whole day – a difficult and thankless task.
Often we go for a pint afterwards although it is happening less. Is that because we're all getting older or are we simply working harder to catch our limits? Anyway, we all went home and probably all nodded off on the sofa.
The next match is Eyebrook on Saturday 15th June, which is stuffed with fish – so no excuses.
---
Round 1  Pitsford, Monday 1st April 2019
Our regular first boat trip of the season, which is always Pitsford, was met with fine but chilly weather and the prospects were good. Plenty of fish had been caught during the settled spell immediately prior to our visit, although they were best tackled from the bank as they were hard on the buzzers in very shallow water.
Turn out was excellent with most of the boats booked by the club for the 40% of our current membership who fished. That's impressive and a credit to Chairman and organiser Mark Searle, as well as all who work on behalf of the club.
The first day of April is the first day without winter restrictions when all the lake is open for fishing, including the small half. This had been stocked with good fish and is often productive at this time of year. Two boats elected to start there with limited success, while all the rest went through the tunnel to try the various hot spots of the previous week or so, which had been Duffers, Bog Bay and the Dam.
The problem was it had been a very cold night with a sharp frost and there was a cool breeze with a clear blue sky. Not ideal conditions on this lake. But once things warmed up the fish started to respond. Most boats eventually resorted to the anchor and focused their buzzers around the edges. Straight line and washing line fished very slowly on floaters, and of course the bung, all worked well, and the fish started to be caught in good numbers all afternoon. Those anglers who elected to drift found fish, particularly along the Causeway, using sinking lines and small minkies.
Mark organised the sweep to guess the total number of fish caught and Dave Summers' punt looked a bit optimistic in the morning, but by the close his estimate of 210 was just one fish out.
We were fishing for the usual Carr Cup points, but also the Graham Williams Trophy. This was introduced last year and sadly Graham did not live to see it fished for after that inaugural match. It was a 4 fish kill, 4 fish catch and release competition for that which was won easily by Alan Briggs who had some nice fish in his first 4, and later returned a 5 pound brownie.
There were fourteen members getting their magic maximum of fifty Carr Cup points for 8 fish (and six of those went on to double figures – Graham Bodsworth topping the list with 22), with just three blanks. Almost certainly for the first time ever we had two ladies fishing who both caught their limits, so great angling Joan Russell and Sue Potts. 211 fish were caught in total for a rod average of over 7; an excellent day.
The next match is Rutland on Saturday 11th  May, where we hope the buzzers will still be active.
"Back to Top of Page"
AMFC  (Association of Major Flyfishing Clubs) 2019

The AMFC (Association of Major Flyfishing Clubs) is a series of 6 club based matches. The first is the Spring Association match and is a 4 man team event involving all the participating clubs. This precedes the four 6 man team matches and Autumn Association match. Invicta like to encourage as many members to get involved as possible, and runs 2 teams. There are 3 groups and we have our A team in Group 1 and the B team in Group 3. 
 It is really helpful to get a good start and although this is a very friendly Association, we all want to do well. 

**************
AMFC Groups 1 and 3, Round 6 Match at Bewl – 5th October 2019
This has not been our year. After a storming 6 matches last year where our worst result was a third in the very last match, when we had already won the Group, this year has been the complete opposite. None of us has performed anywhere near expectations – especially in Group 1, but that's fishing I suppose. Last year we had those little bits of luck that is always needed in any sport, this year it all went the other way.
The last match (the Autumn Association match) was on Bewl. Our two teams went down to practice the day before and did alright, especially considering the dire reports from the water. Although thousands of fish had been stocked into the lake, only a few were coming out, so when we all managed to squeak a few out on practice we were quietly confidant. Match day was perfect with overcast conditions; we knew where the fish were and that they weren't deep, so floating and tip lines were the order of the day.
All the boats were in the main bowl and initially focused on Chingley and into that side of the dam. Very few rods were bending and that was the story of the day. The method was either to rip back big, buoyant flies, or to fish a static washing line. Follows were quite a regular occurrence but takes were not, the skill was in inducing the fish to grab the fly. Some managed to get it right and there were actually 4 bag limits. Following form, the best Invicta could manage was a couple of fives from Chris McLeod and Mark Searle, but all caught something and Johnny Bromilow managed to catch the best fish of the day at 4lb 2oz which was enough to promote us to third in Group 1. We were only 3 fish behind Rutland, but the local team of Tunbridge Wells who we needed to beat played a blinder and were a very solid first.
The locals did well in Group 3 also, but we were unlucky to come fourth, missing out on third by just a few ounces. Solid performances on a tricky water by the team though. All 8 members caught fish while there were blanks in several other teams and it's great to see the enthusiasm shown by members relatively new to competitions. Its a team event and every fish counts but it was good to have three members catching in their first matches for the club, Sam Edmunds, Noel Garner and Johnny Bromilow.
Whilst most of the A team has struggled to hit top form this year it has been encouraging to see several consistent performances in the B team, notably Peter Brewer, Neil Potts and Andy Trafankowski are all developing into reliable rods.
The A team will be fishing in Group 2 next year and the B team stay in Group 3. Our commitment as a club is second to none in the Association, and the fact that we are all prepared to travel and work together as a group is a real credit to us.
Thanks to all who took part and particular thanks to David Moore who has done a fantastic job of organising the whole of Invicta's involvement in the league as well as taking the magnificent 'Biggest Fish Trophy', which was presented yesterday for his 7 pounder at Rutland earlier in the year. Well done David and a huge thank you from all of us.
---
AMFC Groups 1 and 3, Round 5 Match at Draycote Water – 21st September
Both our teams were in action at Draycote Water for Group 1 and Group 3 league matches fished at the same time.  We like Draycote and with 8 of the 12 members having practiced the day before and 5 of us fishing for two days we were confident of the method and drifts although we didn't expect it to be easy.
A strong SE wind and clear sky weren't ideal but the fish had been near the surface and we opted for slow midge tips with buoyant flies on the point and hoppers above as the preferred setup rather than dries.
The fleet divided between those drifting onto the main dam and more sheltered drifts from the east wall towards X buoy, Toft had not fished well the day before and was largely ignored. Most of us struggled in the morning although some had a good start taking fish downwind until the sailing races restricted the drifts and Sean Hanlon (Soldiers A) bagged up near D buoy before 1pm well away from the fleet.
The wind eased in the afternoon and the drift across Biggin down to D buoy got very popular with fish nearer the surface and those who used more buoyant flies and floating lines caught well. Gary How took 6 here to be top rod in the A team while Jeff Hickson motored into Toft where he was the only boat and added 4 to his morning catch to be top rod for the B team using foam daddies and claret hoppers on a floating line. Chris McLeod, Mark Searle and Keith Gilchrist plugged away in the Biggin to D buoy area to take 5 fish each.
Unfortunately, some of the other teams had adjusted to the higher fish more quickly and several reached the 8 fish limits and although all 12 of our rods caught at least two fish we were well behind the top teams.  Our A team was a respectable 3rd of 6 teams in Group 1 with 26 fish while our B team was 4th of 5 in Group 3 with 18 fish.  It had been a tough day but at least everyone had caught fish so thanks for all the effort and a special well done to Sam Edmunds and Noel Garner on their first AMFC experience taking a brace apiece.
The A team is now 5th of 6 in G1 and the B team 4th of 5 in G3 so we hope for a good final round on Bewl 5th October when teams are:
A Team: Mark Searle (Captain), Chris McLeod, David Moore, Johnny Bromilow
B Team: Peter Brewer (Captain), Neil Potts, Jeff Price, Andy Trafankowski
David Moore
---
AMFC Groups 1 and 3, Round 4 Match at Grafham Water – 3rd July
Invicta had both A and B teams in action on Grafham 3 July fishing in Round 4 of Groups 1 and 3 of the AMFC hosted by our club. With Grafham still quite coloured and with a clear sky and hot sun forecast all day we knew it was going to be difficult.
Having fished the previous Sunday and day before the teams had a good idea of tactics and most of the 33 boats set out for the dam although a few headed west to Valley Creek and Savages.
Most found some fish early on and Andy Trafankowski was immediately completely smashed losing all the flies which Jeff Hickson had tied for the B team based on those which him and Mark Searle has used on Sunday!
However as the sun rose higher things got tougher and boats gravitated to the open water and ripple, drifting from Pylon all the way across to the Seat using washing lines just under the surface to take fish especially when the occasional cloud brought fish to the top.
At the results Invicta B had won Group 3 with 13 fish for 31lbs to Royal Navy-Marines 29lbs and Bewl Bs's 28lbs. This was a big result for Peter Brewer on his first time as B team captain.
Our A team had a surprisingly tough day for a home fixture and although everyone caught fish we finished 4th in G1 with 17 fish for 42lbs and now need some better results at Draycote and Bewl.
Catches were generally low with Group 1 averaging 3 and Group 3 just 1.5 so a lot of blanks and no rods reached the 8 fish limit. Our top performers were Keith Gilchrist (5) and Chris McLeod, Gary How, Peter Brewer all with 4 fish, Paul Heavens, Mark Mathieson and Neil Potts all with 3.
Although the rod average was low the quality of the fish was exceptional, 22 of the 66 anglers had a 3lb in their bag.
The next round is at Draycote on the 21st September, again for both G1 and G3.
---
AMFC Group 3, Round 3 Match at Grafham Water – 29th June
Our Invicta B team was Ray Storer (Captain), Paul Heavens, Jeff Hickson, Peter Brewer, Mark Mathieson and Neil Potts, we fished to an 8 fish limit with time bonus. On what was the hottest day of the year so far, it was also decided by unanimous decision to fish up to 16.00 and bring the lunch forward to 17.00.
We had our team briefing at 9am where unusually most of the team listened, I had fished the day before so was able to at least send most of the team in the direction of the dam and open clean water where I had found fish, other than Paul who decided to go over to church Bay, thankfully after a couple of hours he found his way up to where the fish were.
The fish were high in the water and quite active considering it started off flat calm and bright sunshine, methods were washing line on a floating line, slow sink, or hover line, some were pulling some static I chose to twiddle back slow which worked for me. Some boats were having action near the dam I chose to fish open water out in the middle and picked up fish steadily through the day.
As the day went on it obviously got a lot hotter but there was also a welcoming breeze. By lunch time most boats were drifting from the aerator down to the willows with pods of fish all the way. For a very hot day the fishing was better than expected. Our team did very well coming second in the group, we all caught fish and out of only three limit bags we had two.
The day was rounded off with a meal in the lodge with the traditional Lasagne and chips.
---
AMFC Group 1, Round 3 Match at Pitsford – 1st June 2019
A practice day was organised for the day prior to the match at Pitsford; Tony Smith was unable to attend but had fished the day before and provided good information on areas and tactics. It was expected to be nymph fishing either in the small half or down at the dam; the rest of the water held a lot of algae.
Practice day was tough for most of us but Graham Bodsworth did well in the small half while the rest of the team struggled there but managed to all catch fish at the dam.
On match day we decided to try and split our resources at the dam and in the small half. Tony, Mick and Gary took the journey to the dam and the rest of us stayed in the small half. It was a struggle from the start with just a few fish coming to the team in the first hour. Tactics should have suited us and were to use either a floater or 6ft tip washing lined and fairly static, although some were able to catch pulling on the surface.  A high number of lost trout cost the team dearly and despite all registering fish in the bag we were well beaten with Fish Hawks worthy winners on the day.
Consolation was found in a good meal at the Royal Oak in Walgrave and we will hopefully do much better in the next match at Grafham.
---
AMFC Group 3, Round 2 Match at Farmoor – 18th May 2019
The team for this match was Ray Storer, Andy Trafankowski, John Brown, Peter Brewer, Paul Heavens (Capt) and Steve Harding. We knew that it was going to be hard, a match the previous day had found it really difficult and conditions on our match day were if anything worse with hardly any wind and a flat ripple-less surface. Three of the team spent some time at the reservoir the afternoon before match day to try to get as much info as possible but it was a similar story from all, " not had a touch".
The teams were clearly not going to need drogues and what little breeze there was did enable drifts, albeit very slow. The Army put out a very strong team and clearly had a game plan all heading off for the left hand side of the jetty but it was clear that fish were not going to be easy because within an hour boats were spread all over the reservoir. One of the most productive areas was close in to the bank near the out of bounds landing stage on the far side, but with the top rods only having four fish it would be hard to describe anywhere as fishing well.
Ray and Peter caught two fish each (beating the 1.6 rod average) and Andy and Paul had 1 each. We thought that we possibly ran the risk of being last, but others had also found it just as tough and we managed to avoid the bottom spot with GWFFA taking that honour; they did however have the consultation of the heaviest fish 3lb 12oz thanks to Stan Suddick.
So yet another Army win sees them firmly at the top with Invicta B in 4th place. Still lots of matches and after two consecutive away matches we find ourselves next time at Grafham for match 3, so familiar water.
---
AMFC Group 1, Round 2 Match at Rutland – 12th May 2019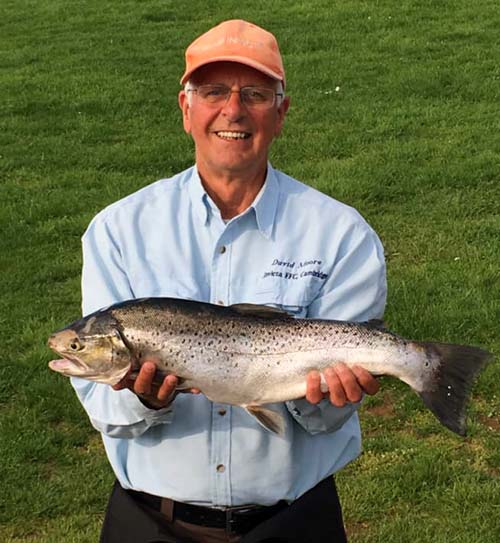 The Invicta 'A Team' were lying bottom of the group after a disastrous opening match when they came last, so we needed a good result. The Carr Cup day just 24 hours earlier gave us some idea what to do, but the cloudless sky and lack of any wind were not helpful.
Although one or two elected to pull for the first hour or so, buzzers were the order of the day, either straight line or under the bung; this is what Dave Summers and Mark Searle, our early finishers did. Dave stayed at New Zealand point, whereas Mark went round the corner to find willing fish off the Green Bank. Other areas were Yellowstones and the Dam.
It was a kill four and release four match so those early fish counted and David Moore's 7lb 5oz brown was almost the equivalent of many bags of four rainbows. This helped us take second place above Bewl Bridge who had more fish.
With Chris McLeod and Mick Facey both getting seven, David had six and Tony Smith five, it was a solid all round performance.
The water was beautifully clear and the fish in great condition, and as always the company and chat was excellent. We have good teams right throughout the summer so let's hope we can put a couple more good results under our belts.
The day was rounded off by a filling meal in the Rutland lodge and Paul Wild of Rutland organised everything very efficiently.
---
AMFC Spring Match (Round 1) Chew – 13th April 2019
Invicta's two teams fished the first round of AMFC on Chew. This was the Spring Match when all 15 teams fish together in teams of 4 rods. We are fortunate to have enough members prepared to travel and stay over to practice the day before as they hadn't fished Chew for a year or more.
B Team captain Jeff Hickson reports, 'Pre-planning for the match had identified many areas that were supposed to hold fish and practice on the Friday showed this was still the case and also what excellent quality and size the fish were, Bristol Water should be congratulated for providing a fishery with stock of such quality, they really pulled your string.
Practice day identified a number of areas with good concentrations of fish including Walley Bank, Heron Green Bay and to a lesser extent Wick Green.
Match day saw the wind pick up, so it felt even colder than practice day, and much less cloud. The boats largely split into two groups at the off going to Walley or Heron, although a few went to Wick or Morton bank. Heron fished well for the first hour on the middle / right hand, first limit taken before 11am by Graham Pearson (Rutland), and then at intervals for the rest of the day.
The afternoon saw Jeff bag up mainly on a fast glass and fabs / buzzers and Alan Briggs also did well with 7; Paul Heavens netted 3 and Steve Harding 2. Walley bank did not fish as well in the morning as it had on practice day, perhaps due to boat pressure, it did switch on mid-afternoon and a number of fish were taken.
Gary How captained the A Team and caught 4 fish while the ever-consistent Kieran Bonus bagged up quickly, here is his story:
I started the day off in Wally Corner between the sailing club and the dam as we had found lots of fish there and of a good size up to 4lb! Method was a Di7 with a black and green booby on the dropper and a cats whisker booby in the point fished slow and deep. After a few drifts and only a couple of offers I knew things weren't going to plan. The next drift I managed three fish in quick succession. After that the takes dried up and I knew I had to move. So after finding a few fish over the other side at wick green in practice we headed over there. It was much warmer and sheltered over that side of the lake and buzzers where hatching off so I switched lines and set up the bung. I had a fish on the first couple of casts and things were looking up. I moved along 150 yards to a calmer section of water to the point off wick and there we found a bigger head of fish. An hour and a half later I had managed to catch my following 4 fish with the bung being very successful. Managed to catch my limit by 2:14 which was longer than I expected considering such a good practice day the day before but was happy to get my fish and an enjoyable trip down to Chew for a change!
Mick Facey caught 5 in spite of a broken fuel line which cost a lot of time and Graham netted 2 after losing numerous fish. So all the Invicta rods caught 2 or more and everyone in the match caught at least one trout.
Disappointingly the A team were last of six in Group 1 with 19 for 50lb-10oz and the B Team 4th of 5 in Group 3 with 20 for 50lb-15oz,
The B Team were very unlucky with a Team total 20 fish (50lb 15oz), the same number of fish as Bewl 'B' but we lost out as Bewl 'B' had two limits, so more time bonus but also we were only one fish short of Soldier Palmer 'B' in second place. It's very unusual for our B team to beat our A team.
Soldier Palmers won Group 1 (Group Rod Average 6.4 fish per rod; average weight 2lb 15oz) and the Navy-Marines won Group 3 (Group Rod Average 5.5 fish per rod; average weight 2lb 11oz )
The next round is at Rutland for the A Team and Farmoor for the B Team.
"Back to Top of Page"
Snowbee® Interclub Floating Line Match
Click Link to view full scoresheet: Snowbee results – teams
Grafham 4 May 2019
One year this competition will fall on a day of perfect fishing conditions; not this year. Having had a lovely spell of settled weather, we were forecasted strong blustery winds, heavy rain showers and a sudden drop in temperature. The only good thing was that the wind direction was roughly in the North, as it had been, so we could at least fish the north shore in relative comfort – well, one cast in ten maybe. The fishing had been good, with really strong hard fighting fish, well silvered up and willing, so we crossed our fingers for the record field of twenty, four man teams. Plenty of old friendships were revived at an excellent breakfast in the Lodge where it was generally agreed that the last choice of line one would use that day would be a floater, however that was proved to be wrong.
Most boats headed to the north shore as most of the south, Gaynes, Valley Creek etc were unfishable given the wind and the colour of the water. The stumps, Hill Farm, P buoy, and up to Rectory were the favoured areas, with a variety of approaches on display.
Eventual top rod was Mark Mathieson who put in a remarkable performance on the bung, proving that it isn't as simple as some would make out. He showed real skill in catching his 8 fish before lunch, whereas others using that method found it a little trickier in the conditions. Back in the Lodge for one o'clock and there were all the usual tales, but most had caught a fish or two with some threes and fours into the mix. While we ate our ploughman's, a great blustery spell passed over the lake but fortunately subsided as we all ventured out again.
The afternoon was a continuation of the morning although it did seem to be a little harder which was understandable given the number of boats continuously drifting over the hot spots. By the close at six, many were relieved to get in as the temperature, especially in that wind, was not comfortable, however many had done well. The rod average turned out to be a respectable 3.8 with an average weight per fish of 2lb 4oz. The quality or the fish was outstanding and a real credit to Anglian Water. With a time bonus of two pounds per hour, Mark's bag was easily the best at 26lb 2oz, and the best fish was caught by Peter Lewis at 5lb 9oz. Team wise, Mark Searle's  team which included two more full bags from Dave Summers and Keith Gilchrist, as well as 5 from captain Mark easily won the match; runners up were Rutland Water.
It's always good to have Snowbee sales director Simon Kidd with us and once again he provided a fantastic set of prizes. The winners – especially top rod Mark Mathieson with a new jacket – went away very happy.
Thanks to all concerned, Gary and Jane How for the organisation, the fishing and restaurant staff of Anglian Water and the Invicta Committee for being on hand to organise and help in every way. Special mention goes to Andy Trafanlowski who set up a new results spreadsheet which worked brilliantly.
The date for next year has already been booked so please put it in your diary – Saturday 2nd May 2020
Chris McLeod
The PILGRIMAGE 23-24th May 2019 – Grafham Water

For this years event there were a few long serving absentees that were missed, George Brown is recovering from cancer treatment, John Roberts had to go home early because his hip was causing him so much pain and Ted Pozniak, the Yorkshire Missionary working in Lancashire could not make it.
The Leslie and Llanilar boys still try to maintain the tradition, even in their advancing years of going back each evening to where they are staying and drink until the early hours, I still don't know how they do that for six days, three days was enough for us.
When we arrived at Grafham on the Thursday morning they were all subdued because someone had encouraged them to drink a lot the previous evening.
Jeff Price was Invicta's latest recruit to the event so for match day we had a respectable team of ten.
Practice day proved hard for most of us, the day was warm and sunny and the water was a filthy green in most places. I managed to hook and loose two fish and that was my only contribution to the day but we were all rewarded with an excellent roast chicken dinner at the Wheatsheaf.
The match day was only different in one respect and that was the wind, much stronger than forecast and in a due Westerly direction, not ideal but it did blow some of the green algae away. The fishing was not easy but most of us persevered with either floating lines and Black Buzzers or sinking line with lures, not the easiest of days.
After the dinner at the Fishing Lodge Glyn prepared for the presentations and announced the revised result for last year's competition. We had know for some time that the results were wrong because Invicta had actually come second and not third as stated on the night.  Glyn's computer programme had taken some of the weights as being dates and had discounted them. After apologising for the error Glyn presented the Invicta team with engraved shot glasses to commemorate our 2018 second place.
When it came to this years event, Leslie were the winners again with a total weight of 56lbs and Invicta were in second place again with a weight of 43lbs.
All in all a great couple of days and I will be left with my memories of old friendships and fabulous fishing from the past.
I would like to thank everyone who took part and I sincerely hope that we are all well enough to enjoy Pilgrimage 2020 next May.
Steve Middleton
"Back to Top of Page"
Anglian Water-Airflo International 2019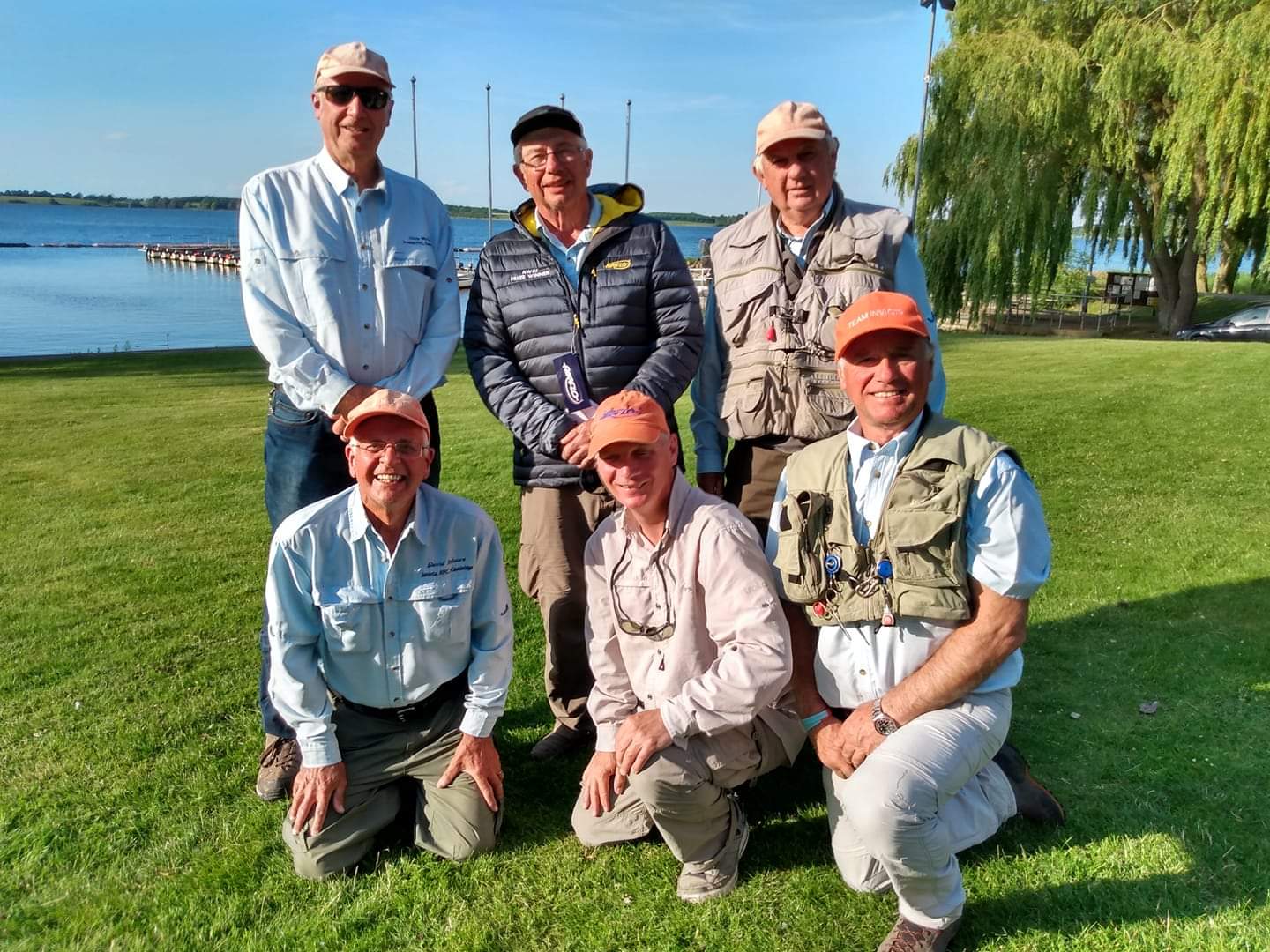 Six Invicta members formed a team for the AW Airflo International again this year and we opted to fish the Midlands heat at Grafham Water on 22nd June against three top teams, Finetics, Elinor and Reservoir Dogs 2.
Most of the team had fished the Pro-Am two days before when all of the action had been in Gaynes Cove with a range of small nymphs and damsels taking fish, however the wind had shifted to the south east and those who started in Gaynes quickly motored over to the North Shore instead. Heavy pumping had coloured the water a horrible silty brown and very few fish showed so it was pulling boobies on Fast Glass, Di3 and Di5 which caught the fish, drifting over deeper water between G buoy and the Tower.
Only Cameron Neil of Finetics was catching consistently and the only rod reaching the 12 fish limit. After the first 4 hours it was mostly less than 3 fish apiece that had been caught. However, the Invicta team all kept on pulling away and we all caught fish, with a respectable total of 22.
Our top rod Keith Gilchrist with 6 fish was 3rd individual and Peter Hartley weighed in the biggest of the match at 4lbs. The team came 3rd, just 3 fish and 4lbs behind Elinor, who were boosted by Ian Donaldson who was fishing with top rod Cameron, taking 5 in the last hour. They were in clearer water in front of the Lodge but we had done enough to qualify for the next round, the Midlands Final at Grafham 22nd July.
1st Finetics 29 fish 65lbs;  2nd Elinor 25 fish 56lbs;  3rd Invicta FF 22 fish 52lbs;  4th Reservoir Dogs 2  20 fish 46lbs
It had been a hard day so well done to all the team, Keith Gilchrist, Gary How, Peter Hartley, Graham Bodsworth, Chris McLeod and yours truly.
David Moore
"Back to Top of Page"
Anglian Water 4 Man Team Event
Rutland – 31st August 2019
This is an annual event in which Invicta members have been taking part for many years, doing reasonably well and two year ago we actually won it. This year, with Invicta's tradition of supporting events as much as possible, we had two teams, Gold and Platinum.
To say that Rutland had not been fishing very well would be an understatement. It was rock hard, with a nasty algal bloom and dirty water in most places. The only clean areas seemed to be down the south arm with a few fish being caught in odd places around New Zealand Point and the Sailing Club and that's where most boats started.
Chris McLeod and his partner decided to go initially to the 'Gary How killing grounds' of the previous week and try a couple of drifts around Brown's Island. This proved to be productive with half a dozen fish and no other boats in the area. The water was clear and conditions were good until a gusty wind blew up. Mark Searle managed to keep ahead of his illustrious boat partner (again) further east amongst most of the fleet, and Paul Heavens, David Moore and Tony Smith also managed to scrape out a few in that area.
However, it was tough, a rod average of 2.68 is poor for a high class field with ex Invicta member Mark Haycock top rodding with just seven fish. So Invicta Gold were delighted to come third above some good teams including Invicta Platinum who struggled on the day.
Despite the fishing it was a very friendly event fished in the right spirit, which also provided our Invicta ladies with information for their National Final the next day.
Invicta Gold team: Chris McLeod, Tony Smith, Mark Searle and Gary How.
Invicta Platinum team: David Moore, Paul Heavens, Keith Gilchrist and Jeff Hickson.
Anglian Water 4 Man Team Results
"Back to Top of Page"
Fur and Feather (Arthur Sexton Trophy) – Elinor – 10th November 2019
Our Annual Fur and Feather match was originally scheduled for 3rd November on Ed Foster's excellent Elinor Fishery. Sadly, reports of nil visibility due to the huge amount of rain in the previous few days persuaded the committee to move the event to Grafham which was fishing really well off the bank. Within hours of that decision being made the weather took a turn for the worse and a big wind caused the whole event to be postponed until the following Saturday. Even more rain fell during the week so things weren't any better when we eventually arrived at the Elinor car park; the water was chocolate soup!
The muddy water pouring into it from the river meant it was horribly brown with no clarity at all, everywhere. But it says something about the quality of the fishery that any fish were caught at all. Ed keeps it very well stocked with quality rainbows, and, although there were forty five anglers from as far away as deepest Kent, the light winds gave access to the water from all banks.
Invicta had ten members turn up, as many had not been able to make the revised date or just didn't fancy the conditions, and 12 fish were caught. These were all good fish and very willing to take the fly, as suggested by the powerful takes – once they managed to see it through the gloom.
Most fished large visible flies with black or white varieties of snake doing most of the damage – even Alan Briggs, expert dry fly and nymph man, who somehow managed to winkle out 4 fish and win the coveted Arthur Sexton trophy. Gary How had 3 and Andy Trafankowski had 2 fish and four others had 1 apiece, with 3 blanks (ahem!).
The weather eventually took its toll and rather put a dampener on proceedings – someone once said that it's not all about catching fish. But a pull would have been nice.
There are no more official Invicta events this year but we do organise the Grafham Shrimpmaster series of matches as well as the Locals v Army match on 30th November. Contact Chris McLeod or David Moore about these but all details are on the website.
Chris McLeod
"Back to Top of Page"
Reports 2018 Season
Page Contents:
Click to Jump to Carr Cup reports
Click to Jump to AMFC Match reports
Click to Jump to Spring Bank Match report
Click to Jump to Snowbee Floating Line Match report
Click to Jump to Tuesday Evening Fishing reports
Click to Jump to Anglian Water Airflo International Midland Heat report
Click to Jump to Fur and Feather Bank Match report
Click to Jump to Locals v Army/RAF  Bank Match report
Army/RAF v 'Locals bank match  •  Grafham Water 24th November 2018
This was the third year for a match inspired by the Army's Jamie Thomas, and another opportunity for a different grouping of anglers to come together.
Grafham has been tricky at times this year because of factors beyond the fishery's control. A long, cold spring was followed by an exceptionally hot and dry summer which switched the fish off in July. As things recovered the water level reduced dramatically to allow maintenance work on the pumps, and although some water is now being pumped back in, things won't really change until the New Year. The banks are very muddy, especially on the South shore, and the silt in some areas give the water an unpleasant grey colour which is easily stirred up to cloud the water.
So finding clear areas is essential, and for this match that was the Willows and the North Dam.
Fishing was desperately slow with very little happening. The weather was heavily overcast and it seemed to depress the fish which were hardly in evidence at all, but the odd one was caught and Ray Storer quietly took 3 and lost another before 11.30am
We started at 9.30am and many couldn't wait for the finish at 3pm – in fact, many didn't and found better things to do having had no interest at all.
The weigh in was a very sparsely attended event with only 17 fish being caught to nine anglers. For the 24 that took part that was a rod average of 0.6 which is exceptionally poor for this time of year.
Ray was top rod with 4 fish for 7lb 9oz, Peter Hartley had 2 for 4lb 12oz and Keith Jones was the only other angler to catch 2, for 3lb 12oz. The best fish was Neil Potts'  2lb 7oz rainbow.
With 8 fish for 17lbs the Locals managed to take the Trophy for the first time, and the Army/RAF had 6 fish for 11lb 2oz.
However it was a very enjoyable event with a filling meal, and prize presentation, to follow in the Lodge. Thanks go to Angela at Anglian Water, Trish and the restaurant staff for the meal, and particularly to the RAF's Keith Jones who very efficiently took over from Jamie to organise the whole event.
Let's hope for better conditions next year.
Chris McLeod
Fur and Feather (The Arthur Sexton Trophy) –  Elinor 3rd November 2018
The second of our two annual trips to Elinor promised great things. This great little fishery always produces but the valley that it's in can funnel the wind and make life difficult on the most productive banks. A check on the weather forecast suggested a southerly wind would increase so the far bank was the one to be on.
It had been fishing well and a recent stocking of 40 odd four pound plus fish meant that there were plenty of fish, and that proved to be the case as rods bent almost immediately. Some did venture to the lodge side and caught well initially until the sun came out and the wind got up, but it became increasingly difficult.
Floating lines with a booby/fab and nymph set up worked well, with maybe the red diawl bach doing best of all. It was one of those days when fish kept falling off! Paul Stevens, for example lost almost three times as many as he caught. This is maybe because the fish weren't feeding on anything particularly and weren't properly committing to the take. They seemed to be a bit spooky as well, in the gin clear water.
A brief stop for lunch and chat persuaded many on the prime spots to stay put, but others who ventured further still managed to catch a few – and better fish.
88 fish were recorded caught (probably as many were lost) at a rod average of 5.5. Top rod of the day was Chris McLeod with 14 followed closely by Gary How on 12, Keith Gilchrist and Dayood Sheik on 11, and John Brown on 10. Although a number of lumpy stockies, around the four to five pound mark were caught, the best fish of the day was Alan Briggs' rainbow just shy of six pounds.
Thanks to Mark Searle, who was sunning himself in Spain, Gary How and Paul Stevens for organising things……and thanks to Janice Brown for baking the winner's cake – delicious!
So that's it for another season. Merry Christmas and a Happy New Year.
Chris McLeod
"Back to Top of Page"
Carr Cup
Round 7 (Final) Pitsford, Tuesday 2nd October 2018
This outing should have been to Grafham, but the water there was
almost unfishable with a thick, green algal carpet virtually everywhere. So we
all went to an in-form Pitsford instead. The stakes were high with a number of members in with a chance of winning the Carr Cup and becoming club champion, but with the water fishing so well those at the top were unlikely to fail.
The day was warm, cloudy and breezy. Fish were well up so floaters, midge tips and slow sinkers were the order of the day. Most had a booby on the point and fished washing lines. Initially the fish were willing to chase but a fierce squall seemed to kill that and success came from flies fished that little bit deeper and slower.
Scores were slowly building and it was obvious that a lot was going to be caught, although it helped to be in the right area, which was around the top end of the Narrows and between Rigby Point and the Cliffs.
By mid afternoon Keith Gilchrist had his 8 fish and could not then be beaten to the championship, but he carried on, getting 14 fish on a variety of methods with a tequila FAB on the point playing a significant role. Joan Russell and Mark Searle finish as joint runners up this year only 10 points behind Keith. Mark Searle also took a beautiful brown of well over the five pound mark, which was safely returned (See Gallery page).
In total 113 fish were caught at a rod average of around 5.5 with no blanks.
This was the last Carr Cup boat trip of the year but there are a number of opportunities to fish with Invicta over the rest of the year. We have our annual Fur and Feather bank fishing day on 3rd November at Elinor, fishing for the Arthur Sexton Trophy. The Hinckley Shield team bank match is on 28th October. The 'Locals v Army/RAF' bank match on 24th November and the 'Shrimpmasters' series start on 11th December.
---
Round 6 Ravensthorpe, Sunday 9th September 2018
With the weather cooling, cloud cover and light winds, prospects were encouraging after a disappointing Summer – from strictly a fishing point of view.
18 members took to the water starting with a variety of tactics, but it quickly became clear that washing lines on midge tips were working as well as anything. President Bob managed to squeak out a few on dries until the sun appeared which slowed the catch rate up for a while, and at lunch only Keith Gilchrist had a limit, with a number of sevens and sixes leading the field.
After the usual social break the fish continued to be caught as the cloud cover increased. Very few fish were showing but they weren't deep and were willing to take a variety of flies, although unwilling to chase. Steady figure of eight with slow draws and a good hang worked best.
There were no blanks and even those members just getting into fly fishing managed a few. Joan Russell, Gary How and David Moore all managed 20 or more fish, with another 4 anglers into double figures. This gave a total of 177 fish caught at a rod average of just under 10. Altogether, another great day out.
Keith maintains top position with Joan only 5 points behind and Mark 5 points behind her, so all very close.
The final Carr Cup boat trip of the year will be on Tuesday 2nd October at Grafham when the Champion will be crowned.
---
Round 5  Draycote, Saturday 11th August 2018 –The Carl Hunter Bowl
This match was the 5th in our Carr Cup series and we had another excellent turnout of 22 members.
The heat wave had finally cracked the day before and expectations were high after reports from the staff of double figure catches and Joan Russell taking fish on dries the day before.
All the fleet headed off to the south-west corner and many of us started on dries but after 30 minutes in a flat calm with nothing showing there were some early tactical changes. Many switched to midge-tips and intermediates and a few boats moved out towards the ripple of open water and the boils. The sun shone all morning and the best boats had only taken three or four fish.
David Moore was on three fish by 1pm and getting a lot of soft pulls and follows twiddling and hanging a Di3 but this petered out until after 3pm when the wind increased and heavy cloud brought the fish up in the water and switching to a 10ft slow midge brought immediate action drifting downwind of the boils. Paul Stevens fishing size 14 green nymphs, Keith Gilchrist and Graham Bodsworth on midge tip and floater were all taking fish regularly on similar tactics until everything switched off again leaving everyone short of their limits.
We weighed our first 4 trout and it was a close result with David pipping Keith by 8ozs to win the trophy for a third time. Graham Bodsworth's five fish out-weighed Paul Steven's six to take third place.
Our President Bob Ayres had suffered a blank in the boat with David Moore but had the last laugh by winning the sweepstake on the total catch.
A big thank you to Mark Searle for organizing the day and timing the start and finish so that we didn't conflict with the Anglers' World Competition.
The updated Carr Cup points table shows Keith in the lead but very close behind are Joan Russell, Mark Searle and Graham Bodsworth. It's Ravensthorpe and then Grafham to come and remember it is your best 6 results which decide the winner.
Rod Average: 2.5
---
Round 4  Grafham, Sunday 1st July 2018 –The President's Cup
Club members approached Grafham with some trepidation have suffered a couple of weeks of record high temperatures and cloudless skies. These conditions would normally be the kiss of death to reservoir trout fishing, but settled high pressure had encouraged the fish to keep active and cool nights had actually kept the water temperature down. The water quality was exceptional and conditions looked ok.
Most opted for nymphing tactics on short midge tips and floaters, fishing around the weed-beds on the north shore, and action was steady from the off. Huge shoals of fry and large numbers of damsel nymphs attracted the trout into areas of Pig Bay, the Willows end of the Dam and the Rectory side of G buoy. The trout appeared to be in pods that gradually progressed across these bays and it helped to be in the right area at the right time.
A break for lunch was a welcome chance to catch up and find out where the fish had been caught and how others were doing. No one had done exceptionally well and all were inspired to get stuck back in. Although the afternoon was inevitably slower a good number of fish were caught giving a rod average for the day of 3.5, which is pretty good in the middle of a heat wave. There were only two blanks and only two eights, with Keith Gilchrist pipping Mark Searle by a couple of pounds.
A good friendly turn out with all the usual banter which leaves Joan Russell at the head of the leader board with Keith and Mark just a fish behind; all still to play for.
Next day out is Draycote on 11th August. Usually a prolific venue so we hope for better fishing weather for that one.
---
Round 3  Eyebrook, Saturday 2nd June 2018
To say it was tough would be an understatement. Reports during the week had been encouraging with good catches on dries being reported from Stoke Dry area and initially several boats headed for this end of the fishery. Few fish were rising an although the early part of the day had ideal overcast conditions with a good ripple the fish failed to oblige and at lunchtime only four fish had been caught.
The afternoon was not much better for most people as they searched various areas in an effort to locate fish and a method. Joan Russell tried pulling in the main basin with no success whilst others tried everything from dries to di7's. Graham Bodsworth took a couple from the top on CDC's but the dries never really came on. A switch to damsels saw him increase his catch to 5 fish which was enough to finish top rod and move him to the top of the leader board just 5 points clear of Joan Russell and Paul Heavens.
After drifting during the morning with no success, Paul Heavens and his boat partner Kieran Caulfield concentrated during the afternoon session on the Sam's Dyke bank about 30 yards out. They found fish a few feet down near the drop off willing to take the occasional nymph fished on a floater washing line style; Red diawl bachs, crunchers, GRHE and FABs all taking fish. They finished with 4 each for joint second spot.
It was great to see Kieran Caufield back fishing again, his shoulder much improved and clearly he has not lost his touch.  Gary How was third with 3 fish on a day where half of the field blanked.
Total fish: 27; Rod average: 1.2
Our next outing is to Grafham on Sunday 1st July (President's Cup).
---
Round 2  Rutland, Saturday 5th May 2018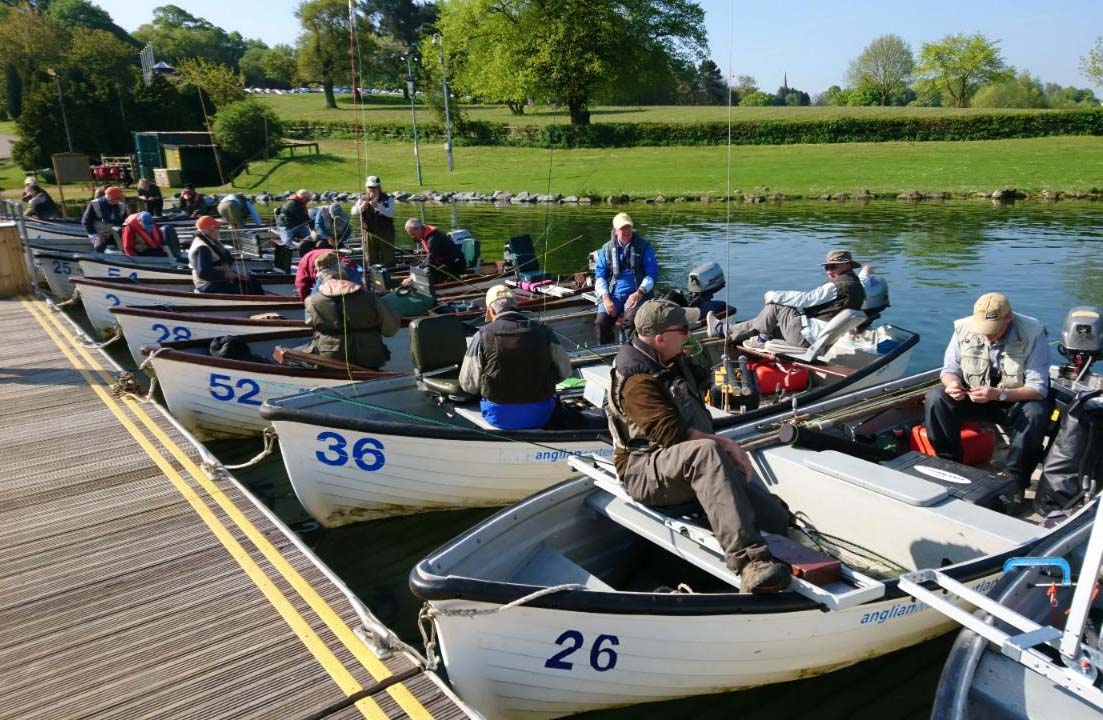 A sunny day greeted 22 anglers to Rutland Water on Saturday 5th May for the second round of our Carr Cup series. Although these trips count towards the Carr Cup points, they are still primarily fun days with the emphasis very much on having fun and encouraging beginners.
After a hearty breakfast in the newly refurbished lodge the draw for partners saw boats spread across the reservoir to the Blue Pipes to Fantasy Island, Yellowstone Cardiac Hill and Barnsdale.
Although better quality fish were at Barnsdale , word got round that David Moore, Keith Gilchrist and Graham Bodsworth were catching well at Yellowstones especially on the bung which out fished straight lining buzzers on the day.  At the end of the day 147 fish were caught for a rod average of 6.7
The best part of the day was to see Sue Potts catch her first 8 fish limit and finish on 10 – Great angling Sue!! Sue fished with Top Rod on the day Gary How who caught 21 fish, a great performance.
We all had a fantastic day especially with the sunshine. Thanks to Mark Searle for organising the trip and sorting out the lodge breakfast problems……. But that's another story!!!
See you all at Eyebrook on Saturday 2nd June for our next outing.
Tight lines
Gary How
---
Round 1  Pitsford, Tuesday 3rd April 2018 (The Graham Williams Trophy)
The eagerly anticipated first boat trip of the season followed days of torrential rain which resulted in very high and deeply coloured water at the reservoir. But at least the temperature had risen and it wasn't blowing a hooley!
This was the inaugural match competing for the Graham Williams Trophy. Graham has been a staunch supporter and very successful member of the club for over 30 years. As we all know he is unable to fish now but he is certainly with us in spirit. His old friends were certainly keen to win the trophy presented in his honour.
Early season favourite area, the Small Half, was the colour of oxtail soup and unfishable so all the boats squeezed through the tunnel and focussed their attentions on Stone Barns, The Gravels, across to the other side around Bog Bay and down to the Gorse.
Fish were deep and there was no evidence of them moving to fly at the start although as the weather warmed and a bit of sun – yes sun! – appeared, then a few buzzers started to hatch off, and this was the really successful fly. Sinking lines cast a fair distance, twiddled back then lifted and hung from the bottom took the majority of fish. It is amazing how easily fish can pick out small flies in all that murk! Most anchored which made life easier and some drifted, fish were taken in other ways, but most fish came to the anchored boats from the Gravels area just beyond the drop off. The method is a lot trickier on the drift.
Tony Smith with 21 and Chris McLeod with 16 found the method early and once your confidence builds, fish just seem to keep coming. Some struggled as the normal early season buzzering tactics failed and a rod average – taking 8 fish as the maximum bag – of 3.9 was a little disappointing; although some of our newer less experienced anglers put in some excellent performances. Maybe the weather discouraged a few more, but a very sociable day, welcoming some new members, and a quick pint in the pub where we raised a glass to Graham, rounded off a good start to the season.
Roll on to Rutland on Saturday 5th May for the next outing, although before that we have our Annual Floating Line match on 14th April. So plenty of great fishing with Invicta ahead of us.
Chris McLeod
*
"Back to Top of Page"
AMFC  (Association of Major Flyfishing Clubs)

The AMFC (Association of Major Flyfishing Clubs) is a series of 6 club based matches. The first is the Spring Association match and is a 4 man team event involving all the participating clubs. This precedes the four 6 man team matches and Autumn Association match. Invicta like to encourage as many members to get involved as possible, and runs 2 teams. There are 3 groups and we have our A team in Group 1 and the B team in Group 3. 
 It is really helpful to get a good start and although this is a very friendly Association, we all want to do well. 
This year's Spring Match was on Draycote on Saturday 22 April and Invicta achieved the perfect start by winning both their groups.

**************
AMFC Autumn Match (Round 6) Rutland Water – 6th October 2018
This final match of the series involved teams of 4 from all three groups. Invicta A was Mick Facey (captain) Dave Summers, Joan Russell and Matt Willatt.
Our B team was Mark Mathieson (captain), Ray Storer, Jeff Price and new member Nick Lant who was fishing his first AMFC for the club.
Our 'A team' had already secured the Group 1 title with a big lead but Group 3 was tight sharing Bristol and Royal Navy on equal points such that the top team of the three would win the Group.
Rutland Water was more like the Arctic with a bitterly strong wind, driving rain and only 5deg C as the boats set out, mostly turning left into the mouth of the South Arm but some went right to the end of the North Arm. Dave Summers was into fish quickly with a long midge tip and small foam daddy on the point proving effective and caught his 8 before 2pm. Mick was catching on similar tactics but with FABs and also finished before the end.
Everyone else was suffering in the foul weather, Jeff Price had a complete wardrobe malfunction and had to come in soaked through, followed by Mark who had a difficult time with his boat partner and was also suffering from the cold. Several others gave up early for the sake of their health and there were a lot of shivering anglers at the end.
The 6 of our rods who lasted the match all caught fish in spite of the appalling conditions and deserve survival medals. After a welcome hot meal in the Lodge it was announced that our A team was 3rd and Dave Summers was top rod in the match with 18b-10oz and Mick was 3rd in Group 1.
The B team had a disappointing match but still finished 3rd in Group 3 narrowly beating Soldier Palmers on total weight over the series so every fish caught counted.
It was good to have several Invicta members coming along to support the teams and for the presentation, we had a great evening to round off the series.
A big thank you to all 24 members who have taken part this year.  In addition to winning Group 1 for the first time since 1991 our continued success in running two teams brings a lot of prestige and respect to our club.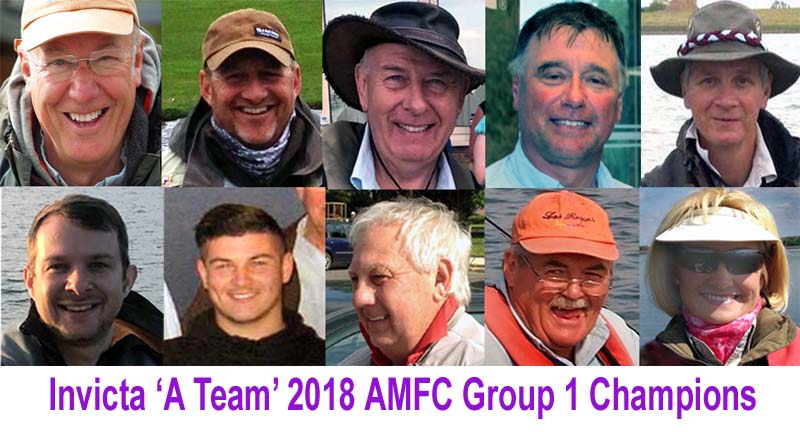 Final positions
Group 1, 1st Invicta A, 2nd Soldier Palmers A, 3rd Fish Hawks, 4th Rutland WFF, 5th HFA
Group 3, 1st. Bristol FF, 2nd RNRMAA, 3rd Invicta B, 4th Soldier Palmers B, 5th GWFFA B
---
AMFC Group 1, Round 5 Match at the Eyebrook – 29th September 2018
This match had been planned for Farmoor and we were keen to go, but the summer's heat had caused major issues with fish deaths and no stocking, so it was decided to relocate to Eyebrook. On our practice day this proved to be a good move as it was fishing well.
As is often the case, conditions on match day were subtly different with cool winds, unbroken sunshine and a 180º degree change of wind direction, all after a very chilly night. Not every tactic from the day before worked: what was needed were slow retrieves with washing lines on floaters, midge tips, slow glass and the like, and focusing on the top couple of feet. The areas were all around the dam and the tower to a maximum of about 200 yards out.
Those that had the perfect set up started catching immediately. Others took a while to work it out, but eventually plenty of rods were bending resulting in a rod average for the 8 fish limit of 7.9! Invicta all caught their fish as did a couple of other teams, and although our fish were reasonable with average weights, we knew time bonus would be critical; and we had plenty of that!
After a few hiccups with the scoring, double, and then treble checks gave us second place to Fish Hawks. This was a great result for us with two firsts and three seconds and now in an unassailable lead.
A great day, excellently organised by HFA and with a lot of support from Ifor Jones at the fishery. The fish and chips to follow the match were very good!
The A team for this match was Captain Chris McLeod, Kieran Bonas, Mick Facey, Gary How, Keith Gilchrist and Mark Searle.
The result has to be ratified but it looks certain that we have already won the Group, making us the AMFC champions for the first time in living memory!
The final Association day on Rutland should be a very relaxed affair for our team of four, but we'll still be keen to finish on a high.
AMFC Group 3, Round 5 Match at Draycote – 22nd September 2018
Invicta B were leading the Group as we went into this match which had been moved from Farmoor at short notice because is had not recovered from the hot summer which had caused its closure.
We fielded another strong team with a fair bit of Draycote experience and David Moore (captain) and Ray Storer had fished it in an EFFA match two days before, although in very different conditions, today was a cold breeze and steady rain. The rest of the team was Paul Heavens, John Brown, Mark Mathieson and Peter Brewer and at our briefing Ray and David advised fishing small boobies with pink in them along with hoppers on midge tips pulled through the surface layer. Dries might be worth a try but not many fish were rising so not for too long unless successful. Areas worth a try were the open water north of the middle and the mouth of Toft, also Ray had seen fish close to the harbor near J buoy but there was Dragon Boat racing planned here.
The draw put Peter as the only Invicta member on the engine so we didn't have much early control and headed out for various directions. David started near X buoy on Middle Shoal and found fish responding to small boobies pulled hard but not sticking and catching 2 it died and moved to mouth of Toft where another boat was catching, after taking 2 more fish it died again although Peter Brewer was catching close to the stones here too before motoring across to Rainbow Corner for his last fish. After a 3-hour gap David moved back to X buoy and took 4 more fishing deeper and slower to finish at 5.30.
Meanwhile Ray Storer benefitted from his practice day and stayed around J Buoy where, undistracted by the Dragon Boats, he steadily built up his catch pulling his boobies, Ray's boat was the second to finish with a double limit at 4.30.  Ray was our top rod and 6th individual in the match.  Ray is having a very consistent season and we were lucky he could stand in as a reserve for this match.
John, Paul and Mark had all been taken down the south end of the reservoir by their drivers and fishing was much harder here although Paul moved towards P for his late fish to weigh in 2 trout.
At the weigh-in all of our team had 2 or more fish with a total of 26, every fish was vital and one more than GWFFA with 50lb-15oz and just one fish and 4lbs behind the Soldiers.
Royal Navy-Marines were top team (30 fish and 63lbs) Bristol had a member disqualified for admitting to sorting fish and throwing a smaller one back dead. The fishery is taking this very seriously and it reflects badly on AMFC and the team results therefore await ratification by the AMFC committee.
A special thank you to four of our team who were out of pocket on hotel reservations for practicing at Farmoor which could not be refunded because of short notice.
The result leaves the table incredibly tight. Invicta, RNRM and Bristol all have 17pts with Soldier Palmers on 15 and GWFFA 8 so any of the top three will win the table by winning the last match or by taking 2nd place if Soldiers or GWFFA win it.
Good luck to our team for this at Rutland on the 6th October, Mark Mathieson (captain), Ray Storer, Jeff Price and Nick Lant.
AMFC Groups 1 and 3, Round 4 Match at Grafham – 4th July 2018
Invicta are in their strongest positions for years, in both Groups 1 and 3. Both these Groups came together to fish the fourth match in the series, on an in-form Grafham.
After weeks of hot weather, bright sun and no rain, most waters would be suffering. But nights had been chilly and a cool breeze had kept the water clear and the temperature down. In fact, the water quality was second to none; perfect for nymph fishing and that's what most anglers elected to do.
Rods began bending almost immediately in favoured areas which were off the dam and G buoy to begin with, often in very shallow water and then the boats spread to other areas with Gaynes being particularly popular. The stiff breeze of the previous day had dropped and a gentle North Easterly gave just enough ripple.
Popular flies were Hare's Ears, Diawl Bachs and Crunchers which were all working either straight lined or on a washing line, but as the day wore on, these had to be fished very slowly indeed, often producing savage takes. The fish were fighting fit and pulling hard so it is not surprising that many were lost. All sorts of takes, pulls, on and offs, head shakes and long distance releases were reported, which was a source of great frustration for many.
In the end Invicta A had four eights, a three and a blank which put them well behind the Soldier Palmers who had their full complement of six limits, but just in front of the RAF. Invicta B had just the one limit with Mark Matheison bagging by 2:45pm but it was well supported with two sevens and they also managed second place. So a hugely satisfactory day for the club and excellent all round team performances.
The result has to be ratified but that should put us eight points clear in the Group 1 and two points clear in Group 3.
The A team was Captain Graham Bodsworth, Mick Facey, Gary How, Mark Searle, Chris McLeod and Dave Summers.
The B team was Captain Paul Heavens, Peter Brewer, Steve Harding, Mark Mathieson, Neil Potts and Ray Storer.
The next matches, number 5 in the series, are on Farmoor – Saturday 22nd September for Group 3 and Saturday 29th September for Group 1.
Both teams will be looking to capitalise on the success so far to make the final Association day simply a formality.
AMFC Group 3, Round 3 Match – Grafham  13th June 2018
The 'Invicta B Team' for this match was made up of Jeff Hickson (Captain); David Moore; Mark Mathieson; Andy Newman; Allen Sefton and Jeff Price. Four of the team managed to practice the afternoon before and a number of other Invicta members fishing the evening league event gave the team very useful feedback.
The wind was expected to swing round from NE to SW for match day. From a fishing view point the North shore between the Willows and Pig bay seemed to be the areas to concentrate on, with the fish mostly in the top water layers.
The team came to this match lying in second place after the Chew match.
On match day the wind had picked up a little and swung round as expected.
Tactics from practice still worked, diawl bach, hares ear etc, at the end of the match a team average of six fish per angler and three limits with time bonus was enough for a team second place.
The team stars being Mark, David and Jeff Hickson (who also had largest trout in the match at 3lb 10oz) and Andy Newman had the heaviest 4 fish bag of the match; overall yet another good team performance, thanks to all.
The second place for this match was enough to give the Invicta B team a total of 11 points for the season and current first place in Group 3, one point ahead of RNRMAA.
For members that like the numbers please refer to the results sheet on the AMFC web site.
AMFC Group 1, Round 3 Match at Pitsford – 10th June 2018
After the first two matches 'Invicta A' were 3 points clear at the top of Group 1 – our best position for years – and looking to keep the momentum going. A place in the top three would do very nicely but the competition was fierce with some of the county's top anglers involved; and Pitsford's form had been a bit variable.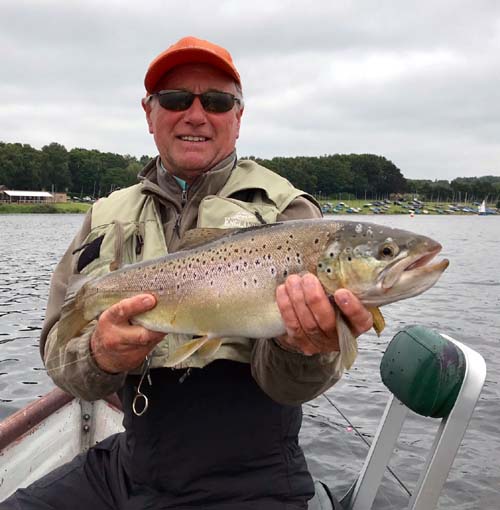 The team practiced the day before and found a couple of methods. There were huge numbers of damsels hatching and the trout were taking the nymphs which suggested imitative patterns and the green cruncher was an obvious choice. Gary How caught a cracking brownie on practice day, well over 6lbs, maybe up to 8lbs.
The team opted for floating, midge tip and slow sink lines fishing the washing line.
There were no areas of concentrated stockies so it was a case of long drifts over open water fishing very slow to static. Fish came in short bursts and all the team were making steady progress, although some started slowly and picked up later as they worked out the method. Whereas those who had it right to start with perhaps didn't adapt as the conditions subtly changed.
It really was an excellent match where good, traditional fishing was rewarded, rather than a stockie bash with all the boats stuck in the same area, pulling lures.
We had four eight fish bags, a five and a four, which was more than any other team, with some heavy fish and good time bonus. Second placed Tunbridge Wells had one less fish so it was very tight.  A fantastic result and a great team working together. Congratulations to Kieran Bonas who was top bag fishing for the first time this year.
The team was Captain Gary How, Kieran Bonas, Graham Bodsworth, Mick Facey, Keith Gilchrist and Chris McLeod.
The result has to be ratified but that should put us 4 points clear in the top group. Onwards to Grafham 4th July.
AMFC Group 3, Round 2 Match – Chew Valley Lake 12th May 2018
The Invicta 'B' team for this match had a mix of Chew experience ranging from Jeff Hickson who had fished it regularly for 30 years to Steve Harding who had only fished it a few times for pike and Paul Heavens, Jeff Price and Neil Potts on their first visit to the 1200 acre reservoir. David Moore had fished competitions here for the last six years.
Five of us practiced the day before with mixed results on a cool, breezy day. Paul Heavens and Jeff Hickson took a few rainbows in Herons Bay high-up on the bung but the others struggled in various spots although David 'enjoyed' a couple of decent pike on buzzers.
On match day it was a flat calm and as a team we decided to start on the bung and stick with it for the morning unless our partners were making something else work and to fish in Herons if possible. On match day Jeff and David were drawn with Bristol team rods which was an advantage and both took an early fish.
Sport slowed everywhere after the first two hours and boats were moving around. Jeff was taken to Denny's island; David was driven across to Spring Bay while the others stayed around Herons and the south shore. There was a big buzzer hatch in the afternoon and plenty of fish were moving but proving tricky to tempt.  A switch to straight-lined buzzers or washing line on a floater took more fish in the afternoon.
At the scales Jeff Hickson was our top rod with 4 good fish for 10lb 7oz, David also took 4 of which 3 were in the last 2 hours, Steve 3, Paul 2 and Jeff price and Neil with one apiece made up our bag of 15 fish for 35lb-9oz. It was good that everyone caught fish on a day when there were several blanks and a rod average of only 3.2.
We finished in 4th place ahead of GWWFA B but RNRMAA had the top rod of the day which made up for their two blanks to beat us into 4th place.
We are now in 2nd place one point behind Soldier Palmers (8pts) with RNRMAA and Bristol on 5pts and GWFFA B on 4pts.
The next round is at Grafham water on the 13th June.
AMFC Group 1, Round 2 Match at Rutland – 9th May 2018
Invicta 'A' fielded a formidable team for the second round in Group 1 at Rutland Water, most having fished several competitions and practice days in the previous weeks with some good results.
On practice day the weather started off sunny and very warm, but by the afternoon the temperature had dropped with a chilly westerly wind picking up. The team found fish all-round the lake but not in great numbers at any one place. We meet in the car park in the evening to compare notes and decide match day tactics.
On match day we all meet in the restaurant for breakfast and a final briefing before we set out, it was agreed the Buzzers were probably going to be the order of the day. The line that they were to be fished on varied from a floating line, midge tip to a Di5 (I tried them all) and watched my boat partner take three fish on a cat whisker, my head was starting to go, as I started working my way through my fly lines and flies. By 1pm I had not had a pull let alone a fish, so I gave myself a kick and started to use my brain, all the indications were that the fish are feeding deep, but the Di5 didn't work and fishing Buzzers on a normal midge tip didn't work so I opted for the long midge tip and fished it slow. Who said that length doesn't matter!!!!!!!
As we ventured out the conditions were very different from the Invicta club day the previous weekend with a cool westerly breeze replacing the flat calm but most headed off for the same areas of Yellowstone, Normanton, Sykes lane and Barnsdale with teams of buzzers.
By 1pm Keith Gilchrist had taken his 8 and Dave Summers was on 7 but Mark Searle was waiting for his first action. However, something strange happened in the afternoon with Mark bagging up using a long midge v with three buzzers and a Fab on the point. Dave worked hard all afternoon but couldn't get a pull and Kieran Bonus found fish outside the lodge on his Di7 but too late to bag up.
All the team had a decent catch with Gary How, Graham Bodsworth making up the total of 38 fish matching Rutland Water FF but sadly just 5oz lighter to take second place. It was a good team effort with an average of 6.3 compared with a match average of 5.2
Kieran had the heaviest fish at 3lb 14oz and the 2nd best weighed bag of 4 fish in the match at 14lbs
Invicta A tops the Group with 11 points and extends its lead over HFA to 3 points, Fish Hawks had a rare off-day and lie in 3rd.
The next round is at Pitsford on June 10th.
AMFC Spring Match – Draycote Reservoir, Saturday 21st April 2018
Group 1 Round 1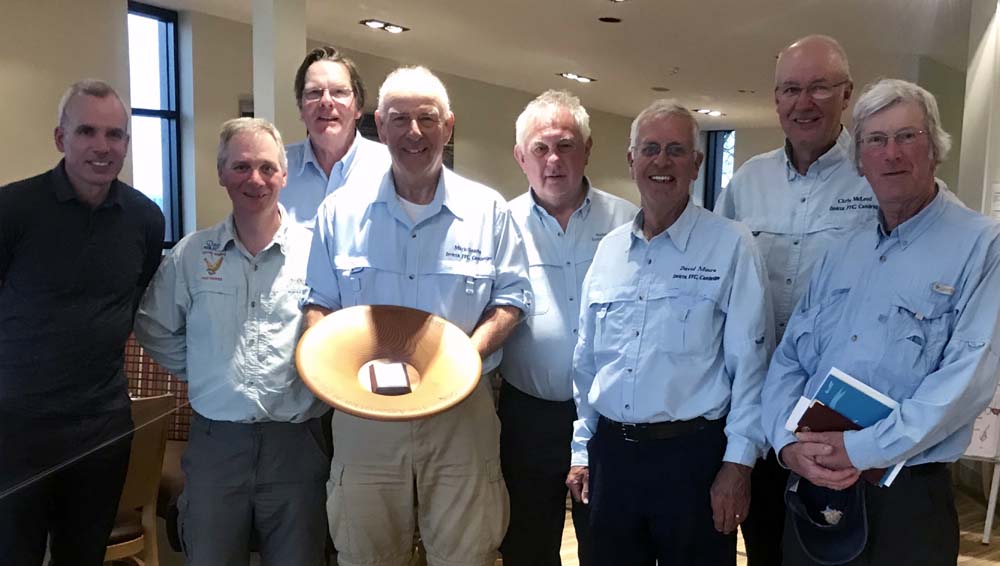 Invicta achieved the perfect start by winning both their groups.
The A team of Mark Searle, Graham Bodsworth, Keith Gilchrist and Chris McLeod practised with the B team and found fish – lots of them – in two areas. Plan A was to fish the Dam wall into Toft. This produced double figure catches for most of us, but we also found plenty in the unfancied Rainbow Corner.
On the match day the wind had changed, and although most boats targeted Toft, very few rods bent. So the field gradually dispersed. But the odd fish was caught and a lot were lost. As cloud cover and breeze increased the fish became more active obviously feeding on the massive buzzer hatch. A move to Rainbow saw topping fish everywhere. That's where our two limits came from as no other boats were in that area and the fish weren't put down. They were plopping about so much it was difficult to decide which to target!
So Invicta had 25 decent fish and good time bonus that helped us get ahead of Fishhawks 26 fish.
A great day for the club and we look forward to another win on ………..
Group 3 Round 1
Invicta B team of David Moore (Cptn), Peter Brewer, Alan Briggs and Jeff Hickson all joined our A team to practice the day before the match. We paired off with different zones to cover in the morning but only found fish along the south wall of Toft. A lot of muddy water was being pumped into the western end and the fishery staff told us this had put the fish off, however when we met up with the A Team Graham and Keith reported a lot of fish here in Rainbow corner. The afternoon was hot, sunny and calm but we all took plenty of fish to buzzers on washing line and the bung so we were optimistic.
On match day there was a breeze from the east but conditions were similar and nearly all the fleet headed for Toft but fishing was very slow with few fish showing and by 1pm boats had spread out. Our team only had 1 fish a piece but remembering the info from practice, Jeff, Peter and I managed to persuade our sceptical boat partners to head across to Rainbow corner where we found rising fish and put together decent bags in the last 2 hours using buzzers on the bung, washing line and straight- lining near the surface. All four of us held or won our boats against G1 partners, with Jeff overall top rod in the Group with 7, followed by Peter and me with 5 and Alan with 1, beating Soldier PalmersB by 2 fish and 33-15 to their 30-05. GWFFA B were 3rd with 9 fish and RNRMA 4th with 6 fish. Bristol FF failed to send a team which was disappointing. The rod average for the Group was 2.9 so we did well 4.5 which was the average for G1.
Round 2 is at Chew on the 12th May where our team is David Moore (Cptn), Steve Harding, Jeff Hickson, Paul Heavens, Neil Potts and Jeff Price.
"Back to Top of Page"

Tuesday Evening Club Social Fishing at Grafham
Week 14 (Final)
What a final week we had and it turned out to be East v West that was the biggest influence on the evening. Those that headed for the eastern 'dam end' tower struggled to get a take whilst those that made their way the west tower were finding fish willing to chase.
Ray Storer entered the match with a solid lead of 6 fish with only two anglers that could catch him, Mick Facey and Jamie Thomas. Ray was amongst those that headed for the dam end and failed to find fish but fortunately for him Mick and Jamie were also struggling and Ray maintained his lead to finish 2018 champion. Some good performances in previous weeks ensured that Mick Facey finished the league in third spot.
Meanwhile Keith Gilchrist and Paul Heavens had found fish near the west tower willing to chase roly-poly pulled blobs and boobies and Keith netted 7 using a Di 5 sweep to finish top rod on the evening and move himself up into the league runner-up position. David Moore landed 5 fish for second spot on the evening and Paul Heavens netted 4 for third.
Several anglers made the move from east to west but by 8pm the fish had gone off, possibly due to boat pressure.
The most unfortunate incident of the evening was Trevor Barton falling backwards off his boat seat near the boils. It could have been much worse had it not been for his boat partner Peter Brewer getting him back into the boat and taking him back to the lodge. Sadly Trevor lost his rod and reel in the incident. Winning the free boat ticket will be small consolation.
We finished with the presentation plus sandwiches and chips in the Wheatsheaf.
Total fish: 28
Rod Average 1.25
Boat Ticket was won by Trevor Barton
Week 13
Another stunning evening, but the very high water temperatures prevail and the fishing was once again tough.
7 anglers turned up, including junior Alastair Toms, who has recently done a course with Peter Hartley. The boils were favourite, but although the odd fish was showing, they showed very little interest. The only fish caught was by Keith Gilchrist, roly-polying with a di3. Steve Harding landed a small zander which was the other highlight of the evening, apart from the sandwiches and chips in the Wheatsheaf.
Please try to come along for the final evening next week; can Ray Storer be beaten to the trophy? He is catchable by both Mick Facey and Jamie Thomas. It is getting cooler so anything could happen.
Rod Average. 0.14.
–
---
Week 12
A slight improvement in the fishing since last week, but still far from good. 19 anglers turned up and reports that the best results had been coming from the dam area saw most boats heading In that direction. Fishing had been reasonable during the early morning with anglers reporting plenty of fish being caught but all agreed that it died after around 11am and as it became clear was not about to come on again.
Keith Gilchrist was top rod and managed to connect with 3 fish using deep tactics pulling. As if to prove that there was no single working method, David Moore took second spot with two fish using a midge tip and nymphs fished static. Several anglers tried the 'boils' but as was the case last week, the fish were not having it although David caught his two not far from that area.
The rest of the anglers struggled with the odd fish being taken on an evening with 12 blanks. Ray Storer remains at the top of the table despite not finding fish this week. However with two weeks still to go and 4 anglers within a dozen points of him there is still time to catch him especially if the fishing comes on.
We finished as usual with sandwiches and chips in the Wheatsheaf.
Total fish: 9
Rod Average 0.5
Boat Ticket was won by Paul Stevens
Week 11
Not catching fish wasn't a disappointment at the latest Tuesday evening. With water at 24 deg C even on the boils fishing took second place to relaxation for seven members who were dedicated enough to go out. Amongst those fishing for the second week on the run was new member Andy Trafankowski, he really has not chosen the best period to start fishing with us on Tuesday evenings. A month ago we were getting plenty of fish, I hope he is not put off, it will get better Andy!
A few fish were rising in open water and last light near the tower but nothing taken. Highlight again was the Wheatsheaf and the special offer in the tackle shop. Two weeks to go, will the heat wave end in time?
Fish Caught: 0
Rod Average: 0
–
---
Week 10

Another beautiful evening and the fishing was once again tough. However it is the same everywhere at the moment and in the Rutland evening league this week  they copied our last weeks 100% blanks!
12 optimistic souls signed on including new member Andy Trafankowski. Lovely fishing conditions with a few fish showing but very little action. The only 2 fish caught came to one boat, Jamie Thomas and Roger Swain with 1 each; they travelled the reservoir.
The evening finished as usual with shed loads of sandwiches and piles of chips in the Wheatsheaf.
Total fish: 2
Rod Average 1.16
Boat Ticket was won by Alan Prevost.
Week 9
The 9th evening will go down in the record books for the wrong reason. We believe that this is the first time that a competition at Grafham has returned a 100% 'Blank'. Twenty-one anglers came in and not a single fish.
David Moore recorded the water temperature at 21deg, very warm to the touch. As one of the anglers commented, "Even the anchor was warm when we pulled it in".
The Wheatsheaf sandwiches and chips was definitely the highlight of the evening.
Ray Storer won the free boat ticket..
Total fish: 0
Rod Average 0
Week 8
The 8th evening started a little breezy but by 7pm had settled into another balmy summer's evening especially on the sheltered north shore and we were allowed to fish until 10pm and enjoy a lively evening rise.
Numbers were down to 14 through competing football and practice for the following day's AMFC.
Most of the fleet headed north or towards the Willows. Chris McLeod, Mick Facey and Graham Bodsworth had been out in the afternoon and found fish close in between G Buoy and Marlow Jetty where they returned and were quickly into fish again; Mick's 7 fish moves him up the league into second spot behind Ray Storer who still leads despite not fishing this week. David Moore fishing with Graham opted for a 6ft tip and hares ears to take 8 quick fish mostly on the hang at first drifting and then at anchor before switching his phone with speaker to broadcast the football at 7pm.
Graham started taking fish with a 3ft tip nearer the surface and Chris was taking fish steadily in a boat near the Jetty. A lot of fish were lost, a common experience at Grafham lately and exasperated by double hook-ups.
Nearly everyone was using floating lines or midge tips with hares ears, red diawl bachs and small boobies but it was location and presentation that made the difference.
Chris finished with 14, David 10, Graham 8 and Mick Facey 7. Everyone headed off to the Wheatsheaf where Allan Murren won the raffled AW boat permit.
Total fish: 55
Rod Average 3.9
Week 7
On what was the hottest day of the year so far, expectations were not high. The rangers informed us that although fish had been caught during the morning little or nothing had been taken since around 1pm.
Several anglers started deep and two boats tried the 'boils' and although the 'boils' produced a couple of decent fish, they were not really on. Gaynes, which has been reasonably productive over the past few weeks was equally non productive and it was the North bank from Rectory Bay to the Willows which proved to be the zone.
During the evening the fish came up and as usual it was anglers that that found the correct depth that took the spoils. By late evening dries once again came into play with Peter Waterhouse battling (and loosing) a double hook-up. However it was Jamie Thomas once again who led the way, bagging up for the third time in four matches. His three week lay off from the evening league clearly has not affected his winning streak.
Paul Stevens was not far behind Jamie taking 7 fish for a creditable second spot followed by Ray Storer and Peter Brewer both on 5. Ray's 5 fish were enough to ensure that he remains the man to catch at the top of the table.
Successful tactics for the top anglers were similar with Intermediate lines, Hare's Ears and Red Diawl Bachs taking the fish. For the second time this series there were no blanks.
Total fish: 55
Rod Average 3.2
The free boat ticket was won by Peter Waterhouse.
Week 6
An evening where the dry fly was significant. Initially boats headed for several different areas although the majority divided between Gaynes and Valley Creek. By mid evening most had deserted Valley Creek as it was not productive and word had got around that Gaynes was full of fish rising.
In Gaynes anglers were enjoying a feast of fish on dries. However the experience of Chris McLeod shone through as he took full advantage of fishing a floater – washing line style with hare's ears to finish top rod with 13 fish. Chris said it was a matter of cast, pop, pop then static, then slow draws to bring the flies up with a long pause between draws.
Gary How and Mark Searle caught 8 each which promotes Gary to second spot in the league table; however Ray Storer continued his excellent form with 8 fish which keeps him firmly at the top with a 5 fish lead over Gary. Mick Facey fished with England Youth squad member William Crawford and both took 5 fish. Mick is now in third spot.
Richard Slater and his boat partner Paul Heavens had initially headed for the North shore but moved later in the evening to Valley Creek and found themselves on their own. A masterclass from Richard in fishing dries followed as he quickly took his 8 fish beating his partner 8-2. ……Note to myself, 'must try harder'
Total fish: 90
Rod Average 4.0
The free boat ticket was won by Sue Potts (who to her embarrassment drew her own ticket).
Week 5
Week 5 saw our biggest turnout so far this season with thirty anglers taking part. The numbers were boosted by several anglers who were taking the opportunity to practice for the Airflo International later this week.
Reports that the North Bank from Pig bay to G buoy were still producing catches saw nearly all boats heading across the reservoir.
Keith Gilchrist fished in rectory bay and was soon into some decent fish straight lining nymphs on a floater with hare's ears and diawl bachs, he was top rod taking 15 fish on an evening where several anglers hit double figures. Just one fish behind Keith was Nigel Angus with 14 and Peter Waterhouse and Richard Slater with 13 each; what an evening, a total of 177 fish were caught!
Ray Storer continued his consistent form with 11 fish on the evening, this moves him to the top of the leaded board just 3 fish ahead of joint second placed Jamie Thomas and Keith Jones.
Two new anglers to fly fishing also made noteworthy starts, Jake Fell caught 2 and Allan Harvey caught 4, a brilliant performance.
Rod Average 5.9
The free boat ticket was won by Jake Fell.
Week 4
Grafham had had some heavy competition boat traffic during the day with every boat out when we arrived. Fortunately they came in at 5:30pm and the rangers turned them around quickly for us.
Reports were of fish being caught on the North Bank from Hill Farm to Deep water point, mostly taken by pulling.  Most boats headed for that area with Pig Bay and Hedge end being favourite spots.
Several boats anchored but Ray Storer drifted out from the Hedge end area and kept repeating the drift but moving along each time so that he never covered the same spot. The tactic paid off with Ray taking 9 fish on nymphs and a booby fished 'washing line'. Second spot went to Malcolm Reece with 5 fish followed by 4 each for Gary How and Keith Gilchrist.
Although the rod average was well down on last weeks exceptional performance, it was notable that with 22 fishing and the fish widely spread, we only had one blank.
The free boat ticket was won by Paul Heavens.
Rod average 2.5
Week 3
Grafham was on fire with the top 4 anglers catching 50 fish between them. However the fish still had to be found and if you were not on them it was not that easy. Jamie Thomas continued his run of successes by taking 16 fish and finishing top rod for the third successive week, no fluke; Jamie puts the practice hours in and was on the water at 4am one morning!
Graham Bodsworth continues to keep the pressure on Jamie and took 13 fish to cement his position in second place in the league. Paul Heavens and Gary How were joint third with 10 each.
The North bank G buoy area from Cove bay to Marlow stones proved very productive with several boats anchoring up between 75 and 125 yards off shore. Jamie also found a large pod of fish in Church bay and took full advantage. Blobs, boobies and cormorants pulled through the top couple of feet resulted in lots of takes and a lot of pulls. A total of 125 fish were caught.
It was also very encouraging to see William Crawford and Ollie Brand fishing. William is already part of the England Youth squad and Ollie at only 13 years old is already showing great promise.
The free boat ticket was won by Lee Marshall.
Rod average 5.0
Please Note: It would be most helpful to the organiser if anglers could sign in as soon as they arrive at the lodge. It enables us to organise the draw so that there are few delays.
Week 2
A windy day at Grafham, Northerly, gusting 30 knots, so no single boats allowed out. 13 fished  so Paul Stevens very selflessly fished off the bank.
Blobs and Lures seemed to do better than nymphs and fishing was all close to the north shore, best area about 100-150 yards out. Jamie Thomas and Ollie Brand fished together with league leader Jamie catching 8 and Ollie catching 4.  Ollie only had a beginner's lesson with Peter Hartley a few weeks ago and fished very well.  He comfortably had 4 and lost several more in play.
Jamie caught all his fish on a di5 sweep with a booby on the point and a blob on top dropper.  Ollie fished a floater with a Cats Whisker on the point and a blob on the dropper, all of his fish came to the Cat. The area they caught most of their fish was drifting off Marlow Jetty out as far as 150m, they found a lot of fish in that area.  Takes were very tentative and Jamie easily had another 20 fish lost in play!!
Boats came in  at 9.15pm by which time most people were feeling chilly. Stellar sandwiches and chips and a nice lump of apple cake before we went out, kindly made by Stewart Stenning- White in the shop. Peter Brewer won the Boat Ticket.
Total caught 32, Rod average 2.46.
Week 1
Conditions were quite good although a little too sunny with a moderate wind which died down during the evening. Reports during the day had been of difficult fishing with very few being caught and expectations were low.
The turn out was very good with 26 anglers taking part including a young man 'Ollie' 13 years old who had been on Peter Hartley's course.
Boats headed off in all directions from Gaynes to Savages in the hope of finding a few but it was Jamie Thomas who found the method initially by drifting in the middle in off G Buoy area and working blobs and boobies. He finished his evening near the lodge for a total of 7 fish – a great performance. Graham Bodsworth and Mick Facey took the buzzer approach and finished with Mick taking 6 and Graham 5. Mick was fishing the washing line in Gaynes and Graham on the bung near the lodge.
Unknown to most who had headed off to the usual hotspots, the area just to the left of the lodge started producing fish and those that had returned to that area early took full advantage. A total of 50 fish were caught with a rod average of 1.92.
The evening finished with sandwiches and chips and some very enjoyable banter. The draw for the free boat was won by Chris Hulbert.
"Back to Top of Page"
Snowbee® Interclub Floating Line Match
Click Link to view full scoresheet: Floating line results 2018 v3
The annual Snowbee® Interclub Floating Line Match was held at Grafham on 14th April. A record entry of 19 teams had to fish well to be in the prizes on an unseasonably sunny, almost flat calm day.
After some initial problems with the scores due to a computer malfunction, congratulations go to the winners 'The Reelmen' (Ashley Cooper, Terry Bayes, Pip Jeffs and Frazer Duffy). Runners up were Invicta Blue (Mark Searle, Mark Haycock, Dave Summers and Martin Rowson) who also won the trophy for the Top Local Team.  Third place went to Tunbridge Wells (Keith Nicholson, Vinve Brooks, Keith Lawrence and Simon Newman).
Graham Bodsworth caught the heaviest bag, and Alex Urquhart caught the heaviest fish.
Our thanks go to Simon Kidd & Snowbee, Angela Tarry and her Grafham team, plus all volunteers within Invicta Fly Fishing Club who contributed.
Bob Ayres
"Back to Top of Page"
Spring Bank trip (Norman Shippey Memorial) – Elinor 24th March 2018
Spring Bank Match Elinor result 2018
After a very cold and snowy February and March, the weather took a turn for the better and produced excellent conditions for this start to the Invicta calendar. Sixteen hardy souls turned up for what turned out to be a very pleasant day, in complete contrast to conditions the week before, when a national competition had been held at the fishery. But even then, in Arctic conditions, there had been a rod average of over 5, so expectations were high. Ed Foster, the owner of Elinor, stocks regularly and those fish hadn't moved very far from certain well-known areas. The water was still cold and the fish weren't really feeding. They tended to be sulking deep and not keen on chasing anything and to the method was slow to static. Nymphs were working, even in the slightly coloured water, just letting them drift round in the breeze, or a very slow retrieve running the flies just over the weeds. Swans stirring up the bottom certainly held fish in certain areas as well.
A break for lunch proved that fortunes were variable. No blanks but some slow mornings, although there were also a couple of sixes and even one member with ten. As the winds were light fishing was possible right around the lake and, indeed, fish were caught from all banks.
At the end of the day John Brown won with a convincing 13 fish, all caught on nymphs – buzzer and diawl bach – and he just pipped Chris McLeod who had a dozen.
Notable was Alan Prevost's performance doing a Tom Daley inspired, head first dive into the lake. He seems to like Elinor as he regularly takes a dip there.
A cracking start to the season with a number of newer members beginning to make their mark and catching a few. A rod average of 5.3 was a little disappointing but the quality of the fish was excellent. All were returned to the water, including the six pound plus rainbow that Graham Bodsworth took to win the big fish sweep.
We all now look forward to our first boat outing on Pitsford on 3 April. Hope to see you there.
Anglian Water Airflo International: Midlands Heat at Grafham
The reputation of Invicta FFC has been rising steadily in recent years and with both teams heading their groups in the AMFC league it was time for the club to start re-entering the Anglian Water International, currently sponsored by Airflo and the most prestigious loch-style team competition .I persuaded six members got together to enter a team into the heat at Grafham Water under the Invicta banner on the 16th June.
Invicta was the only un-sponsored team of the sixin this heat and the big majority of anglers had fished internationals for England or Scotland so it was a tough challenge. Most of us had been fishing Grafham for the past 4 days including the Tuesday club, AMFC and Pro-Am competitions so had a clear plan of fishing FABs, Hares Ears and Diawl Bachs slowly near the top in either Gaynes or North Shore.
The match was international loch-style rules but weigh 4 and release 8 with a time bonus. Most of us were pleased with our draw although Peter Hartley's partner sadly insisted on taking the engine (in spite of knowing Peter was left handed) so they both suffered horribly in the blustery wind.
I got off to a flying start with 7 fish in the first two hours, all on a slow intermediate and nymphs and although losing a few reached my 12 limit by 2.45pm and leaving my much more talented boat partner somewhat perplexed on just two fish. I was mostly fishing my flies (black headed GRHE's, red diawl bachs and a yellow/red FAB) a bit slower, deeper and closer to the boat and then taking fish on the hang.
Mark Searle also had a very good day on the nymphs, his 12th fish remained elusive but he took 8th individual place. Chris McLeod boated 8, Gary How 7, Peter Hartley 5 and Tony Smith (not fully recovered from illness) 4 so we bagged a creditable total of 47 fish for the six of us. Gary, Chris and I all held our boats against Internationals.
At the call we were only 16lbs or 8 fish short of Draycote Rio Masters and qualifying for the Regional Final and only slightly below the rod average of 8.4. Fifth out of six teams was a creditable attempt for one of the few club teams among the 70 in the competition and enhanced the Invicta brand.  I hope we can enter again next year.
Good luck to Invicta members Mark Mathieson and Dave Summers, both fishing for Musketeers and Mark Haycock, Draycote Rio Masters, who qualified for the Regional Final with 2nd and 3rd places.
On a personal note, I rate 4th rod in this field as my PB in competition performance so a big thank you to all you talented Invicta members who have helped me over the past ten years, proving there is hope for all.
David Moore
"Back to Top of Page"