This is your page…
Members are invited to send in any articles about fishing trips/holidays or venues that they have enjoyed. Information about fishing venues can be of help and interest to other members so it  doesn't matter whether  it is somewhere local or across the other side of the world, share it.
Any photographs add to the enjoyment and are welcome.
Submitted by Chris McLeod
It is refreshing to know that even an angler as experienced and reliable as Chris McLeod can have days when it doesn't all go to plan. In his unmistakable style Chris tells us about his Carr Cup day at Grafham.
Submitted by Chris McLeod
We all have off days, even Chris with his 30 plus years of fly fishing shows us in his usual humorous manner that occasionally nothing goes quite right.
Submitted by Bob Ayres
On the occasion of Invicta Fly Fishing Clubs 45th Anniversary, President Bob Ayres pays tribute to David Jones, who is a founder member and still very active within the club.
Submitted by David Moore
David has been keeping a fishing diary for many years and finds it a useful tool for measuring his improvement and referring to when returning to venues.
Submitted by David Moore
David gives some useful tips on checking your equipment before the start of each season:
Winter maintenance and pre season checks – David Moore
Submitted by Rob Edmunds
Rob writes about a 3 day break to Clywedog in Wales. An excellent read with details about the fishing and accommodation:
Submitted by Peter Brewer
Peter tells us of his experiences fishing for coarse fish on the fly.
Submitted by Bob Ayres
Bob pays tribute the Arthur Sexton
Submitted by Mac McDonald
Mac reports on the recent Invicta Grayling fishing trip to the river test.
Invicta 2019 Grayling trip to the Test
Submitted by Davey Jones
David reminds us of an early Invicta meeting nearly 40 years ago with guest speaker Davy Wooton who has gone on to become one of America's leading anglers and instructors from his base in Arkansas.
An Invicta meeting with Davey Wooton, a voice from the past.
Submitted by Chris McLeod
Chris McLeod on Fishing for Barbel on the Fly in Spain.
Submitted by Mark Mathieson
Mark Mathieson gives us his tips on fishing 'The Bung'
Fishing under the Bung- Mark Mathieson
Submitted by Steve Middleton
Steve reflects on the Pilgrimage match. This match is a significant part of Invicta's history and continues to be an important of our annual fixtures.
Submitted by Chris McLeod
A matrix showing the sink rate for different lines.

Submitted by Peter Thomas
Tips Gleaned from Steve Cullen
Peter Thomas picks out some useful tips from Steve Cullen on improving hook ups.
Useful Tips gleaned from a Trout Fisherman article by Steve Cullen
Submitted by members of the fishing party
A Club trip to the River Dee at Llangollen.
Submitted by Bob Ayres
Tributes
Graham Williams and John Gale
Following the deaths of two very well respected Invicta members Bob Ayres has written tributes which can be viewed by clicking on the links below.
Submitted by Peter Oldham
Trout at the Top of the Country
Our Northern Invicta Representative Peter Oldham experiences catching beautiful wild browns on the equally beautiful River Tees.
Click on the link below to read the article:
TROUT AT THE TOP OF THE COUNTRY
Submitted by Martyn Sharp
First Time Fly Fishing a Reservoir
Experienced river angler Martyn Sharp on his first experience at fishing for rainbows on a reservoir. Significant that one of his first questions after an hour or so was "How much is a boat seat"!
Click on the link below to read the full article:
Submitted by David Moore
A Day with a World Champion
David Moore recalls a memorable day in the 2017 Bob Church Classic on Rutland Water when he was drawn with World Loch-style champion Ian Barr and learnt some  valuable lessons.
click on the link below to read the full article
Submitted by Peter Thomas
Observations on the Killer Shrimp
Click on Link Below to read article:
Submittted by Paul Heavens.
Grayling Society Symposium and Fishing Trip
Several anglers from our region made the trip across to Wrexham for the Grayling Society Symposium on Saturday 21st October. It also gave us the opportunity to meet up with Invicta member Peter Oldham who moved to Cheshire last year. We had booked in for the whole weekend in the hope of some decent fishing on the river Dee on the Sunday; this had been arranged by the society and we were told about our beats and supplied with maps.
The symposium had some good speakers and in particular Dave Southall gave an excellent (and impressive) demonstration of Italian style casting and Tenkara. He was casting very light lines 1, 2 and 3 weight into a strong breeze and still getting distance and accuracy.
For the 'centre pin' enthusiasts Alan Roe gave a tutorial on using the 'Wallis cast', a method of casting at distance with a centre pin reel. Very impressive and he made it look much easier than I'm sure it is. It needs practice and requires the skill of getting your timing correct with different hands doing different things – much like the skill required for the double haul.
Sadly, during the afternoon 'Storm David' made its way across Wales and hourly river reports were showing a rapid rise in levels and wind speed. By Sunday morning we were advised not to attempt fishing as it was up by 1.06m which was a big disappointment, however some of us decided to familiarise ourselves with some of the beats and see what we were missing.
One of the chaps from our area Martyn Sharp from Peterborough is a very experienced all round course angler and had taken his trotting gear. He decided it was worth a try and positioned himself near Glyndyfrdwy bridge on the Llangollen to Corwen stretch and took 4 grayling and two brownies. He was probably one of the only people to take a fish from the Dee that day. I told him that he needs widen his angling to include the fly rod and plans a day Grafham before too long. He was very interested in the fly casting clinic that Invicta are planning in the New Year.
So, a very enjoyable weekend in good company (at times we got a bit thirsty and had to do something about it) and next year it will be held in the North East.
Submittted by Peter Oldham.
No 5lb Rainbows Here! …The River Dane 
The River Dane originates on the western slopes of the Pennines, springing from
numerous underground waterways and aquifers together with run-off from the hills.
Click link to read article:  No 5lb Rainbows here!
Submittted by Steve Middleton.
Memories of the annual Pilgrimage Match
Click link to read article:  Pilgrimage Memories
Submittted by Graham Williams.
Fishing the Discovery Passage between Vancouver Island and mainland British Columbia
Click link to read article: Fishing in Canada
Submitted by John Reynolds.
Wild Trout in Cambridge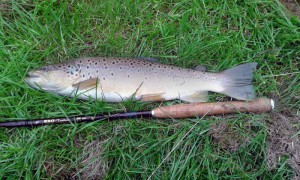 Invicta member John Reynolds has been fishing using the Tenkara method for three or four seasons and shows that he has perfected his this style of fly fishing  by being rewarded with a fine wild brownie.
The fish was  taken on a 'daddy' just a short distance from the Cambridge city centre.
Submitted by John Caldwell.
One for the List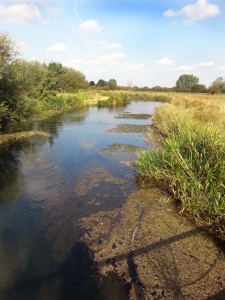 I recently made the trip to East Yorkshire to fish the Mulberry Whin beat of Driffield West Beck which has been described as one of the finest stretches of Chalkstream fishing in the UK www.mulberry-whin.com
Andrew Dixon and family own the fishing which is
single upstream dry fly or nymph, barbless or debarbed hooks maximum size 12. The Yorkshire chalkstream has brown trout, grayling and the occasional rainbow (you are asked to remove any rainbows caught). There is B&B accommodation at the farmhouse for a price.
The river is delightful and you may see kingfishers, otters and water voles if you are lucky, Canada geese and cormorants if you're not. There is a maximum of four rods per day and this time of year a day rod costs £60.00 (range £50 to £70 depending on season). Winter Grayling fishing from 1st October costs from £20 to £30.
I had two nice brownies on a day which was torrential rain when they left Lincoln but sunny by lunchtime.