Invicta turn out in Force for Charity Match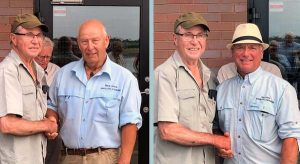 Congratulations to Mark Searle and Gary How on coming 2nd and third respectively in the Alex Booth Memorial at Draycote on 23rd June.
Following several days of very hot weather, it was a tough day with a lot of blanks but Mark and Gary found a method and took 6 fish each on 'the bung'. Only a small amount of weight separated the top three rods who all had 6 fish. Rainbow corner seemed to be the most productive area with most boats choosing there or along the dam wall.
Mark hooked into his 6th fish at exactly 4:58pm in a 5pm finish match, that's cutting it fine! It was not quite so easy for their boat partners who like many others struggled.
Invicta have traditionally supported this match and this year had a a great turnout of members.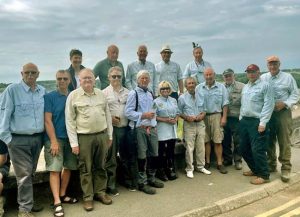 ---
England Ladies (with Invicta's Sue Potts) win the Ladies International
We are very pleased to be able to say that England Ladies with our very own Sue Potts in the team, won the Gold medal at the Lake of Mentieth; a great achievement for the England Ladies team on Scottish home ground.
The weather was unkind and on the final practice day Sue fished with Gweneth Mooney. The wind was gusty and bumpy she caught no fish! Gweneth had one. They also managed to beach the boat and had to get the emergency boat out.  Most boats finished at 3.30ish getting very wet on route back in.
Finals day dawned and the weather although stronger winds at times was in the end better overall. They were piped out to the water, a  last minute meeting with team manager Chris Booby then into the boats.
Sue had the engine so first two hours and her boat partner caught a fish quickly around 10am.  They moved drifts for the second time period and later in the third period both had a fish and lost a fish on same drift. They really had to battle the weather. Moving again for the fourth period Sue caught one and unfortunately lost one but her boat partner had no action at all. They returned up wind to fish to fish the last ten minutes outside the lodge.
What a day; the results where close and England came out on top by 25cm.  Sue said she was so pleased to have had this opportunity.  
Sam Edmunds had 5 fish, taking her final one in the last few minutes and Louise Callow was the team top Rod with 7 so well done to them.
Sue, what a long way you have come since those early days when you didn't even like touching fish!
–
---
Advance Notice Date for your Diary
INVICTA SUMMER EVENING BUFFET
Friday 12th August 2022
Grafham Sailing Club
Details to follow in July.
---
A win for Invicta Pair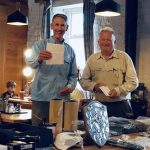 Congratulations to Simon Peck and Tony Smith on winning the Rolls Royce Team Trophy at Leighton Reservoir, Masham on the 20th May.
They headed home with £80 tackle vouchers and a £500 rod. Tony is making a habit of winning rods, he will soon be able to set up his own tackle shop!
Well Done lads.
---
Another Successful Invicta FFC Improvers Day
Saturday 9th April 2022 – Grafham
This is a great initiative by Allan Sefton and the Committee to give beginners and relative newcomers a chance to develop their skills under the watchful eyes of more experienced members. This is the second year it has been run and hopefully will be repeated, if there is the demand.
We had the full range of abilities from some real beginners to those with a good deal of experience but wanting to do more competition fishing. A great example of the latter was 'improver' Darren Trumper, who had 29 fish to his 'Just Under' transparent line with a Tequila Blob on the point and a couple of Hare's Ears. We finished at 4pm, but he went out for more afterwards!
Congratulations to Colin Stearn who's catch brought a huge smile, although he needs to persuade those fish not to keep dropping off!
An excellent day, thanks for organising it Allan.
Chris McLeod
–
---
Invicta Committee Meetings
Your Committee meet four or five times a year to manage the club and its events. We are always happy to discuss any issues or ideas that members may have, it's your club after all!
If you ever have any matters that you would like the committee to discuss please feel free to raise it with one of the members or contact our secretary Paul Stevens who will ensure that it is put on the agenda.
Our next meeting is on the 9th August.
---
Membership Subscription 2022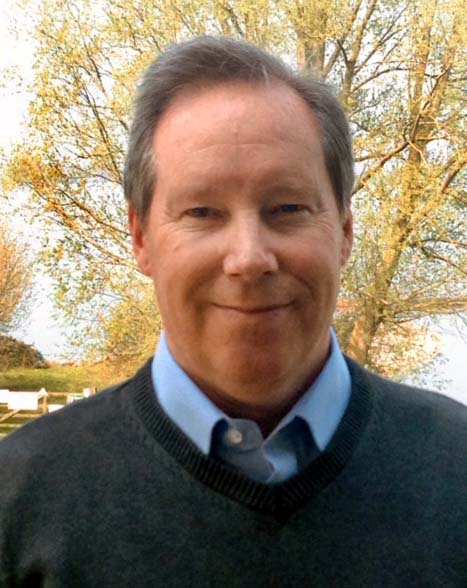 Thinking of joining our friendly club?  The membership fee is £20 (£35 family). Membership for those  under 18 years old or in full time education remains free.
If you are renewing and your details have not changed, you do not need to fill in a membership form. Otherwise a membership form can be found on the Membership/Contacts page of this website.
I would ask though please that when paying directly into the bank, add a clear reference and / or confirm by short email so that Alan Prevost (Treasurer) and myself can easily keep track of renewals as they come in.
Tight lines.
Steve Harding (Membership Secretary)
'Team Invicta' Caps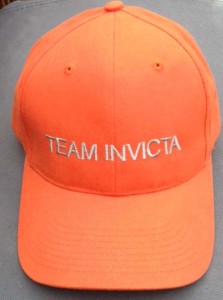 Has your old Invicta cap become faded and tatty, or perhaps you have not had one before?
The club now has a new stock of the 'Team Invicta' cap for sale. These distinctive 'one size fits all' caps are available from Alan Prevost at the bargain price of £8.
Drop Alan an email or give him a call (01954 230678) and he will make sure you get one.
email: Alan Prevost
–
Invicta Beanie Hats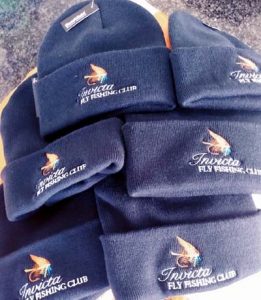 Why not treat yourself to one of our top quality 'Beanie' Hats. Ideal for those cold winter days. Excellent value at only £6.
We have a limited quantity so if you would like one, contact David Moore.
David
If you have any questions, please email me: Click here
River Fly Fishing 

Invicta  FFC tries to offer occasional river fly fishing trips to members although this has not been possible recently due to the Covid-19 situation.  Primarily these are autumn/winter Grayling fishing trips although occasional summer trout fishing is sometimes possible. We hope to reinstate these trips later in 2022.
The number of anglers allowed on river beats is often limited and places on the trips will be on a first come basis.  Anyone interested in trips can lodge their interest or obtain more information from Paul Heavens.
email: Paul Heavens
Invicta on Facebook

The Invicta FFC Facebook page can be accessed by clicking on the Facebook symbol at the bottom right hand side of the footer on every page or the  'Find us on Facebook' symbol on the left.
The page is hosted by David Moore and Paul Heavens and gives those joining it the opportunity to read comments left by other members and post messages of their own. So for example if you have visited a fishery that impressed you; know that a particular event is happening or just have some thoughts you wish to air, why not share it with others.
Usual rules of common sense apply i.e. nothing offensive or libellous.
Back to Top of Page