Grafham Water Fly Fishers Association – Inter Club Quiz
Tuesday 4th December, Grafham Lodge 7:30pm for 8pm 
On behalf of GWFFA, may I extend a warm invitation to EMFF, RWFF & Invicta to form a team (or teams!) of 4 to the above, which is being presented by Quizmaster Chris McLeod.
As you know, Chris always puts on a great event and it would be nice to see representatives of all our other local clubs attending.
A buffet will be provided, as well as prizes for the winners and a good raffle.
Invicta Members, let's support this event please. It is a very light hearted evening, nothing too serious. If you would like to come along, please let Paul Stevens know ASAP
Paul Stevens
E-mail: faith.paul@btinternet.com
Telephone: 01480 403529
A well deserved Prize for Joan
Congratulations to Invicta member Joan Russell who caught the biggest fish in the Anglers World Fly Fishing Championships at Chew. The 3lb 15oz rainbow won her a holiday next year at Mount Falcon Estate, County Mayo. Mount Falcon is situated in the Moy Valley, a region of outstanding beauty and is rated as one of finest salmon destinations in the west of Ireland.
A well deserved reward for Joan who does a lot to promote angling. In September she attended the A Smile For a Child Charity Day at Meon Springs. 23 children who need a little help, came from a local school and were mentored on a one to one basis.
The mentors had to catch 4 fish for their child and the heaviest bag won.  Rose is shown; delighted with her 5lb 14oz fish and she won the match.
Invicta FFC Social and Buffet
Thursday 3rdJanuary  2019
7.00pm
ARUNDEL HOUSE HOTEL
Chesterton Road,
Cambridge
CB4 3AN
I am now taking names with money for the Arundel House Hotel Event. This very sociable evening with an excellent buffet is always popular.
Cost £14.00pp
Cheques payable to Invicta FFC or pay direct into:
Bank Sort Code  20-43-63  Account Number  70514004
Cheques can send to me by Sunday 23rd of December 2018
Alan Prevost, 15 Willingham Road, Over, Cambridge CB24 5PD
Email: alan@prevost.net
Date for your Diary
Saturday 23rd February 2019
Invicta Annual Dinner and Awards
The Wheatsheaf, Perry
Full details to follow  in a few weeks.
New Member
Updated 7th October
We welcome the following new member who has joined our club in the past month:
Noel Garner. We hope you enjoy your time with us Noel.
As is our normal Practice, he has been invited to write a brief profile. Introducing himself which he has kindly done and this can be read in the New Member Profiles below.
Writing a profile is of course optional and the 'Members Profiles' are updated when new ones are received.
'Team Invicta' Caps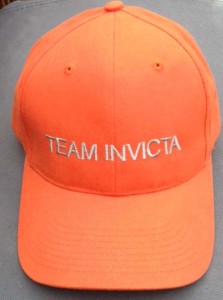 Has your old Invicta cap become faded and tatty, or perhaps you have not had one before?
The club now has a new stock of the 'Team Invicta' cap for sale. These distinctive 'one size fits all' caps are available from Alan Prevost at the bargain price of £8.
Drop Alan an email or give him a call (01954 230678) and he will make sure you get one.
email: Alan Prevost
Anglian Water 4-man Loch-Style at Rutland Water 8th August
Our Invicta team won this very competitive match last year and we fielded two teams for this year's match. Sadly the heat wave and poor promotion resulted in a low entry and Invicta was the only club represented, where were you GWFFA and RWFFA ?
Our two teams were Invicta A, Gary How, Mark Searle, Peter Hartley, Peter Brewer and Invicta Gold, David Moore, Jeff Hickson, Paul Heavens and Tony Smith. We had a tough day practicing in the sun with water temperatures at 23' and learnt that it would be tough with few fish showing other than near the boils which would be 100m out of bounds.
Match day was cooler with a blustery westerly and most of the fleet headed into the main bowl although a few stated off Barnhill and Spud Bay. Gary How was in the lead after 30 minutes with two quick fish which turned out to be enough for him to be Top Individual Rod in the match. We tried everything from dries to Di7s but 6 of us blanked but Tony Smith took a late fish on the reel-in to save the Gold team from a total blank.
Top team was RAF Fish Hawks with 4 fish caught by 3 rods and runners up for the second year Renegades with 3 fish by 2 rods. The rod average was only 0.5 and 15 of 28 rods blanked.
Thank you everyone for all the effort and well-done Gary and Tony for saving the day, the club's reputation is rising through its involvement in open competitions among the best teams in the country.
David Moore
Team England Youth Fly Fishing Loch Style International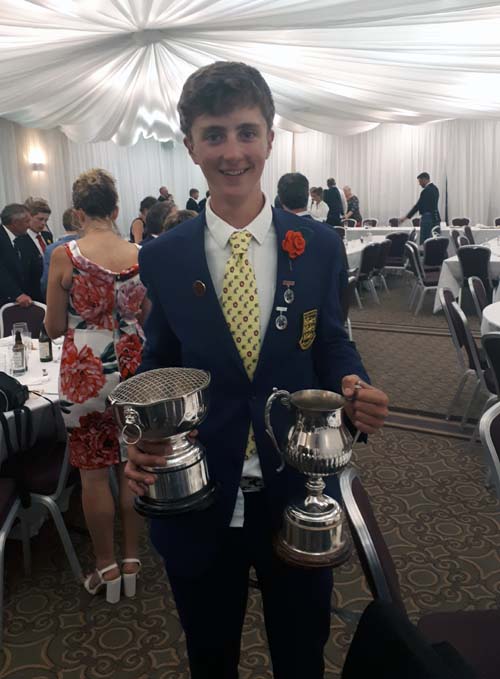 Draycote Water near Rugby hosted the Youth International on Wednesday 1st August. Scotland came out top beating England into second spot by a narrow margin of just 3lbs.
Congratulations go to Invicta member William Crawford who won the Rose Bowl for being the top England rod; he also caught the largest fish. William has been a regular at our Evening Social fishing at Grafham –unless of course England duties have dragged him away.
Well done William, we are pleased to have you as a member.
River Fly Fishing 

Invicta  FFC tries to offer occasional river fly fishing trips to members.  Primarily these are autumn/winter Grayling fishing trips although occasional summer trout fishing is sometimes possible.
The number of anglers allowed on river beats is often limited and places on the trips will be on a first come basis.  Anyone interested in trips can lodge their interest or obtain more information from Paul Heavens.
email: Paul Heavens
What to do if you catch a good fish
Two of the Clubs annual Trophies are for the heaviest rainbow and the heaviest Brown trout caught by an Invicta member on a day ticket reservoir.
If you catch a fish which you think may be in contention, please fill in the form and email Gary How and copy Mark Searle into the email. Alternatively the form can be posted.
The fish must be weighed and the weight witnessed by a second person and should ideally be accompanied by a photograph of the fish being held or placed beside something such as the rod handle and reel to give it scale. Brown Trout must be in season to qualify. Forms are available on the Trophy Winners webpage.
email Gary and Mark: Click Here
Invicta on Facebook

The Invicta FFC Facebook page can be accessed by clicking on the Facebook symbol at the bottom right hand side of the footer on every page or the  'Find us on Facebook' symbol on the left.
The page has been set up and is hosted by Andy Newman and gives those joining it the opportunity to read comments left by other members and post messages of their own. So for example if you have visited a fishery that impressed you; know that a particular event is happening or just have some thoughts you wish to air, why not share it with others.
Usual rules of common sense apply i.e. nothing offensive or libelous.
Back to Top of Page