East Midlands Trout Fishers 50th Anniversary Pairs Match – 29th Sept.
Invicta anglers had some good results in the East Midlands Trout Fishers Association '50th Anniversary Pairs Competition'. The match was perfectly run and EMTFA are to be congratulated.
In a field of 56 , the winning pair was well know top angler Rob Edmunds with  Pat Sweeney on 14 fish. The Invicta pairing of Paul Heavens and Jeff Hickson were runners up with 11 fish and Paul was also the second highest scoring rod taking his 8 fish limit with time to spare.
Keeping the Invicta flag flying, was on form Chris McLeod and his boat partner Matt Willatt, they came in third place with 10 fish.
A charity draw was held following an excellent lunch with over £500 being raised for a local hospice.
Another Brilliant Result for Invicta….
Anglian Water 4 Man Teams Championship – 9th August 2017
Invicta had a team in the Anglian Water 4 man team event at Rutland. The team consisted of Chris McLeod, David Moore, Mark Searle and guest Tony Smith.
The fishing was exceptional – with everybody bagging up, so a good time bonus was essential. Tony started with a bang with 2 fish in his first 3 casts and finished by 11.16am!  That gave him top spot with a bag of 23lb 13oz – what a performance in a strong field. David Moore was also on sparkling form bagging up by 12:30am making 4th place with 21lb 12oz.
The eventual result gave us 80lb 15oz, a win by less than 11 ounces.
Another great day for Invicta!
See results sheets links below:
4 Man Team – Team Results
4 Man Team – Individual Results
Follow on from Tuesday Evening Fishing at Grafham
Trevor Barton has suggested that some members might like to continue with fishing on Tuesday's after the Evening Series has finished.
The "Tuesday Club" finishes on August 15th and has been well supported this year, averaging around 18 fishing each evening with over 30 fishing in total. 
It would be an informal get together starting at the afternoon boat time and fishing as long as you like or until "boats in" time.

Sandwiches no doubt could be arranged at the Wheatsheaf after fishing if required.
If you are interested please contact:
Trevor Barton: barton65@virginmedia.com 
Paul Stevens: faith.paul@btinternet.com
Anglian Water News
Anglian Water have announced the following:
'Extra senior day launching this summer! Great news for our senior anglers, In addition to our popular 'Senior Tuesday' we are now adding a 'Senior Thursday' for the rest of the season. On these days anglers over 65 can take a 2 man boat for £19 or a single man boat for £14. Our 6 fish and c&r senior permit can be purchased 7 days a week.'
Enjoy the joys of  ageing and my sympathy for our younger members !
All the best
David Moore
Our Next Monthly Trip
Our next outing is to Ravensthorpe  on Sunday 10th September.
Ravensthorpe reservoir, can produce some very large fish at this time of the year, with dry fly being a good option. As Ravensthorpe is a small water there is plenty of banter and even some advice, some of it might even be good!!  Carr cup points awarded for this match. We will draw for partners on the day.
Carr cup points awarded for this match.
Please let Mark Searle know ASAP  if you would like to come along.
Congratulations to Chris McLeod – Top Rod
Gary How and Chris McLeod fished the Alex Booth Charity Shield at Draycote, with all raised funds going to Macmillan Cancer Relief. 44 anglers from all over the UK took part in a very sociable day out.
A dull, drizzly day produced a lot of surface activity with loads of birds overhead, so floating lines were the order of the day. The fish were obviously on the fry, as well as almost anything near the surface such as buzzers and small terrestrials. But they would chase and follow without taking the fly and it was a case of trying to work out the correct retrieve to get the lock ups. Two small foam headed minkies with hares ears between worked as well as anything. But flies had to be cast to rises and not allowed to sink deeper than six inches.  Others were doing well on dries, especially big reds and bits, but these proved later to be taking smaller fish.
The quality of fish was superb. Gary had a near four pounder and both Chris and Gary's bags had a good number of three pound fish. But Chris was the man of the day, he managed to finish early with a good time bonus so that, with the bigger fish, won the day.
Chris comments "An excellent day's fishing on brilliant water with great company, for a worthy cause. Thanks all round".
River Fly Fishing 

Invicta  FFC tries to offer occasional river fly fishing trips to members.  Primarily these are autumn/winter Grayling fishing trips although occasional summer trout fishing is sometimes possible.
The number of anglers allowed on river beats is often limited and places on the trips will be on a first come basis.  Anyone interested in trips can lodge their interest or obtain more information from Paul Heavens.
email: Paul Heavens
What to do if you catch a good fish
Two of the Clubs annual Trophies are for the heaviest rainbow and the heaviest Brown trout caught by an Invicta member on a day ticket reservoir.
If you catch a fish which you think may be in contention, please fill in the form and email Gary How and copy Mark Searle into the email. Alternatively the form can be posted.
The fish must be weighed and the weight witnessed by a second person and should ideally be accompanied by a photograph of the fish being held or placed beside something such as the rod handle and reel to give it scale. Brown Trout must be in season to qualify. Forms are available on the Trophy Winners webpage.
email Gary and Mark: Click Here
'Team Invicta' Caps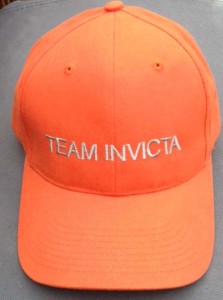 Has your old Invicta cap become faded and tatty, or perhaps you have not had one before?
The club now has a new stock of the 'Team Invicta' cap for sale. These distinctive 'one size fits all' caps are available from Alan Prevost at the bargain price of £8.
Drop Alan an email or give him a call (01954 230678) and he will make sure you get one.
email: Alan Prevost
Invicta on Facebook

The Invicta FFC Facebook page can be accessed by clicking on the Facebook symbol at the bottom right hand side of the footer on every page or the  'Find us on Facebook' symbol on the left.
The page has been set up and is hosted by Andy Newman and gives those joining it the opportunity to read comments left by other members and post messages of their own. So for example if you have visited a fishery that impressed you; know that a particular event is happening or just have some thoughts you wish to air, why not share it with others.
Usual rules of common sense apply i.e. nothing offensive or libelous.
Back to Top of Page