Smile Please!
Just for a bit of seasonal fun, how many of the smiling faces of club members in the file below can you identify?
Please have a go and send your answers to me by the 5th January. You may even win a bottle of wine. In the event of more than one correct answer I will draw lots.
You can have a go even if you are one of the happy smiling people pictured.
Paul Heavens
Email:  Paulheavens@btinternet.com
---
Annual General Meeting
Please note the the AGM will be held on Thursday 26th March 2020. If you have any matters that you would like to raise in advance, please forward them to our Club Secretary Paul Stevens. You can of course still raise matters at the meeting.
In addition to the club business, there will be an update by Anglian Water on there reservoirs for the coming season.
---
Invicta FFC Social and Buffet
9th January  2020  7.00pm
ARUNDEL HOUSE HOTEL
Chesterton Road, Cambridge CB4 3AN
Please note: Closing date Saturday 4th of January 2020
I am taking names with money now for Arundel House Hotel Event which is on 9th January 2020. This event is always very popular and the buffet is excellent. It is an ideal opportunity to socialise with other members in a relaxed atmosphere.
Cost £14.50
Cheque to Alan Prevost
15 Willingham Road, Over, Cambridge CB24 5PD
 (payable to Invicta FFC) or pay direct into
Bank Sort Code:  20-43-63
Account Number:  70514004
---
     

WINTER PROGRAMME 2019/20
Our Next Winter Meeting:
23rd January – Don Stazicker (Trout and Salmon)
Don is a highly experienced instructor and fly tyer based in the Derbyshire Peaks – a man who really knows his rivers. He has guided extensively in both the UK and USA.
---
---
'Team Invicta' Caps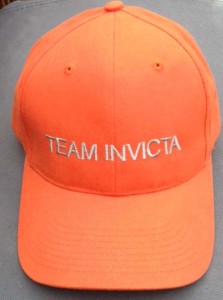 Has your old Invicta cap become faded and tatty, or perhaps you have not had one before?
The club now has a new stock of the 'Team Invicta' cap for sale. These distinctive 'one size fits all' caps are available from Alan Prevost at the bargain price of £8.
Drop Alan an email or give him a call (01954 230678) and he will make sure you get one.
email: Alan Prevost
River Fly Fishing 

Invicta  FFC tries to offer occasional river fly fishing trips to members.  Primarily these are autumn/winter Grayling fishing trips although occasional summer trout fishing is sometimes possible.
The number of anglers allowed on river beats is often limited and places on the trips will be on a first come basis.  Anyone interested in trips can lodge their interest or obtain more information from Paul Heavens.
email: Paul Heavens
What to do if you catch a good fish
Two of the Clubs annual Trophies are for the heaviest rainbow and the heaviest Brown trout caught by an Invicta member on a day ticket reservoir.
If you catch a fish which you think may be in contention, please fill in the form and email Gary How and copy Mark Searle into the email. Alternatively the form can be posted.
The fish must be weighed and the weight witnessed by a second person and should ideally be accompanied by a photograph of the fish being held or placed beside something such as the rod handle and reel to give it scale. Brown Trout must be in season to qualify. Forms are available on the Trophy Winners webpage.
email Gary and Mark: Click Here
Invicta on Facebook

The Invicta FFC Facebook page can be accessed by clicking on the Facebook symbol at the bottom right hand side of the footer on every page or the  'Find us on Facebook' symbol on the left.
The page has been set up and is hosted by Andy Newman and gives those joining it the opportunity to read comments left by other members and post messages of their own. So for example if you have visited a fishery that impressed you; know that a particular event is happening or just have some thoughts you wish to air, why not share it with others.
Usual rules of common sense apply i.e. nothing offensive or libelous.
Back to Top of Page