Members Update (Number 7)
Revised Boat Booking Procedure – (Cunning Plan Mark 2)
2 man boats are now permitted from early July. Carr Cup days are re-instated. You can still fish in a 1 man boat if you wish.
We have boats booked for the following venues and dates:
Grafham.  July 5th
Draycote. August 8th.
Rutland.  September 13th.
Grafham. October 6th.
Procedure:
Draycote
E-mail Mark Searle to book in, stating one or two man boat. mark_hse@btopenworld.com Any previous booking you made with Mark are null and void, so please book again.
Book up to 5 days before the event – the list will then be closed.
Pay £33.50 each for half a boat and fishing permit to Alan Prevost at least 5 days in advance.
Anglian Water
E- mail Mark to book in, stating one or two man boat. Any previous booking null and void, so please book again. Please confirm with Mark that you have paid Alan Prevost for the boat. (single man £17, or half shared boat £13.50)
Book up to 5 days before the event– the list will then be closed.
If you require a fishing permit you will have to pre book this with either Grafham or Rutland.
Send money for boat preferably by transfer. Please e-mail Alan Prevost alan@prevost.net stating for which event and if one or two man boat.
  Invicta Bank Account 20-43-63   70514004
Sorry to sound a bit officious but this is all extra work and hassle for Mark and Alan, so trying to make it as easy as possible for them both. Anglian Water require it to be done this way.
Invicta Tuesday Evenings at Grafham.
Due to boat availability unfortunately it will not be possible to run the event. However, if members want an informal get together on a Tuesday you can always book a boat direct.
Hope this all makes sense. Please give me a call if you have a problem. It is good to get going again, even if it is not quite as before.
Paul Stevens.   Hon Sec Invicta.
Finally we wish to extend a warm welcome to new member Mark Brace.
---
Members Update (Number 6)
Booking of boats retained from cancelled Carr Cup outings
Although at present we are still unable to organise Carr Cup outings, we want to make members aware that they can take advantage of our pre-booked boats at the fisheries concerned.
Mark Searle has retained the following number of boats:
Grafham. Sunday July 5th – 15 boats
Draycote. August 8th -15 boats
Rutland. September 13th -15 boats
Grafham October 6th -15 boats
Boats are available for individual members to book.
Please find below cunning plan devised by Allan Sefton on how to do it, based on current restrictions in place. The situation may change.
1. Wait until 2 weeks before the date before booking.
2. Inform the fishery you want to book an "Invicta" reserved boat and pay for it. (This is on a first come, first served basis, single man boats only unless 2 from the same household).
3. At least one week before the due date e-mail Mark Searle- mark_hse@btopenworld.com to let him know you are booked in. He will send an e-mail to all attendees to let them know who is going. The day is informal but attendees may want to make arrangements to have a social distanced break together.
4. Please keep an eye on the website for any change in arrangements.
Paul Stevens, Invicta FFC Secretary
---
Invicta on Facebook

A reminder to members that in addition to this website, we also have a Facebook page. This can be accessed by clicking on the Facebook symbol at the bottom right hand side of the footer on every page or the  'Find us on Facebook' symbol on the left.
---
Membership Reminder
We hope you had a successful year with Invicta and will continue to be a part of our friendly club. Subscriptions for the coming season are now due (unless you are a junior or joined after August 2019).
If your personal details have not changed, you can make quick payment of £19 by BACS to our bank account with an email to Steve Harding steve@sandjelec.co.uk notifying him that you have paid.
Bank Sort Code: 20-43-63      Account Number: 70514004
Prospective new members and members whose details (address email etc) have changed should send a completed form to Steve. Or if it's a simple change just drop him an email.
Your support has been very much appreciated.
'Team Invicta' Caps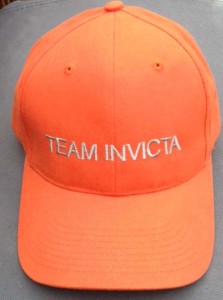 Has your old Invicta cap become faded and tatty, or perhaps you have not had one before?
The club now has a new stock of the 'Team Invicta' cap for sale. These distinctive 'one size fits all' caps are available from Alan Prevost at the bargain price of £8.
Drop Alan an email or give him a call (01954 230678) and he will make sure you get one.
email: Alan Prevost
River Fly Fishing 

Invicta  FFC tries to offer occasional river fly fishing trips to members.  Primarily these are autumn/winter Grayling fishing trips although occasional summer trout fishing is sometimes possible.
The number of anglers allowed on river beats is often limited and places on the trips will be on a first come basis.  Anyone interested in trips can lodge their interest or obtain more information from Paul Heavens.
email: Paul Heavens
Invicta on Facebook

The Invicta FFC Facebook page can be accessed by clicking on the Facebook symbol at the bottom right hand side of the footer on every page or the  'Find us on Facebook' symbol on the left.
The page has been set up and is hosted by Andy Newman and gives those joining it the opportunity to read comments left by other members and post messages of their own. So for example if you have visited a fishery that impressed you; know that a particular event is happening or just have some thoughts you wish to air, why not share it with others.
Usual rules of common sense apply i.e. nothing offensive or libelous.
Back to Top of Page