Anglian Water 4-man Loch-Style at Rutland Water 8th August
Our Invicta team won this very competitive match last year and we fielded two teams for this year's match. Sadly the heat wave and poor promotion resulted in a low entry and Invicta was the only club represented, where were you GWFFA and RWFFA ?
Our two teams were Invicta A, Gary How, Mark Searle, Peter Hartley, Peter Brewer and Invicta Gold, David Moore, Jeff Hickson, Paul Heavens and Tony Smith. We had a tough day practicing in the sun with water temperatures at 23' and learnt that it would be tough with few fish showing other than near the boils which would be 100m out of bounds.
Match day was cooler with a blustery westerly and most of the fleet headed into the main bowl although a few stated off Barnhill and Spud Bay. Gary How was in the lead after 30 minutes with two quick fish which turned out to be enough for him to be Top Individual Rod in the match. We tried everything from dries to Di7s but 6 of us blanked but Tony Smith took a late fish on the reel-in to save the Gold team from a total blank.
Top team was RAF Fish Hawks with 4 fish caught by 3 rods and runners up for the second year Renegades with 3 fish by 2 rods. The rod average was only 0.5 and 15 of 28 rods blanked.
Thank you everyone for all the effort and well-done Gary and Tony for saving the day, the club's reputation is rising through its involvement in open competitions among the best teams in the country.
David Moore
New Member
Updated 13th August
We welcome the following new member who have joined our club in the past month:
Steve Brennan. We hope you enjoy your time with us Steve.
As is our normal Practice, he been invited to write a brief profile. Introducing himself. Writing a profile is of course optional and the 'Members Profiles' are updated when new ones are received.
Fenland Country Fair, Stow-cum-Quy Park, Cambridge
John Caldwell will once again be organising the Invicta  Fly Fishing Club Stand at the Quy Country Fair on August Bank holiday Sunday and Monday (26th/27th Aug).
http://www.fenlandfairs.com/
Ideally he  would like two members at the stand on both days to assist. If you feel you could spare some time, even half a day John would be most grateful. Free entry tickets will be available to helpers (Normally £12.50) and you will have plenty of time to look around and enjoy the fair.
In addition, game angling coach Leigh Fiddell will be on the Invicta stand and will be giving casting coaching free of charge. There will also be prizes donated by Orvis.
Please contact John if you can help or would like more information.
Team England Youth Fly Fishing Loch Style International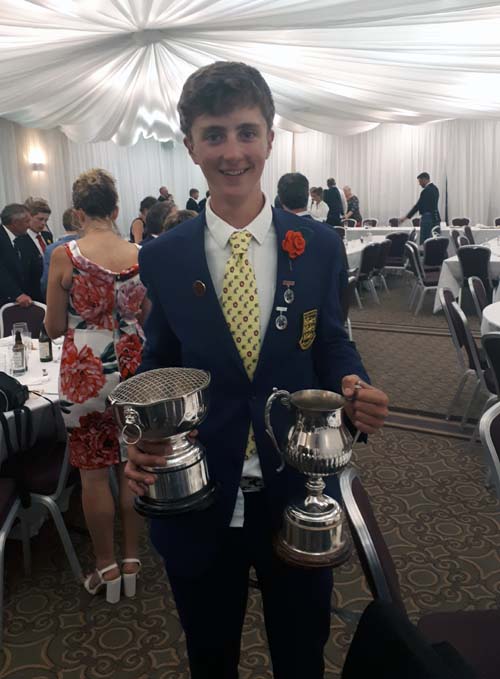 Draycote Water near Rugby hosted the Youth International on Wednesday 1st August. Scotland came out top beating England into second spot by a narrow margin of just 3lbs.
Congratulations go to Invicta member William Crawford who won the Rose Bowl for being the top England rod; he also caught the largest fish. William has been a regular at our Evening Social fishing at Grafham –unless of course England duties have dragged him away.
Well done William, we are pleased to have you as a member.
New Members
Updated 8th July
Andy Trafankowski has now added his profile, see updated New Members Profiles v5 below.
We welcome the following new members who have joined our club in the past month:
Andy Miles, Andy Trafankowski and Oliver Brand.
As is our normal Practice, they have been invited to write a brief profile introducing themselves. Writing a profile is of course optional and the 'Members Profiles' are updated when new ones are received.
Andy Trafankowski lives in Fordham on the Cambridgeshire Suffolk border.
Oliver (Ollie) has already fished some of our Tuesday evening sessions at Grafham and fished with some of our members who tell me that he is a very promising angler… England Youth Squad at some point maybe?
Andy Miles recently moved to our area and has been quick off the mark in kindly providing his profile which has been added to the 'New Members Profiles'.
You can read these by clicking on the link below.
Invicta Successes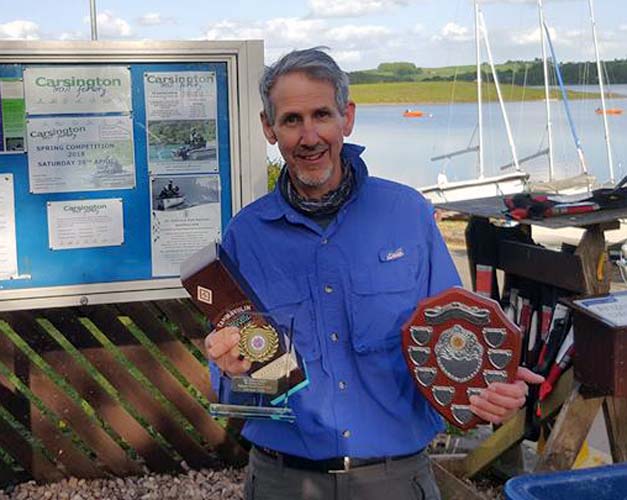 A brilliant performance on the 10th May by Invicta member Tony Smith who won the East Midlands (Leicestershire, Derbyshire, Nottinghamshire, Lincolnshire and Northamptonshire) Police qualifier at Carsington with 12 fish on a very tough day.
He has qualified for fishing the nationals next year at Bewl Water. What a great year Tony is having, he really is in winning mode.
………..The successes continued on the 14th May with Chris McLeod and Mark Searle winning the Philips trout championship on Eyebrook by 5oz. This pair's match was dominated by newly stocked fish; it was fished to a 6 fish limit.
Mark Said that no matter where you caught fish they all came in at about 1 1/2 -2lb. All our fish came to buzzers either straight lining, washing line or on the bung. It was a very pleasant and relaxing day, my boat partner wasn't bad either! The match was followed by a meal and presentation at the local pub.
River Fly Fishing 

Invicta  FFC tries to offer occasional river fly fishing trips to members.  Primarily these are autumn/winter Grayling fishing trips although occasional summer trout fishing is sometimes possible.
The number of anglers allowed on river beats is often limited and places on the trips will be on a first come basis.  Anyone interested in trips can lodge their interest or obtain more information from Paul Heavens.
email: Paul Heavens
What to do if you catch a good fish
Two of the Clubs annual Trophies are for the heaviest rainbow and the heaviest Brown trout caught by an Invicta member on a day ticket reservoir.
If you catch a fish which you think may be in contention, please fill in the form and email Gary How and copy Mark Searle into the email. Alternatively the form can be posted.
The fish must be weighed and the weight witnessed by a second person and should ideally be accompanied by a photograph of the fish being held or placed beside something such as the rod handle and reel to give it scale. Brown Trout must be in season to qualify. Forms are available on the Trophy Winners webpage.
email Gary and Mark: Click Here
'Team Invicta' Caps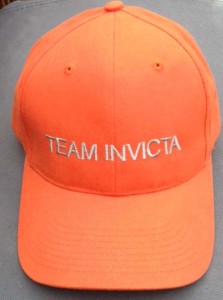 Has your old Invicta cap become faded and tatty, or perhaps you have not had one before?
The club now has a new stock of the 'Team Invicta' cap for sale. These distinctive 'one size fits all' caps are available from Alan Prevost at the bargain price of £8.
Drop Alan an email or give him a call (01954 230678) and he will make sure you get one.
email: Alan Prevost
Invicta on Facebook

The Invicta FFC Facebook page can be accessed by clicking on the Facebook symbol at the bottom right hand side of the footer on every page or the  'Find us on Facebook' symbol on the left.
The page has been set up and is hosted by Andy Newman and gives those joining it the opportunity to read comments left by other members and post messages of their own. So for example if you have visited a fishery that impressed you; know that a particular event is happening or just have some thoughts you wish to air, why not share it with others.
Usual rules of common sense apply i.e. nothing offensive or libelous.
Back to Top of Page