Invicta organise a full program of meetings throughout the winter months. 
Members please note:
Following requests for an earlier start, meetings will begin at 7.30 pm this autumn (Doors open 7pm). All Meetings on Thursday unless otherwise stated.
Venue: Harston Village Hall, 20 High Street, Harston CB22 7PX   (unless otherwise specified)
Time: 7:00pm for 7:30pm
All meetings free to members; visitors welcome £5 including a beer or soft drink.
2017/18 season
October
19th  – Season Review. Your experiences of Club days and Competitions.  Plus Fishing Tackle Bring and Buy Sale. Please mark your items with a suggested price 10% (minimum) from proceeds to club funds.
November
2nd – Kye Jerrom of the Environment Agency Fisheries and Biodiversity in East Anglia, will report on the work of his team and discuss current issues. 'Killer Shrimp – Friend or Foe?
16th – Simon Bath will share his experiences of developing and managing a still water trout fishery and  reflect on  a long fishing life.
December
7th – An Expert Panel on Stillwater Tactics with:
David Moore– What fish eat.
Peter de Kremer– Dry Fly Fishing on Reservoirs.
Keith Gilchrist– Selecting the right method.
2018
January
4th – Social Evening and Buffet at the Arundel House Hotel, Cambridge.
18th – Andrew Flitcroft,  Editor, Trout and Salmon.
February
24th (Saturday) – Invicta Annual Dinner. (details will be circulated later)
March
1st – AGM and update from Anglian Water.
During February to April it is planned to hold pre-season 'Casting Clinics' and 'Fly Tying sessions' for Members on a couple of Saturdays at Grafham. Details and dates are on the Noticeboard page.
Back to top of page
Talks last season -(2016/17)
2016
October
20th – The 'A' Team.
Members of the Invicta 'A' Team will tell you how to be successful in, and how to enjoy competition fishing.
November
3rd – Russell Hill.
Editor of Trout Fisherman magazine will talk about editing a major sporting periodical. Russell also welcomes your questions (and grilling) about trout fishing in general.
17th – Steve Johnson (SJ Flies).
Steve's flies are being used by successful anglers with some acclaim. His SJ buzzers are particularly good looking and he will tie some flies which work well at Grafham.
December
8th – Charles Jardine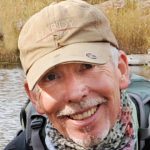 Charles is a leading light in fly fishing and will pass on many tips through years of experience. He is also a great exponent of engaging young people into angling and is director of 'Fishing 4 Schools' which  offers young people a gateway into fishery careers through BTEC qualifications.
2017
January
5th – Annual Social Evening at Arundel House Hotel
19th –Alan Briggs
Alan will give a talk about his father's (mainly) salmon fishing career with pictures. Alan is himself a keen salmon man and the meeting will include a general discussion on salmon fishing.
February
2nd – Jon Marshall and Angela Tarry (Anglian Water)
Prospects for 2017 on Anglian Water Fisheries.
16th – Invicta FFC Annual General Meeting.
25th – Annual Dinner – St. Neots Golf Club.
March
2nd – Allan Sefton
Fly Fishing Coach and much travelled angler Allan Sefton will talk on Bone Fishing experiences in different venues.
16th – Quiz night with host Chris McLeod. Expect an evening of fun and banter!
Reports on each meeting appear on the 'Winter Meeting Reports' menu (See 'Newsletters' drop down menu on this website) or 
Click here to go to that page.
Back to Top of Page