---
Reports 2021 Season
*
Reports will appear here following each event.
Page Contents:
Click to Jump to Carr Cup report
Click to Jump to Tuesday Evening Fishing reports
Click to Jump to AMFC reports
Click to Jump to FFLR Interclub match report
Click to Jump to Maitland Interclub match report
Maitland Trophy – Grafham 29th August 2021
The Maitland trophy is an annual match previously competed by teams from GWFFA and RWFF but this year Invicta were invited to take part. 
A number of our anglers had managed to practice on the Friday or Saturday prior to match day with the findings being that fish were high in the water and predominantly on the north shore with a number also on drifts off of the inlet area. Dries or washing line tactics were the reported methods to use but the fishing was not easy.
Match day saw an overcast sky and a light northerly wind so hopes were high. Teams were of 16 anglers with the top 12 results of each team to count. On the start all boats headed for the north shore with an even split choosing church bay or pig bay and a few heading to the willows. It soon became apparent that it was not going to be easy and reaching the 12 fish limit was looking very far away. Those catching were on washing line but very few were catching consistently. In the afternoon a change of tactics by some to fast glass or di3 lines and pulling saw better results but it remained tough going. 
The result was determined by number of fish, with time of first catch also being required in the event of a draw. No one managed 12 fish but top individual was Rich Cooper of RWFF who had 11. The important team result was close but Invicta won by 4 fish with consistent catches throughout the team proving decisive. 
Congratulations to all who took part in a very enjoyable match. For those of you who were fishing a match of this type for the first time, I hope you enjoyed it and would encourage you to  take part in the AMFC matches next year which are run in a similarly friendly manner. Hopefully we will be invited back next year when the match will be at Rutland. 
Keith Gilchrist (Team Captain)
AMFC (Association of Major Flyfishing Clubs) 2021

The AMFC (Association of Major Flyfishing Clubs) is a series of club based matches.  Invicta like to encourage as many members to get involved as possible, and runs 2 teams. There are 3 groups and we have our A team in Group 2 and the B team in Group 3.
Round 3 match at Draycote – 18th September 2021
Invicta fielded two teams of eight members who hadn't fished the previous two rounds at Draycote on a bright flat calm morning, our A team competing in Group 2 and B team in Group 3. The match was fished catch and release with a 12 fish limit and time bonus.
Most of us had practiced for one or two days and found the fish high in the water and either dries or stroking intermediate lines with two blobs, or boobies with nymphs in between were the two best methods. There was a big hatch of daddies on match day but they were not quite as effective as might have been expected.
Gary How started well on a fast- glass near the west dam and Jeff Hickson too on dries.  Fraser Duffy Jnr, had a slow start near Sailing Club and M buoy but changed to twiddling hoppers sub-surface to catch his 12 fish limit further out before 5pm. Gary took his 12 just in time but Mark Searle unluckily lost a fish at the net and stuck on 11 drifting a bit further out from the dam than Gary. 
Jeff Hickson ended with 9 all on dries also at the western end of the reservoir. The other team members David Moore, Graham Bodsworth, Alan Briggs and Mick Newton all caught between 3 and 6 fish contributing to their team bags, both of which totalled 31 trout for close finishes in both groups.
On the day, our A Team was placed 2nd of 4 in G2 and B Team 4th of 6 in G3.
Provisional result shows both teams have ended 2nd in their respective Groups over the 3 rounds so a very creditable performance and especially as we fielded 24 different members and nobody fished twice whereas most clubs used a smaller pool of their best anglers.
A big thank you to everyone who took part and we look forward to the full league program of 6 rounds returning next season. With so much interest among Invicta club member we will be asking the AMFC for a change in the rules to allow 3 teams next year although less-thriving clubs will probably object.
David Moore – Team Coordinator
---
Round 2 match at Rutland – 24th July 2021
Invicta fielded two teams in the second AMFC on a much welcomed, cooler day after two weeks of very high temperatures. Practice had shown the fish sitting very deep and not very interested in being caught. Neil Potts had worked out what, we hoped, would be the way by catching on a Di7 or 8, counting it down a long way and slowly twiddling or drawing it back. Needless to say, this didn't work on the day. But, amazingly, there had been some success the previous evening with dries, so many of our rods went out on that, or fished light lines.
The day started with everyone being handed returns cards, on which to note your twelve caught and released fish, and a bottle of sanitiser. The sanitiser made sense. The number twelve was a bit optimistic.
All the boats aimed for the dam, Fantasy and Sykes Lane assuming that the deeper water was where the fish would be – and they were there alright but not to be caught. The water was cooler at that end of the lake and crystal clear. The winds were light – it looked perfect.
Terry Bayes started well on a glass line and blobs, but, for others, the dries failed to produce lock ups. Loads of swirls and interest, but the fish were still reluctant. Washing line with the booby pulled through the surface did attract lots of interest though, and every now and then a fish would grab the fly. (Why dozens of follows produce nothing, then one will swallow it and get deeply hooked, is a mystery. Quite frankly, one I could do without.) Those fish were still chasing right up to the end of the day, so at least it proved that they weren't all at depth. Perhaps that surface pulling method would have worked right at the beginning of the day while we were persevering with dries, but when the sky lightened and things warmed up, the fish became even less interested; so most of the day was a grind. If you hadn't caught in the morning you were struggling.
A tough day but probably better than expected given the roasting Rutland had taken for a week or so before. But very good all round efforts from the two Invicta teams, and many thanks to David Moore for organising Invicta and to the AMFC committee for organising the day.
A Team
Keith Gilchrist, Chris McLeod, Terry Bayes and Neil Potts netted a total of 10 fish which was enough for joint second place with Greylags and just one fish behind Bewl A. Terry was equal Top Rod with 5 fish
B team
Sam Smith, Pete Skelton, Simon Peck and Allan Sefton totalled 7 for 2nd place behind the RNRMAA with 10. Top rod was Pete Skelton with 3 fish on a very hard day when the rod average was only 1.4
After these two rounds our A Team is top of 5 in Group 2 and B Team is 3rd of 6 in Group 3
The third and last match is at Draycote on Sept 18th when our teams are:
A – Gary How (Cpt), Mark Searle, Graham Bodsworth, Alan Briggs
B – David Moore (Cpt), Mick Newton, Jeff Hickson, Fraser Duffy Jnr.
The club will have been represented by the maximum 24 different members over the three rounds which shows the strong interest within our club.
David Moore and Chris McLeod
---
Round 1 Match at Grafham – 22nd May 2021
This year's AMFC league has been replaced with three 4-rod matches for all three groups and Invicta A & B teams took part in the first at Grafham on Saturday 22nd May. The weather conditions were relatively kind with only one downpour & brief periods of gusty winds. In keeping with the Invicta team ethos, team members shared information on locations (mainly North shore) & tactics. It was a catch and release match capped at 12 fish (4 points each) with a time bonus.
The "A" team finished top of Group 2, 20 points ahead of Greylags. All 4 team members achieved the 12 fish limit, with particularly creditable performances from Mark Mathieson & Peter Brewer; with Mick Facey & Tony Smith finishing "close to the wire". Mark's stellar performance utilised his well- proven midge tip nymphing skills & Pete achieved success with changing lines, flies & locations in order to continue catching. Mick Facey & Tony Smith stuck to the church bay area and fished on fabs/buzzers.
The "B" team finished 5th in Group 3, a good result considering that Les Plaster and Pete Webb had not fished an AMFC before and that Les had to leave early as he had suffered from the cold. Pete fished in Church bay where he got his 12 fish (well done for his best competition result), drifting onto the bank picking up fish quite close in on 3 ft midge tips and using fabs, buzzers and nymphs. Jeff Price had a very good day too taking 10 fish for his best competition result. Andy Trafankowski started in Church Bay and drifted down to Willows picking up fish all the way down on pink fabs and nymphs. Once his boat partner (Soldier Palmer) had bagged up he lent Andy his "Deadly" Pink Fab – however it was no different to his own pink fab!
All team members commented on their sociable & helpful boat partners in this successful & alternative AMFC event.
Special thanks extended from Tony Smith to his boat partner Paul Wild who was very patient, gracious & helpful.
Good luck to Invicta teams for the remaining AMFC events but above all – enjoy the fishing.
The next round is at Rutland Water 24th July, the A team is Keith Gilchrist (Cptn), Chris McLeod, Neil Potts and Terry Bayes. Our B Team is Sam Smith (Cptn), Pete Skelton, Simon Peck and Allan Sefton.
David Moore
"Back to Top of Page"

Tuesday Evening Club Social Fishing at Grafham
---
Week 14 (Final)
It was another tough evening for most anglers with fish not really in a feeding mood. On this final week only two anglers could have finished in the league's top spot, Albert Coales and Sam Smith. As it turned out, Albert had more important things on his mind and didn't fish as he was going to see a girl…oh to be young! However he won the league without fishing because Sam Smith was unwell so couldn't fish. Congratulations to Albert on such a strong performance over the series.
Most went out on floating or midge tip lines and struggled. Rob Edmunds initially tried tip line methods although he moved over to a fast sinker on the boils for a while but didn't get much action, he did however find enough fish to finish the evening in joint top spot with 5 fish.
Meanwhile Peter Brewer had decided that the inlet and boils were likely to be worth trying for the first hour or so and soon found action on a di7 snake combo although making them stick was a different matter, he lost fish after fish before netting his first. This pattern continued and he had at least 10 fish slip the hook, however it was enough to persuade him to stick with the boils and he did finally net 5 to be joint top.  
Keith Gilchrist and Jonny Bromilow had 4 each and Steve Harding had 3 but the majority struggle and 9 anglers either had one or blanked.
A very sociable post fishing evening was enjoyed at the Wheatsheaf and Rob accepted the league winner's prize on behalf of Albert.  
We also welcomed our 100th member of the season, Graham Mills.
Rod Average: 2
Jonny Bromilow won the free boat ticket.
---
Week 13
Another tough evening but a good turnout of 19 with 5 non-members including Tim Shepherd, who confessed to not having fished for years did well to catch 2 fish.
Star performer was Sam Smith, who was on his own, fishing into the inlet boil, fast retrieving a snake on a booby basher to net 9 in rapid succession in an hour. Sam had to leave early and was off the water before most of us had a pull.
Most tried all sorts of methods, from floaters to Di7 but few fish were showing in spite of what looked perfect conditions. A few fish were tempted mostly drifting 100 to 200 yards off the inlet and as usual some came off at the net and there was the odd breakage to add to the frustration.
Next week is the final week, going into the final week we have a very interesting situation. If Sam smith catches 6 fish, we have him and Albert both on 60 points. If this happens, the procedure is to take the best of 11. If still a draw, best of 12 etc.
Rod average 1 (from those recording a result)
Pete Brewer won the free boat ticket.
---
Week 12
Cancelled due to storm conditions.
---
Week 11
The foray out on to Grafham this evening was all too brief. Thirteen anglers braved the conditions of thirty-four degrees of sultry heat which turned into dramatic, threatening skies that ultimately delivered on their threats.
Thunder broke on one side of the lake, before covering it shore-to-shore, and rain of almost biblical proportions soaked us through. Discretion being the better part of valour, we headed for home with all boats in before 8pm. Fishing with a thunder storm over your head never makes sense.
The North shore was in the main non productive with the only consistent catches coming from the dam and boils area. Top rod Albert Coales took a quick 7 fish on a floater and washing line with crunches behind the booby before heading in and boat partner dad Rob had 5. Sam Smith stuck to the margins of the boils to take 5 on a di8 and snake combo.
The Wheatsheaf kindly obliged by bringing the sandwiches forward to 8:30pm and we all enjoyed drying out!
Jeff Price won the free boat ticket.
Rod Average 1.6
Many thanks to Richard Slater for contributing to the report and taking the photo.
---
Week 10
Conditions were good with cloud and a warm north breeze, the sort of evening we pray for and 17 anglers took part. 
No one method cracked it. Fish caught at various depths from Roly Poly to nymphs on a floater. Finding the right depth was reported to be difficult with fish moving up and down in the water.
Some headed for the Boils and caught fish easily but most opted for the North shore spread between G and Hedge End. The fish stocked on the south shore 2 weeks ago have moved across to the North and there was lots of action here to plopped boobies and FABs pulled just under on 6ft tips and intermediates. However, the ratio of bow-waves to netted fish wasn't great and a lot of fish were lost but it was all good fun even for those two who lost them all!
Richard Slater made a guest appearance and caught 6 with Hare's Ears on washing line. However Albert Coales was top rod again with 12 fish from various spots with Sam Edmunds taking 9. Four more rods caught their 6 fish for maximum points.
Fish were still moving as we left the water just after sunset thanks to the AW wardens for giving us those extra minutes.
The Wheatsheaf was excellent as usual, Dave Segust topped a good evening by winning the boat voucher.
Rod average 4.2
---
Week 9
With the England football team playing their semi final on Wednesday night it was great to see 16 anglers turn up to fish given the windy conditions.
With Sundays club Carr Cup day fresh in people's minds most of the 8 boats started drifting from the lodge and west bank into open water. A fast glass or di 3 pulling blobs and boobies through the upper layers was the favoured method. However, action was slow and only a few fish were showing with the wind making things difficult.
Top rod on the evening was Sam Smith, with 9, he and Albert Coales found fish on a long drift to hedge end and managed a few more from the north dam. From 8pm onwards a few anglers started catching on floating lines and the evening total reached 32 fish.
One angler in particular, Edze Dijksterhuis, had just purchased a new rod from the shop and gave it a good test by landing 2 trout including a lovely fish of 3lb.
Rod average: 2
                                                                           Edze Dijksterhuis won the boat voucher.
---
Week 8
A depleted turnout of 11 due to the England-Germany football match and probably a better evening's fishing than many had anticipated.
Most fish were caught out from the Lodge and Lodge Bank, no doubt enhanced by the spell of cooler weather and a recent stocking.
Fish were close to the top. Some sort of sinking line and blobs and boobies were the main method with some decent grown on fish caught along with the stockies.
Rob Edmunds was top rod with 15, closely followed by Albert Coales with 13. Previous joint leaded Sam Smith caught 3 but this now leaves Albert one his own at the top of the table and Rob moving up into 2nd spot, but we are only just over half way so plenty of time for movement in the table.
We finished up as usual in the Wheatsheaf and did our best to get through a mountain of sandwiches and chips.
Wayne Allen won the boat voucher.
Rod average 5.8
---
Week 7
Numbers were down slightly, no doubt due to the England football match. It was another tough evening with a third of anglers blanking.  No single method seemed to be doing the business.
Sinking lines and lures took their share but fish were also caught pulling a blob close to the surface.
Water temperatures were lower than the previous week but still not low enough to getting fish actively feeding. Fish were caught as usual around the inlets where presumably oxygen levels were higher, but the margins were generally unproductive.
The fish of the evening fell to Bill Manley who caught a splendid 6 lb plus fish.
Albert Coales and Sam Smith were the best two  rods with 10 and 8 respectively and now jointly share the league top spot.
We all enjoyed sandwiches and chips afterwards in the Wheatsheaf.
Rod average 2.2
The Edmunds family tradition continues with Rob winning the boat ticket.
---
Week 6
After several weeks of mucky water at Grafham it is now beginning to clear. Most  anglers had only two places on their mind as to where to fish and that was the inlet and the boils. However these proved not to be not very productive and after reporting only a few follows several boats moved to open water.
After half an hour it became clear that tonight would be a tough nights fishing and with 12 blanks that proved to be the case. The method seemed to be switching between deep sinking lines to tip lines and hopefully come across fish. This worked for top rod Rob Edmunds who had one on each method. This leaves Rob at week 6 on his own at the top of the table but only one fish ahead of the following pack.
Wayne Allen has a habit of catching big fish at the moment. Last week it was a 5lb rainbow this week it was a 5lb zander, unfortunately they don't score any points! However, he was one of very few who managed to catch a fish.With the clearer water and cooler temperatures prospects for next week look better. Hope to see you there…
Jonny Bromilow won the boat voucher.
Rod average 0.47
---
Week 5
Another good turnout with 20 anglers on a warm evening and a pleasure to fish in shirt sleeves until sunset.
Grafham is filling up with murky river water and the entire reservoir was warm and brown. Everyone quickly homed in on the two areas of moving water, the middle inlet and the aerators at the tower. It's not everyone s idea of fly fishing but the fish were up in the water and some very good conditioned fish if 3lb plus were taken with Wayne Allan catching a 5lb rainbow. Albert Coales is very good on the boils taking around 25 pulling a Di5 then 10 on a team of hoppers.
Everyone caught fish including new member John Goringe who travelled up from Hampshire especially for his first session with the club and was rewarded with 3 good fish.
Rob Edmunds won the lucky boat voucher.
Rod Average 6.5
.
---
Week 4
Twenty four of us left the harbour with tactics ranging from di8 booby bashers and lures to floating lines and nymphs, and everything else in between that!
Boats headed to the willows, Gaynes and the dam. The boils were on but with fishing only allowed while drifting away from them a few boats gave it a go but after a couple of fish they moved on.
Rob Edmunds was top rod with 13 fish and this also included a lovely rainbow of 5 1/2 lbs. A number of other anglers did well and caught 7 or more fish. Dave Seagust had his best Tuesday evening so far and had plenty of action drifting between A and Q bouy. He started on a di5 and boobies and, like most people, finished the evening on a floater and washing line tactics. Matt Allen, making his first Tuesday night appearance, did a couple of drifts along Plummers and on the first drift caught 5 fish using a di3, blob and a cormorant, in total 90 fish were caught.
A good turn out with Twenty one of us staying to enjoy sandwiches and chips in the pub, along with plenty of banter and stories about fish dropping of at the net.
Sam Smith won the boat voucher.
                                                                      Rod average 3.7
---
Week 3
Bright conditions, coloured areas and very little ripple always make things a bit more challenging and the rod average was down on the previous two weeks.
Grafham has started to colour up in some areas and anglers headed to the clearer water on the north side. Albert Coales sticking to his reliable sinking line roly poly technique was once again top rod with 17 followed just 2 behind by father Rob Edmunds. This leaves just four anglers with maximum point with Bill Manley and Sam Smith sharing top four spots with Albert and Rob.
Jeff Hickson put in another good performance catching 9 fish mainly on drifts between the Willows and Marlow jetty with a Di3 and blobs and is in the chasing group just 3 point behind but at this early stage positions can change rapidly.
With his luck, Albert Coales should start doing the National Lottery, once again he won the boat ticket!
Rod Average 4.6
.
---
Week 2
23 anglers turned up this week. Gaynes which has been popular earlier in the week has started to get an algae bloom so valley to the sailing club proved popular drifts for those that didn't want to travel across to the north shore. The south westerly wind made drifts parallel to the bank easy with fish showing between 50 and 150 yards out. Mick Facey was the most successful south shore angler with 17 fish followed by Graham Bodsworth with 15, Jeff Hickson with 14 and Jeff Price 13.
Meanwhile last week's top rod Albert Coales and boat partner Wayne Allan, and Rob Edmunds and Sue Potts headed for the north bank. Rob Edmunds and Sue Potts had mixed fortunes with Rob taking 17 and Sue catching a single fish.  Albert is a real master of roly poly and used his skill to pull blobs and catch consistently throughout the evening taking 26 fish and finish top rod once again.
Rod Average 8.8
Paul Heavens won the boat ticket.
–
---
Week 1
After a day of showers and breeze, the evening turned out to be very pleasant with no rain and a reasonably mild southerly breeze.
30 anglers turned up and it was nice to see a good number of recent members joining in. Boats set off in various directions but many favouring Gaynes which had been producing good catches. However it was the north shore that proved to be the most productive with Albert Coales taking the highest bag of the evening.
Most anglers took a relaxed view of the evening fishing buzzers and nymphs and probably had their minds on the post fishing visit to the Wheatsheaf, but Albert in ever competitive mode said that he knew the wind would push fish north and put on a di5 sweep and roly-poly'd two cormorants with a tequila booby on the point to take 26 fish constantly moving between G buoy and Hill Farm.
Ten anglers including recent member Anthony Mottram managed to catch the 6 fish limit and a total 171 fish caught.
Rod Average: 5.7
The boat ticket was won by Albert Coales.
–
"Back to Top of Page"
---
Carr Cup 2021
---
Round 6 – Rutland Water 11th September 2021
Leading up to the sixth Carr Cup match of the year, normal autumn weather had suddenly developed into a roasting heat wave, which did nothing for the fishing. Reservoirs across the country saw catch returns plummet as fish switched right off;
so prospects weren't brilliant when 27 Invicta members met on a quiet, cloudy morning.  Many started the day with a Simon Peck and pals breakfast cob in the car park. This is becoming a bit of a tradition and certainly replaces the lack of facilities provided by the fisheries.
We knew little had been caught in recent days, even though the weather had cooled and a nice breeze had picked up, but also that 2000 fish had been stocked recently. So members did manage to work up a small amount of enthusiasm especially when fish were chasing first thing and one or two rods started to bend.
The favoured, and almost only, area for most was outside the Lodge, with boats in search of those recent stockies. Some did try elsewhere but this proved unproductive and all gradually returned to East Creek and Church Bay although, as the day wore on, things slowed considerably even there. The sky lightened, the clouds broke up and the sun came out which ensured that most fish were caught in the early part of the day, with very few coming in the afternoon. Andrew Bate did manage to squeak out 5 on his floater and fry patterns to finish top rod, Terry Bayes and Pete Skelton managed 3, there were a lot of 2s and Steve Harding took a lovely four pound fish for the best of the day.
By mid afternoon most had had enough and everybody was off the water by five o'clock. All in all a disappointing day and one that most would want to forget fishing-wise with only a 1.3 rod average, but Invicta days are always friendly and companionable so it's always a pleasure to meet up.
Thanks to Mark Searle for the organisation and to Paul Heavens for updating the league table and website.
Hopefully the waters will pick up soon and we can look forward to our next meeting on 5th October at Grafham.
Chris McLeod
---
Round 5 -Draycote Water 7th August 2021
Never believe the weather forecast when it's changeable and showery. Many were put off this event as strong wind, rain and thunder were predicted. As it turned out, the conditions were almost perfect. Mainly cloudy skies, warm, a gentle breeze and fish right up in the surface layer
29 members ventured out full of anticipation after good fishing reports in the previous days. Very few fish were showing, but as we knew they were well up, most put on the lighter lines with dries and washing lines being on display as the boats left the harbour. Rainbow Corner as ever was a starting point for many, but also the open water, the Lodge dam and into Toft. Virtually no one went over the far side were the breeze made it less comfortable anyway.
The action – initially mainly follows and swirls – was immediate although some found it tricky to start. At last, after lots of hot weather the temperature had dropped and fish were willing to chase, with a good proportion locking up.
We didn't stop for lunch but did finish a bit earlier at 5.30pm. Top rod by a long way was the very consistent league leader Fraser Duffy Jr with 21, all returned, followed by Andy Trafankovsky on 17, Chris McLeod on 12, Mark Searle on 11 and Keith Gilchrist on 10. There were ten 8 fish limits with a total of 196 fish caught for a rod average of 7.75.
There were all the usual tales afterwards. Tony Smith had 1 at lunchtime, switched to dries and reached his limit in an hour. Mark Searle lost 5 of his first 6 fish hooked and then they started sticking. David Moore stuck on 7 until the dying minutes; another great day at an in-form Draycote.
Huge thanks, as ever to Mark Searle for the organisation and to the staff at Draycote for looking after us so well.
Chris McLeod
---
Round 4 Grafham – 4th July 2021
Results at Grafham had been improving over the previous week and 5,000 trout stocked 6 days before had begun to settle down and with heavy cloud and a light southerly wind the 31 members were looking forward to a good day for this 4th Round match.
Most of the boats started with drifts off the Lodge bank but after 30 minutes quite a few nearer the Lodge had moved off, unaware of Albert Coales and Johnny Bromilow towards the West Bank taking fish from the start with Albert taking 8 in their first long drift.
The other boats staying on these drifts across the open water had a good morning whereas those moving elsewhere were struggling with the odd fish.
As information spread across the lake more boats returned to the western drifts but fish were getting cagey. Keith Gilchrist and Sam Smith had caught their 8 fish before moving near the dam and Sam took the best fish of the day 4lb-12oz with a blob 4ft under a bung.
The Edmunds-Coales family were all catching steadily pulling hard across the top with Albert on top form pulling 3 boobies and catching at both ends of the reservoir to finish with 28 well ahead of the field. Rob ended with 15, Sam Smith 14, Keith Gilchrist and Sam Edmunds 13 and Fraser Duffy Jnr 10 fish, which sees Fraser jnr move to the top of the table. Also very noticeable is Steve Harding's consistency with him now sitting in 4th spot.
Ten of the 31 anglers caught their 8 fish for maximum points and the total catch 183. It had been a day for hard pulling and you needed to be in the right area in the morning and the high rod average of 5.6 concealed a hard day for the 14 members who caught three or fewer trout.
Examining a couple of fish afterwards I found daphnia in one and tiny olive buzzer pupae in the other, always resulting in finicky fish.
A big thank you to Mark Searle for organising the day and for volunteering to fish alone after several last-minute changes.
The next round is at Draycote on Saturday 7th August, please pay early if you want to fish.
The Voucher donated by Anglian Water was won by Fraser Duffy Snr.
---
Round 3 Eyebrook – 12th June 2021
A record of 42 Invicta members fished Eyebrook in the 3rd round of our Carr Cup series, a credit to the club and the popularity of this fishery.
Most of the fleet started with a drift across the bowl towards the dam in the NW breeze with a few heading into the western shallows. Reports suggested the catchable fish were going to be deep in the main bowl and although there were plenty of fish rising in the margins and upwind areas this proved correct.
 A few fish were taken on dries early on and this attracted a few boats from the deeper water but by 1pm everyone was in the bowl where those able to cast a long fast-sinking line had been taking fish consistently especially over a relatively small area in the very deepest part of the reservoir.
Casting snakes 40 yards on a Di8 is a skill which few members possess but those who have it caught big numbers and the top 4 rods caught at as many as the other 38 rods!
The usual, highly competitive battle between father and son, Rob Edmunds and Albert Coales ended for a narrow win for Albert, probably, 37-35 but it's not easy keeping count in this speed fishing and Fraser Duffy jnr netted 25 with Pete Webb and Sam Edmunds also in double figures.
Our dry fly specialists who normally excel at Eyebrook had an unexpectedly hard day with a lot of swirls but not many properly hooked, although Graham Bodsworth took 4 and lost a few more on CDCs.
The fish were a good size and in excellent condition and total catch was 218, a rod average of 5.2 and even capped at 8 it was 3.5.
Our thanks go to Ifor Jones and Jim Wright for looking after us and donating a boat fishing voucher for a lucky draw won by Jon Swain.
The next round is at Grafham on Sunday 4th July, please pay and enter promptly to help Alan Prevost and our bookings manager Mark Searle who deserves a medal for arranging such big entry days.
David Moore
---
Round 2 Ravensthorpe -9th May 2021
Ravensthorpe is always a popular venue for Invicta days and with our increased membership it was over-subscribed and a second day is being arranged for the overflow.
Our 30 members took the whole fleet of 15 boats and set out in heavy persistent rain but thankfully the forecast strong winds held off until midday. Several members had fished here in the week and most started downwind towards the Coton end fishing washing line buzzers and a FAB on the point which had worked so well in practice.
Several boats were into fish quickly but unusually there were big differences between partners who thought they were fishing identically. The fish were being very selective about how they wanted the flies presented, static and at the right depth and on the lift and hang but as the wind started to swirl this became quite tricky.
Mark Searle and Keith Gilchrist were keeping level but both in bursts but Mick Facey and Frazer Duffey Jnr. were but well ahead of their normally very successful partners.
David Moore and Steve Harding stayed further upwind from the main fleet starting 100m out from the dam and took 12 in two drifts with David getting his 8th at 11.15 fishing a fast 6ft tip and hanging deep, 11 of his first 12 all taking the FAB before Steve switched to a snake on fast-glass and took a couple nearer the west bank. David changed to an unweighted black snake on a Di5 to take another 6 fish and with Steve on 12 they finished top boat with 30.
Mick Facey fished the same cast all day a FAB with 3 buzzers on a Snowbee buzzer tip also taking 18 fish as did Frazer Duffey Jnr. and Keith Gilchrist, Mark Searle, Wayne Allen and Alan Briggs all caught 10 or more.
In total there were 13 rods catching 8 or more for their maximum 50 points and 217 fish were taken and mostly released, a rod average of 7.3 and everyone commented on the quality and hard fighting fish.
Chris McLeod caught his 8 but not without considerable difficulty and his hilarious account of the day is posted on this website under the 'Members Contributions' page, it's a very good read and full of learning points, especially for Chris !
Our next round is at Eyebrook on the 12th June, demand is already high so make your payment and complete the form now.
David Moore
---
Round 1 Pitsford – 7th April 2021
A hard overnight frost and a bitter NW wind didn't deter a record turnout of 38 members fishing our first outing of the year and we were all full of our usual early season optimism.
Covid-19 restrictions required a staggered start and no weigh-in and so we couldn't compete for the Graham Williams Trophy however Carr Cup points were at stake for the more competitive while we welcomed many new members to their first day with Invicta.
Most boats headed up wind towards the main bowl although a few briefly tested the usual favourite areas en route but without much success. Early fish came to boats drifting onto the Pines but with strengthening winds boats accumulated in the shelter of Brixworth Bay and most opted to anchor 40m from the bank. There was a big hatch of buzzers but fish were taking bright FABS and blobs, snakes and diawl bachs as well as buzzers mostly fished high in the water.
Albert Edmunds pulling his favoured blob and snake combination on a Di5 drifted onto the Pines all day to take the biggest bag of 17 fish and father Rob took 15 on similar tactics. Fish of the day was a fine 6lb brown caught by new member Andrew Bate, weighed and witnessed it's set down a good marker for the best brown of the season trophy.
Chris McLeod and new member Fraser Duffy Jnr. drifted through the Narrows pulling boobies to take 17 as well as getting a lot of other action. The best option seemed to be find free water ahead and wait for the roaming pods. All were clean, well mended, actively feeding fish of a good size, with some better ones in the mix. After a quiet morning Peter Brewer and Paul Heavens found fish between the Dam and Stone Bay and amazingly there were soon 12 boats anchored in a line catching fish steadily, Johnny Bromilow experienced 4 double hook-ups in rapid succession, losing a lot of flies but still catching his 8 fish target. Tony Smith and Simon Peck found fish in the opposite corner with 20 to the boat and all before we discovered that 1500 fish had been stocked off the causeway in the morning!
At the count 13 of the 38 rods recorded 8 or more fish and even capping catches at 8 the rod average was still nearly 5.
A big thank you to Mark Searle for organising a very difficult day with so many late changes to cope with. Our next round is at Ravensthorpe on Saturday 8th May but it is already over-subscribed.
David Moore
---
Invicta v Fly Fishing Large Reservoirs
Grafham Water 27th-28th May 2021
Our Annual Pilgrimage was unavoidably cancelled because of Covid restrictions however the newly formed FFLR club was looking for a fixture to practice AMFC conditions and so we offered them a team competition for the same days rather than cancel our boats.
Like Invicta, FFLR has a lot of new anglers who are keen to try competition fishing but alongside some very experienced match anglers and has entered two teams for this year's AMFC matches, so we paired the boats to mix this factor and get the most out of the experience of fishing to AMFC rules.
Thursday involved teams of 12 with a few rods loaned to the other side to balance the draw. Grafham looked perfect with a light ripple and clear water and several of us got off to a quick start before the sun got high and it became very difficult.
Mark Searle, fishing in Pig Bay, was advised by Gary How to remove his FAB and straight-line buzzers, this worked immediately for Mark and he finished top rod, well ahead with 13 but ironically, Gary stopped catching ending as our second rod with 6.
We capped the scores at 12 each and Invicta totalled 54 to be beaten by FFLR's 64 thanks to much more consistent results.
On Friday, we had teams of 17 and with the experience of the previous day telling us to straight line with skinny 12 & 14 buzzers but a heavier 10 on the point we were optimistic. Conditions looked good for this method with very mild, light winds and cloud but it was even harder.
Graham Bodsworth was our top rod with 8 fish towards the Dam and Willows by sticking to the method and his was the best boat with 17 fish. Our Northampton group of Pete Webb, Terry Bayes and both Fraser Duffy Snr and Junior all caught 6.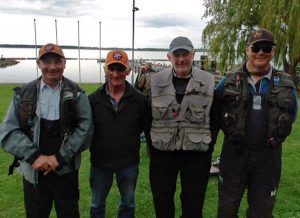 Top rod in the match was FFLR's Trevor Bourne with 12 taking his last 4 fish in 30 minutes pulling blobs on floating line well out from the Lodge !
At the count, FFLR had beaten us comfortable with 78 to our 59 with most of their novices catching reasonable numbers, no doubt a reflection on our helpful members.
Fishing this as a purely team event without any individual weigh-in or prizes created a friendly atmosphere and without the need for entry fees. Anglian Water kindly gave us a discount on the boats which funded two boat vouchers which they matched with two more so we were able to give these in a 'blind pairs' draw which added a bit of fun. Special thanks go to Pauline Gibb working on her own in the Lodge on the first day, so efficient and keeping her cool under pressure throughout.
On a personal note it was a bit chaotic 'herding the cats' but it was always going to be exciting organising something with the ever-enthusiastic Neil Cohen and anglers from all over the country, 'Never again!' I said immediately afterwards but there have been lots of positive comments from both sides and in particular, many very kind comments about Invicta posted on the FFLR website and it's 'WhatsApp' groups set up specially for both days: great for enhancing our reputation as the 'Friendly Club', so maybe I will start thinking about next year after all.
David Moore
"Back to Top of Page"
Reports 2020 Season
*
Page Contents:
Click to Jump to Spring Bank Match report
Click to Jump to Carr Cup report
Click to Jump to Interclub match report
---
Carr Cup
The 2020 series shortened to 4 matches due to the Covid-19 virus.
Reports compiled by Chris McLeod and David Moore.
---
---
Round 4 Grafham (Graham Williams Trophy) 6th October 2020
What a day!  The fishing was tough, and the weather made it harder still but, amazingly, a good number of fish were caught.
As is often the case, cosy, comfortable fishing doesn't always produce results, and it might be necessary to brave the elements to get a few in the boat. It was a good turnout though with much to play for in terms of the club championship – the Carr Cup. Four or five anglers could have taken the trophy with the Sam Edmunds just needing 5 fish to clinch it. Gary How, Mark Searle, Albert Coales and David Moore were well placed, but they knew Sam would have to fail for anyone else to get the tops spot.
This last boat match of the season has a habit of throwing up surprises and this year was no exception. With 34 anglers turning out, including many new faces, and a relatively tricky spell at Grafham, a full bag was not a given by any means. Most boats headed for the Savages, Sanctuary Bay area with floating lines. This part of the lake had been holding good fish and a few did get caught, but it was patchy. Gradually boats moved westward but the increasingly gusty wind caused problems – especially as fish were in very shallow water, close in to the bank.
However, Albert and Gary started ticking up their score battling the wind and short drifts. They ended up on 11 and 9 respectively which gave them easily top boat, the only two full bags and a chance of the top spot. So Albert was the worthy winner of the Graham Williams Trophy and Carr Cup Champion 2020.
Elsewhere, Sam Edmunds was having a nightmare. Desperately searching for fish she travelled all over the lake without success and severely shortened her fishing time by falling in. Her partner Simon Peck nobly accompanied her back to the Lodge where she dried out and then returned to the lake. Sadly her two fish were not enough and congratulations to Albert who took the Carr Cup. Gary ended up in second place but Sam had to be content with third place.
One of the more noteworthy Carr Cup performers was Sam Smith who didn't join Invicta until the second match and had catch figures of 7-8-8 to finish with the top rod average. However there were some notable failures and some amusing contretemps on the water as boats caused problems for each other, but generally it was a fun day and an exciting one to end the boat season.
So a strange and restricted boat season now carries on with the usual bank matches and we look forward to a good turnout for what we hope will be some cracking fishing.
---
Round 3 Rutland, 13th September 2020
Another big turnout of 30 members. There had been mixed reports from the previous week and although big fish had been reported from top of the South Arm,  the recently stocked fish in the main bowl and sailing club had not been showing.
This match was purely catch and release with a target of 8 fish and so everyone opted for turning right from the harbour with drifts along the Normanton shore looking for quantity rather than quality. Rods were bending from the off with fish towards the church chasing blobs pulled fast and high on intermediate lines. The string westerly wind brought a lot of windsurfers and yachts across the drifting boats downwind of the Church with a few near misses to add to the excitement.
Several members were already in double figures by midday finding fish all the way to the dam with some furious pulling and roly-poly to draw the stockies attention, however there were lots of abortive follows and takes on the hang as fish were inquisitive rather than hungry. The bright sun and repeated drifts and windsurfers put fish down in the mid-afternoon but they were still taking further out into the bowl and occasionally took on the surface. Not all fish were taken pulling and Allan Briggs persisted with the midge tip to take the best fish of the day at 4lb-9oz on his last cast.
At the count there were some spectacular numbers, a total catch of over 300, mostly returned to the water, a rod average of 10 and Albert Coales with his pulling expertise caught an astounding 39 fish just ahead of father Rob with 35 and Keith Gilchrist in third spot with 20. Albert managed to net all three in a triple hook-up and numerous doubles too.
Most of the top rods in the Carr Cup table caught their 8 fish for maximum points and so Samantha​ Edmunds stays at the top ahead of David Moore, Albert Coales, Gary How and Mark Searle with one round to go at Grafham on the 6th October.
David Moore.
---
Round 2 Draycote (Carl Hunter Bowl), 8th August 2020
Another good turn out of 28 members fished Draycote on one of the hottest days of the year.
Blazing sun and water temperatures of 20' to 22' across the lake were far from ideal conditions as boats spread out from Toft to C buoy with tactics ranging from dries to Di8 and tubes.
By midday most boats had moved downwind towards the boils, drifting towards the dam and few rods had taken more than a couple of fish.
New member Sam Smith on his first visit to Draycote was paired with David Moore who had practiced a few days previously and they got off to a good start with both taking 2 on nymphs and daddies drifting close to the bank from D buoy to the tower before moving onto the boils and C buoy where Sam took 3 quick fish on tubes and Di7.  A return to the original drift and switch back to midge tips brought a fish a piece before returning to the boils and a long drift to C buoy where David caught a 6lb-9oz brown on a green and white tadpole and Sam caught his 7th and match-winning fish.
Carr Cup table- topper Sam Edmunds was fishing with Mark Searle and after a slow start in Toft they pulled hard with sparklers and tubes on Di3 and Di5 around the weed beds before heading to the boils then finished the day back over the weed beds to take 5 fish each for the 2nd placed boat.
The 28 rods caught 53 fish reflecting a very hard day in the sun and 30deg+ temperatures.
There wasn't a formal weigh-in but the first 4 fish were killed with subsequent fish counting as 2lbs and it was clear that Sam Smith's bag was the winner. David Moore weighed his 4 fish at 14lb-8oz and it was agreed they were top boat with 11 fish to Mark and Sam's 10 and received the two permits kindly donated by the fishery.
A big thank you to Mark Searle for organising the day and to fishery staff Tom and Lee for their help.
The ever-consistent Sam Edmunds increased her lead to 15 points (3 fish) at the top of the table and the next round is at Rutland Water Sunday 13th September so contact Mark Searle and pay Alan Prevost to reserve your place.
---
Round 1 Grafham (President's Cup) 5th July 2020
At last we managed to get on to the water with two man boats allowed for the first time in months. The lakes had all been fishing brilliantly but, as so often happens, the scheduled day of the first outing of the season was blowing a hooley, in bright sunshine. What a disappointment.
Twenty six of us set off more in hope than expectation, but we knew there were fish in various fishable areas although the wind kept most away from the North shore.
Fast and constant pulling with blobs on a Di3 was a popular approach but you needed to be young and fit, which ruled out at least half the members, although fish did come to other methods. Cast as far as you can, begin the retrieve before the line hits the water, roly poly or pull fast, then lift, roll, and cast again. A sort of modern wet fly technique but done with much more attack. Now that is hard work and not sustainable if you are old, arthritic, senile, tired, depressed, under the influence, diabetic, sore, sprained, tennis elbowed, demented etc etc. But we do have younger members who can do it, and it proved to be their day.
England Youth team member Albert Coales had twenty odd, the ever youthful Gary How knocked out eight before going home early and the eventual winner, Sam Edmunds, caught well in to the teens. But it was hard work out in the lumpy water with blustery winds causing casting problems and all the other wind related frustrations.
Our most sensible member, David Moore showed admirable control by fishing in the relatively sheltered conditions off the West bank and catching six fish on snail patterns over the weeds. Others tried this, less successfully, although there were a few fours and fives, and the rod average, taking eight fish as the limit was still over three. So nowhere near as bad as it felt.
Congratulations to Sam for winning the day and beating her step-son by a few ounces. Gary secured 3rd spot.
The next trip is Draycote on Saturday August 8th  where we fish for the Carl Hunter Bowl and that should be a fish fest – if we get conditions that are kind to the elderly.
"Back to Top of Page"

---
Inter-Club at Rutland Water 23rd August 2020
The John Maitland Trophy is an annual match between GWFFA and RWFFA but this was cancelled and a more informal competition at Rutland Water was arranged in its place and to which Invicta members were invited.
We fielded 4 pairs in this Loch-Style match fished to International Rules which attracted 8 boats from RWFFA and 7 from GWFFA.
The previous days gale had eased and although still a stiff westerly wind it was cloudy and looked hopeful for an improvement on recent reports of hard going. Most boats headed into the bowl where the aerators had been off for a few days and the fish proved to have spread out.
The time of the first fish was to decide any draw so Gary How was a little annoyed at losing 3 in his first few casts but partner Graham Bodsworth netted at 10.09 and Sam Edmunds fishing with Albert Coales caught at 10.12 and Rob Edmunds fishing with James Stewart downwind near to the dam caught his first just a minute later so Invicta were off to a very good start. Our 4th pair, David Moore and Paul Heavens were drifting from bit further back and took longer to reach the fish, David netting at 10.50.
The successful method was pulling FABs or Blobs hard on Fast Glass or Di3 sweep, drifting from the middle towards Fantasy but later Gary and Graham tried a few drifts closer to the shore towards Blue Pipes and took fish steadily by alternating the two drifts. There were a lot of cautious fish turning away at the boat and even more just pricked and lost.
A big storm blew up in mid-afternoon and David and Paul switched to daddies on floating line and both took 2 fish each in the big waves before both getting completely smashed to the top dropper close to the boat and all within 45 minutes before the waves died away. These fish were all much bigger than those taking the lures.
At the count our Invicta team had all fished very well with Gary top rod (12), Graham 2nd(9), Albert 3rd (9) and a total of 57 fish between our 8 rods against 36 for RWFFA and 61 for GWFFA. The team result was based on the top 4 boats which made Invicta the winners. The rod average 4.5 was much better than expected although there were still a few blanks but mostly from those who had ventured up the arms.
It was good to have such a big entry at short notice and it was all very well organised by Martin Brocklebank (GWFFA) and Invicta appreciated being invited to fish, maybe we can do it again next year?
–
---
Norman Shippey Memorial – Elinor Fishery 21st March 2020
The Coronavirus restrictions meant that the social element of this match was very much affected.  A brisk Easterly wind chilled the early morning with catches improving during the day. Most fish seem to have been taken on floating lines using blobs or crunchers.
Some impressive catches were made and Albert Edmunds led the way with a fantastic 17 fish to win this year's event.  Not far behind was Alan Briggs with 15 followed by Mark Searle 13 and Darren Trumper on 12.
Sadly this looks like being the last match for a while as all matches up early May have been cancelled including the Invicta/ Snowbee Floating Line competition.
–
–
"Back to Top of Page"