---
Reports 2022 Season
Page Contents:
Click to Jump to Norman Shippey  report
Click to Jump to Carr Cup report
Click to Jump to Tuesday Evening Social fishing reports
Click to Jump to Invicta v FFLR report
Click to Jump to Snowbee Floating Line report
Click to Jump to AMFC match reports
Click to Jump to The Pilgrimage match report
---
Carr Cup 2022
---
Round 3 match at Eyebrook – 11th June
The Eyebrook rarely disappoints and today's visit was no exception.
Although the weather was bright and blustery, there were plenty of fish and a lot of them were right up in the top layers. One or two members (or maybe five or six) had been out for a sneaky practice during the week previous and found the fish could be caught on a variety of methods – and that's what happened.
There was a great turnout of thirty one members in sixteen boats, with the unfortunate Ray Storer on his own. This didn't seem to bother him as his rod bent continuously during the day. Floater with a twiddled washing line did the trick for him while another big scorer, Fraser Duffy Jnr went deep with his Di3 and Gary How pulled his a fast glass and two fabs.
So it was a case of choose your method – and, of course, be in the right areas. Anchoring from the Lodge down the left hand side was favourite, although half the fleet drifted along the dam in the main bowl, and there were a few stragglers. Ray had his 8 well before lunch time as did Fraser, and Gary not too long afterwards.
Everyone came off at one o' clock for a convivial chat, an opportunity to compare notes, and use the tea making facilities. Refreshed with that and lots of information, the fleet set off to catch as many as they could before five thirty.
Some struggled in the afternoon but others did very well – especially on dries – so it was a bit of a mixed bag not helped by the gusty wind with temperatures and light levels going up and down all day. This meant the fish seemed to go off for periods and then return, keen to attack flies. What causes them to go on and off is probably something to do with air pressure, but 'who knows what the trout thinks' – as the inimitable Henry Lowe once said.
Ray won the day. There were eight limits of 8 fish giving a rod average of just over 5, and all fish were returned. They weren't huge by any means, but they were extremely fit, very lively and certainly pulled your string; great fishing. It should be noted that our wonderfully persistent treasurer, Alan Prevost, had a great day, catching 6 fish on a mixture of dries and nymphs – well done Alan.
Let's hope we can have as much fun on our next day out at Grafham on 3rd July. After three matches the Carr Cup is taking shape, but it's impossibleat this stage to predict anything with four matches still to go.
Finally thanks must go to Mark Searle who does a fantastic job in organising these trips, a thankless task and he still manages to catch fish.
---
Round 2 match at Pitsford – 7th May
Although we had a number of injured members amongst the twenty eight who fished the second Carr Cup day of 2022, it seemed that broken arms were less of a handicap than damaged shoulders.
Pitsford was alive with small buzzers – incredible numbers all over the lake, and the fish were feeding on them. The problem was, as is often the case, they were so focussed on them that most other offerings were ignored. Washing lines and bungs, on floaters and short tip lines were on just about every rod, with the current favoured FAB point fly with muskins on the droppers being a popular set up. Muskins in its original tying of black with white breathers matched the majority of buzzers coming off, perfectly. Fished static or very slowly, they were being picked out by the trout and the coloured stuff just seemed to be there simply to keep the dropper nymphs up. It was difficult to work out where the fish were. Deep, well up? Some never worked it out and struggled. Others landed on a method and patiently stuck to it which gave good results.
There were only five limits in a rather disappointing rod average of around 4 (depending on whether the fish caught beyond the Carr Cup limit of 8 counted),
but only three blanks. Almost everyone, except David Moore, found the day frustrating given how many fish were showing. All along the Sailing Club to Brixworth bank, there were fish everywhere and spooning showed that they were gorging on buzzers.
The aforementioned David caught 14 straight lining and on the bung, leaving his partner Mark Searle scratching his head – how often that happens with one angler knocking them out and the other trying to work out how. David could do no wrong and easily won the day with his broken arm – the enforced rest has obviously done him a lot of good. Gary How (injury free) had 11; Steve Harding who is getting ever more consistent had 10, followed by Keith Gilchrist and Chris McLeod on 9. There were a couple of exasperated 7s from new members Andrew Bate and Fraser Duffy Snr. But there were many notable low scores which indicated what a funny day it had been.
Not funny for Pete Skelton and Mel Parrott though, who both managed a fish before shoulder injuries forced them to finish early. Let's hope everyone is match fit for our next day out on Eyebrook 11th June.
Chris McLeod
---
Round 1 match at Pitsford -6th April 2022 (Graham Williams Trophy)
The first boat match of our Carr Cup season was held on an in-form Pitsford, but in horrible weather. Wind, sun and rain greeted us and we did wonder if we'd be allowed out, but at least it was quite mild and there were lots of buzzers coming off – particularly in the afternoon.
So, thirty two members made their way carefully through the tunnel (Pitsford is just about at full level) and right down to the less bumpy areas around the Dam, Sailing Club and Brixworth Bay where a lot of fish had been caught in previous days; and the fish were still there. Terry Bayes and Steve Harding were off to a flyer and had 16 in the boat before midday. Other rods were bending to a variety of methods – mainly tip lines and floaters, with the odd slow sinker.
Gradually numbers caught were building, but also some members were struggling,  some finished, others hadn't started. Although there were a lot of stock fish they seemed to prefer slow and static tactics with a washing line set up, rather than chase. Jeff Price was doing well by doing nothing which did work for him although he lost a few as did most.
The target was 4 killed and another 4 C&R at two pounds each; seventeen of the field managed to do that. Fraser Duffy jnr had 17 in total and six more managed double figures. In the last hour or two the buzzers really started hatching and there was some lovely static buzzer fishing, notably in Pitsford Creek. Classic do-nothing and wait for the pull. But we had to stop for a weigh-in at five so the fun ended, which was just as well as the heavens opened just after we all came off.
Some nice fish were taken. Keith Gilchrist had a brownie of six pounds plus. Des Palmer a rainbow of four pound plus and Chris McLeod took a couple of rainbows over three pounds to give him the match, ahead of Paul Heavens and Colin Newton. A good rod average of 7.
Graham Williams, who won the Carr Cup many times, was suitably commemorated and we know that he would have done well today.
Our next meeting which we hope will be productive is on 7th May, again at Pitsford.
Chris McLeod
"Back to Top of Page"
---
Tuesday Evening Social Fishing at Grafham

---
Week 7
14 anglers turned up on the longest day of the year, including Alex Abbs, a 14 year old from Perry was encouraged by Anglian Water's Pauline Gibbs to have a go. He went out with David Moore, caught his first trout ever and then managed another one.
It was a very still sunny evening with lots of fish around in places but certainly not everywhere. The water temperature is rising and they were not really going for it.
A variety of methods used but difficult to say which one was the best, but it was hard. However, Roger Swain and Dayood Sheik managed 3 each to finish as top rods for the evening. David Moore was amongst a group of five others who managed 2 each which moves David up the table into 2nd spot on his own but still 9 behind leader David Currie, but the gap is closing as David Currie had a rare blank. In total 22 fish were caught.
The evening came to a premature finish, the Rangers insisting that boats had to be in by 9pm, despite protests and an agreement with AW that we have an extra 30 minutes.
Nine went to the Wheatsheaf and were well fed.
Rod average 1.57.
Jeff Price won the boat ticket. 
---
Week 6
A perfect summer's evening greeted 17 rods and anglers leaving the water reported successful days in Valley Creek so that's where nearly all headed. Fish were rising freely among the boats and rods were quickly bending to buzzers relatively deep under bungs.
Jeff Hickson's bung was having a job to float and after his 12th fish in about 3 hours he decided to stop and relax!  Not everyone was finding it so easy but the fish caught were big 3lb or
more, silver, fighting very hard and a lot broke free. 
Dave Currie was second with 8 and David Moore caught 7 including one a good 4lb+, this moves David into joint second spot along with Johan Dryer and Jeff Hickson. David Currie maintains his lead.
We stayed out until sunset at 9.30pm.
Thanks to Peter Brewer for organising the evening and welcome  pint and plentiful food in the Wheatsheaf.
Rod average 3
Bill Manley won the boat ticket.
---
Week 5
Go left out of the harbour was the clear instruction given by the RAF anglers that had been there all day, lots of fish had been coming out of Valley Creek on the bung. The boats were packed into a small area of Valley Creek at times with 7 or 8 boats within a 50 metre circle. The problem was that after so much boat pressure during the day, although fish were there, they had become much harder to tempt. Almost still conditions meant little ripple and what wind there was changed direction constantly. The sky was also bright with little cloud.
A few anglers ventured to other areas and fish were rising all over the reservoir, they just weren't having it. The majority stuck to Valley all evening and Andy Trafankowski took 5 on the bung with buzzers to finish top rod. Fish were taking deep and Andy found them taking at 9' down. Second spot went jointly to Keith Gilchrist and David Currie, both with 3 fish; again Keith said that he only found fish on the bung at around 7'6". Most other anglers struggled for the odd fish or two with only 25 fish being caught in total.
Trevor Barton continued his new found catching habit by taking the biggest fish of the evening, a nice 4lb plus rainbow.
As usual the sandwiches and chips at the Wheatsheaf were in plentiful supply.
Rod average 1.4
David Moore won the boat ticket
---
Week 4
Several Invicta members fished the afternoon prior to the 4th Tuesday evening and had barely dried out from a horrendous hail storm before venturing out again  but in better conditions, light wind and good cloud cover.
A few started towards the Sailing Club  and north shore but most headed for Gaynes and Plummer which have been the most consistent areas recently. Keith Gilchrist tucked into Gaynes corner and Andy Trafankowski with Johnny Bromilow also close to the tree line and taking some early fish.
Sport was slow for the other boats until some pods moved rapidly across more open water but disappeared after 30 minutes. Johan Dryer stayed in this area to take 6 on green & white lures but Albert Coales moved to G buoy and took 7 pulling lures very fast.
It was very pleasing to see Trevor Barton record his first Tuesday evening fish. Trevor is improving all the time and also took a fish during the afternoon. He will be catching regularly before too long, he certainly has the dedication.
Keith Gilchrist stuck to his straight-lined diawl bach's in Gaynes to end Top Rod with 8 trout. League leader David Currie only managed 1 fish, he remains leader, but the gap is closing with second placed Johan Dryer only 3 fish behind.
Peter Brewer announced the results in the Wheatsheaf.
Sadly one boat was late back which will affect our finish time as AW penalise us the following week. We will have to consider whether to disregard scores for late boats if this continues.
Rod average 2.2
Bill Manley won the boat ticket.
---
Week 3
A pleasant evenings fishing and socialising, but a low turnout this week due to other angling events involving several of our Tuesday evening regulars. The English Fly Fishing association had their annual match at Carsington and the Team England Ladies were fishing an International at the Lake of Menteith in Scotland.
Once again David Currie did the business with 21, fishing off 'the Seat' with blobs on a sinking line. This was the most popular method with not many fish coming to nymphs.
Roger Swain took 2nd spot followed by Pete Brewer. This leaves David at the top of the table closely followed by Jeff Hickson and Graham Bodsworth and at this early stage the positions could very easily change several times.
Rod Average: 4.54
Edze Dijksterhuis won the boat ticket (again!)
–
---
Week 2
Another good turn out with 20 anglers fishing. Following a recent stocking at the sailing club it was no surprise that the majority of boats fished between the sailing club and the harbour arms. Those that found the right method were soon into fish and an intermediate line pulling a blob or a FAB did the trick. Andy Trafankowski was into fish straight from the off and was the top rod with 18 fish followed very closely by David Moore with 15.
A few boats tried elsewhere. Allan Murran and Malcolm Reece had Plummers and Gaynes all to themselves and between them they landed 6 lovely 3lb plus fish. Also into a 3lber was Bill Manley who was fishing alongside boat partner Peter Brewer. They found fish, on tip lines with FABs, and nymphs, doing short drifts out from the dam.
Five anglers got into double figures for the evening and an impressive 127 fish were caught in total. David Currie still leads the points table with Johan Dryer just 2 points behind.
18 of us enjoyed chips and sandwiches in the Wheatsheaf.
Dayood Sheik won the boat voucher.
---
Week1
Grafham was not in a particularly welcoming mood for the first week of the Tuesday Evening series. 18 Anglers took part in the first event of the season and a brisk wind continued for most of the evening making for lumpy conditions on the north shore.
Fish were hard to find as was shown by the 11 blanks recorded in a field of experienced anglers. The two notable catches of the evening were by David Currie with 5, using blobs on a fast glass and non member Johan Dryer taking 3 fish by pulling a snake; nymphing only produced the odd fish
Reports were that fishing had been tough during the day, so expectations were not high.
Fishing finished with boats in at 8.45 pm and most retired to the Wheatsheaf for the usual large piles of sandwiches and chips. It is after all meant to be primarily a social event.
Results
5 David Currie
3 Johan Dryer (non member)
1 Edze Dijksterhuis; Allan Murren; David Moore; Bill Manley; Mick Facey
0 Trevor Barton; Andy Trafankowski; Jonny Bromilow; Roger Swain; Sue Potts; Mac McDonald; Colin Newton; Keith Gilchrist; Graham Mills; David Segust; Allan Sefton.
Rod Average 0.72
The boat ticket was won by Edze Dijksterhuis
---
The Pilgrimage 2022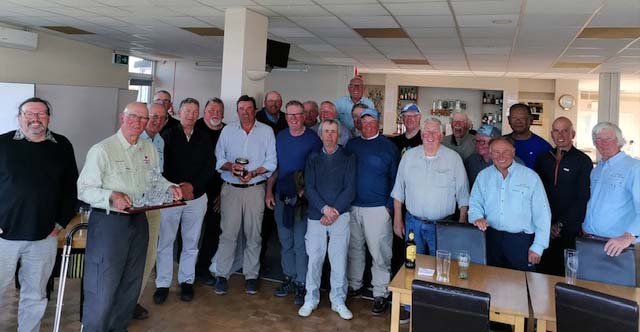 It was nice to meet up with our old friends from Leslie and Llanilar for this years Pilgrimage having had to cancel the last two meetings due to the Covid pandemic. The term 'old friends' is used with a great deal of affection because some of the participants have fished this club competition for over forty years.
The numbers for each club were reduced this year due to health issues and the general state of the economy but those attending were in good spirits, the visitors having had two good days fishing dries at Draycote and Eyebrook earlier in the week.
Regrettably the weather at Grafham on Thursday was not good but Friday was Grafham at its worst with strong Westerly winds and bright sunshine all day.
The fishing for Bob Ayres and I was made harder on the Friday because some kind soul had stolen the engine off the Wheely Boat on Wednesday evening and we had to manage in a standard boat.
There was a great reluctance to go out on the water on the Friday but for tradition we ventured out.
The fishing was very hard with fish being found in only two fishable position and not surprisingly there were several blanks.
Because there were only three members from Llanilar this year we drew lots to make up three teams of seven and the end result was that Llanilar had a team made up of three Welshmen, two Yorkshiremen (Ted and Clive) and Bill Patrick from Leslie and John Brown from Invicta.
Clearly the draw did not go in Invicta's favour because Llanilar won the Rose Bowl and Leslie won the overall competition.
Overall 63 fish were caught by 23 anglers with Henry Russell (Leslie) and Roger Hurren (Invicta) each catching six fish, Roger Hurren winning the decanter trophy for the best bag by a one pound margin.
Fishing aside, everyone enjoyed the event, the company was perfect as always and the food on the two evening was excellent.
All we have to do now is to keep well and look forward to meeting up in 2023.
---
Snowbee Floating Line Match 2022
The 10th Invicta Snowbee Floating Line was a great day for lots of reasons, this was the 10th anniversary of this match (delayed by Covid) and each competitor was given a badge to mark the event.  Grafham produced top sport on buzzers with 13 of the 44 boats catching their 8 fish limit.   The fishery produced well on the day of bright conditions from its crystal clear water as the six fish rod average shows. Promised afternoon cloud failed to appear in any meaningful quantity but anglers managed to catch throughout the session.
Soldier Palmers A lead by team captain Jamie Thomas were the only team where all 4 caught their 8 fish to win the team trophy, all four members bagged up early enough to take advantage of the time bonus giving them a 102lb 5oz total. Team member Sean Hanlon found some real lumps to record an impressive 4 bag weight of 13lb 1oz.
Greylags Typhoons lead by Kim Green took second spot with 88lb 10oz with team member Phil Thomas bagging up in 2 hours to record an impressive 32lb 14 oz with the time bonus to finish top individual.
In third place and fielding a team for the first time, the Snowbee Guests weighed in 79lb 2oz, three of the team bagged up before lunch.
Top Local Club team lead by Mike Gunnell was Rutland FF with 74lb 1oz total.
Top Boat Gary How with Kim Green.
Event organiser Gary How caught the biggest fish at 5lb 11oz and was also top rod among local clubs.
Thanks to Gary and Jane How for organising the event for Invicta FFC with Snowbee sponsor Simon Kidd who presented superb prizes.
We thank Snowbee for their continued support of this high profile event.
"Back to Top of Page"
---
Invicta v FFLR (Fly Fishing Large Reservoirs) Friendly – Grafham
Sunday 10th April 2022
The weather on the previous day's Improver's day wasn't ideal with a sharp westerly blowing into the productive south dam corner, although this hadn't stopped Darren Trumper catching 29! It was tricky for less experienced to manage, especially on the drift. The fact that a lot of fish had been caught at the Stumps was very helpful as it was relatively sheltered.
So on the Sunday for our friendly match against Neil Cohen's FFLR team we knew where to go.
Sunday
Boats that went to the Dam actually struggled to find fish in any numbers and the stumps proved slow; however Hill Farm ('didn't I mention that before we went out?') was full of fish, particularly off the point.  Eventually, bent rods having been spotted, and after a few telephone enquiries, boats started to gather there, but the fish moved back into deeper water and the secret was following the shoal.
In the end it was a bit too easy as things really switched on in the soft cloud and calm conditions. Absolutely perfect and we didn't really want to stop. But we did at 4pm.
Top rod was FFLR's 19 year old Ollie Smith on 23 fish followed by Chris McLeod on 22.
The result was very close with the teams almost matched man for man, FFLR took the honours by one fish!
FFLR
12,12,12,12,11,7,4  (70)
Invicta
12,12,12,12,11,6,4  (69)
Andy Trafankowski had the biggest fish and David Moore did brilliantly to fish with a broken arm but was wrongly given the trophy for the biggest stuffing – will he return the packet of Paxo?
Another great fun day – this is what competition fishing should be – Fun.
Thanks to David for organising our team and actually managing to fish.
Chris McLeod
"Back to Top of Page"
---
The Norman Shippey Trophy
Saturday 19th March 2022 Elinor Trout Fishery
Hooray! – for a number of reasons.
The most important one was just being able to get out and begin our fishing year after the trials of the pandemic. But also because, it was a lovely (if not very fishy) day, we had a great turnout and Elinor was looking great after the takeover by Brad and Jo Gifford.
The fish, though, were slow to respond. Twenty one members turned up for this traditional, bank fishing start to the season and all were keen to get fishing. The previous day had been very good with plenty of fish all over the lake. As is often (too often) the case, things were different when we arrived. Heavy and extended rainfall a couple of days before which filled the local rivers up and flooded the local fields had caused a rise in level in the lake and a good degree of colour.
Members spread themselves all round the banks but very few rods were bending and that included other anglers sitting in boats, until at last, Paul Heavens managed about the only fish of the day from the dam end. Others fishing the Lodge bank squeaked out one or two, Gary How had a couple and organiser Mark Searle managed one. There was a bit more action at the far end beyond the pylons with Keith Gilchrist and Tony Smith taking 2 each and losing a few before lunch. Tony's fish were both around the four pound mark and the best of the day. Chris McLeod took 2 from "Brewer's Bay (Peter Brewer had won the match there a couple of years ago, as had Alan Briggs on another occasion).
So come 1pm we had a convivial lunch with a magnificent sponge cake courtesy of Dawn Smith. This was for husband Tony's 65th birthday, who was celebrating in his own way with an easily winning bag of 7 fish including the two lumps from the morning the largest of which was a rainbow which weighed 4.5lbs. So he won the trophy and the sweep for the best fish.
Even fewer were caught in the afternoon by everyone else and we packed up at 3.30pm. Chris McLeod had added a further two fish to his morning tally to finish with 4 fish for second spot and 4 anglers tied on 3 fish for third spot, Gary How, Peter Brewer, Matt Allan and Keith Gilchrist.
The rod average was a disappointing 1.6 but nevertheless a very enjoyable day. Well organised by Mark and thanks to Brad for the fishing. We'd be grateful if he could switch off that sharp Easterly wind next time.
Our next outing which we hope will be a bit more productive, on 6th April at Pitsford.
"Back to Top of Page"
---
AMFC (Association of Major Flyfishing Clubs) 2022

The AMFC (Association of Major Flyfishing Clubs) is a series of club based matches.  Invicta like to encourage as many members to get involved as possible, and runs 2 teams. There are 3 groups and we have our A team in Group 2 and the B team in Group 3.
Round 3 Group 2 match, Rutland 18th June 2022
There can't have been many days when the temperature difference dropped from well over 30 degrees to well under eighteen degrees. This didn't help what was already a fairly tough Rutland Water. Our 'practice' was in the heat and between five of us we caught 1 fish. That's a rod average or 0.2. Not encouraging. At least we
caught, well, Fraser did (and a zander) –  but some teams had nothing at all. It was just too hot, bright and with a very stiff westerly breeze coming down the arms.
Then match day was a complete contrast. The temperature started at around 20 degrees down and didn't really get up. It was actually chilly. But the cloud cover and mizzle gave us some hope. We knew a few likely areas and  there were plenty of fry feeders about. Although these are hard to catch they do, at least, show that there are some fish in the lake and it's something to cast at. We did catch the odd one or two but generally bending rods were few and far between.
As the afternoon gloom developed into a downpour our spirits were similar. We had scraped 7 fish, as had two other teams, but our Neil Potts had a couple of lumpier fish lurking in his bag. These proved enough to push us up into third place which was a huge relief. Although Greylags had done well with one of the 5 fish bags and won the day, it was good to see Tony Wilkinson from the Navy win the day as well as organising things for us. We lost a few which was extremely frustrating on a hard day but, probably, third was the best we could have hoped for.
One interesting and unusual incident was as Chris McLeod dropped a fish right at the net, he heard a walker on the bank shout "I feel your pain". He knew.
A big disappointment was not having a meal afterwards. This is an important part of the AMFC and if the organising team can't get that sorted then they are not really doing the job. AMFC is losing a bit of momentum and it needs an injection of enthusiasm (as we get from David Moore and Jeff Hickson who do most of the work). The social side of itis critical and the post match meal is an important part of that.
Next Group 2 match is at Draycote on 13th July, hopefully we can continue our improvement.
Chris McLeod -Team captain
---
Round 3 Group 3 match, Pitsford 18th June 2022
Practicing had indicated this match would be a grueller with only a couple of fish between the team in baking hot midweek days.
The Invicta team: Pete Webb (Capt), Simon Peck, David Currie, Paul Heavens, Alan Briggs, Jeff Hickson.
On match day, even deep sinking lines hadn't found fish and the best bet was buzzers under the bung near the dam and a lot of patience. It was clear to all that rods weren't bending and things were tough. With an hour to go the team were struggling and only Invicta's captain Pete Webb and Dave Currie had one each, things looked bad. However Dave told his boat partner, also on one, that a big brownie was the only hope and he motored to the gravel bank with a Di7 and booby which was instantly taken as it hit the water.
After a big scrap Dave netted a 6lb 4oz brown trout which made him Top Rod as well as biggest fish and pushed Invicta up to second place. This was Dave's first AMFC appearance for Invicta so a great start.
Top team was FFLR Orange which was boosted by runner up Sean Devlin catching 4 trout and more than any other team total on his own. EPFFA were 3rd followed by FFLR Red and GWFFA B. Every team caught fish but only 9 of 29 caught for the 24 fish total, so 20 blanks reinforcing what a tough day it had been.
The George in Brixworth was a new venue for a post-match meal and did a good job, we will use it again.
Thanks to all the team for their dedication and valuable points.
David Moore AMFC co-ordinator
---
Round 2 Group 3 match, Grafham 18th May 2022
The Invicta B Team (Steve Harding, Alan Briggs, Andy Trafankowski, David Moore, Pete Webb and Graham Bodsworth)  were optimistic after a fishfest in the Tuesday evening and all the team had practised. As we set-up in the harbour we watched an anchored boat next to the right arm hauling fish after fish so it was inevitable that all but 2 of the fleet crowded between there and Perry Point. After an initial burst the fish were spooked and boats spread out and some headed off to the dam and Stumps.
The boats which stayed near the harbour or around the sailing club gradually started catching again with a few rods catching 12 by midday. Alan Briggs took 6 on a midge tip and then another 6 on Fast Glass to the east of the Sailing Club to be our top rod.
Steve Harding took 8 helped by some late fish to the west of the Harbour and Pete Webb did well to take 7. David Moore (5) had a difficult day drifting onto the stumps and couldn't keep up with GWFFA captain Martin Brocklebank who caught 11 here on fast glass.
Andy Trafankowski also caught 5 and Graham Bodsworth 4 for a team total of 41 fish, the same as GWFFA B but they beat us in bonus which sadly left us in last place on the day and bottom of the table.
New club FFLR's teams took the first two places, quite an achievement, although quite a few of them didn't stay for the results, personally I think the cost of the meal should be included in the entry fee to encourage more to stay, it's part of the day and Invicta are very good at this.
Let's hope we fair better on Pitsford 18th June.
 David Moore
---
Round 2 Group 2 match, Grafham 11th May 2022
A rough day on Grafham.
Invicta A Team (Terry Bayes, Fraser Duffeys Snr and Jnr, Mick Facey, Peter Brewer and Tony Smith) found it tough in a cold wet and windy Grafham Water in this second round of the Championship.
Our team had practised and knew the fish were concentrated in the south-east and north west of the reservoir feeding on buzzers but of course all the teams knew that too and the boats were split around 75% in Savages and 25% in Gaynes with buzzers on floaters, sink tips, washing line, straight- lining or the bung.
The SW wind and rain increased and gusted with a hailstorm in the afternoon but sunshine dried out a bit later on.
All the team caught fish to reach a respectable total of 33 and close to the average with Tony Smith our Top Rod on 11 fish and 4th in the match but 3 other teams did better and with some bigger fish, 13 of 29 rods caught a 3lb or 4lb fish.
Winners were Bewl B just pipping Greylags both with 42 fish but heavier 4 fish bags and time bonus from 2 rods.
This was a strong Invicta team and on home water we had expected to do better but not for lack of effort in horrendous conditions.
This leaves us 5th of the 6 teams with a bit of catching up at Farmoor in June, no pressure then!
Current Points Standings:
Greylags =11, Bewl B = 9, RNRMAA =8, Soldiers B =7, Invicta A = 5, Bristol RFF =0
David Moore
---

Round 1 Bewl Water 23rd April 2022
The first round of AMFC championship brought special challenges this year. Bewl is not our member's favourite fishery and most preferred to fish Chew in the last round but thankfully the required 8 volunteered to make the journey. Unfortunately, with only days to go, two of us were unfit to travel or fish and we were only able to recruit one replacement, thank you Jeff Price.
Three other clubs failed to enter a team and another was also a rod short.
A special thanks to Neil Potts and Alan Briggs in their first experience as captains and organising the trip and to the teams for making the special effort for the club.
A Team: Neil Potts, Jeff Price, Jon Allen, Peter Brewer. 
B:Team: Alan Briggs, Jonny Bromilow, Andy Trafankowski. 
David Moore AMFC co-ordinator
***
Report
The Invicta A and B team could tell after a hard practice day, it was going to be tough in the Match. That cold NE wind played its part in switching the fish off and making the fish we did catch, without any consistency and a mystery as to why we caught them. 
On match day, most boats headed off up the Bewl straight and fished close to the bank which is where the fish were being caught. Most of the bays like Dunsters, Orchard, Hatherells and Goose Creek where well fished by most but some boats braved Copens Reach down to the nature reserve for full on Captain Pugwash drift pulling boobies on glass lines and it did get them fish. 
Other locations fished where Hook Straight which put some fish in the bag for Invicta and the classic Chingley Wood and point which was pretty vacant for most of the day. The pulling technique used in many boats during the morning seemed to change and slow right down by the afternoon to slow retrieve with nymph style fishing being the order of the day. 
Full credit to our Invicta team members who kept the spirits high and worked themselves to death trying different locations and lines and just never giving up. 
Results 
Group 1 Soldier Palmers A were the top team with 20 fish. Fish Hawks and Rutland FFA failed to enter a team. 
Group 2 Greylags were the top team, our A team came 5th with Bristol Reservoirs FF failing to field a team. 
Group 3 English Police were the top team (helped by individual winner Baz Reece 10 fish),  Invicta B were 4th in spite of having only 3 rods with 10 fish and matching the rod average for the group.  Alan Briggs was our top rod with 4 fish. 
A disappointing start for Invicta but at least we have points on the board. 
Neil Potts – A Team Captain
"Back to Top of Page"
---
Reports 2021 Season
*
Reports will appear here following each event.
Page Contents:
Click to Jump to Carr Cup report
Click to Jump to Tuesday Evening Fishing reports
Click to Jump to AMFC reports
Click to Jump to FFLR Interclub match report
Click to Jump to Maitland Interclub match report
Click to Jump to Grand Max match report
Click to Jump to Hinckley Shield report

–
---
The Hinckley Shield
Grafham Water 31st October 2021
The winning team of this well established and friendly bank match, has the job of organising the following year. The way to get out of this arduous task is to lose the match – and this year Invicta did it in spectacular style. We have won this many times. We have great anglers, who know Grafham and can certainly catch fish from it. But this year it all went wrong.
The first problem was the weather. Strong southerlies blasting the north shore, which caused huge waves and coloured water on all the hotspots. So this upset a lot of our plans. Those who went there initially found it impossible. You know it's windy when you see Matt Willatt's hat blow off as he's trying to fish; so we gave up. Other teams persisted and, as we should have known because it happens often, the wind changed slightly, clearing a lot of the colour and providing some great fishing.
Meanwhile we had moved south to Plummer. There were certainly a few fish there and one angler already had his 6. It seemed though that there were just a few small pods moving about, and when the sun came out the fishing slowed right up. Jon Allen had a purple patch in Gaynes, as did Matt, but others really struggled. And fish were being caught at the Seat as well as G, but we had no info because we had all gone south. So a total disaster, and for a club that should have done a lot better.
A good rod average proved that the fishing was actually very good and the five limits from Elinor (our main Hinckley rivals) was excellent. Well done to them, and let's hope the weather is better next year. They did prove, however, that you can catch in adverse conditions with a bit of luck and good communication.
Apart from Jon who came 17th with 4 fish, Matt was 19th with 4, Alan Briggs had 3 good ones for 20th and Mark Mathieson fished steadily as ever and was 21st again with 4. Jeff Hickson weathered the dam for 3.
Other Invicta members did well though fishing for other teams. Fraser Duffy junior was 2nd and his dad was 5th. Andy Linwood had 5 for 15th. Invicta member Terry Bayes also had the biggest fish.

Thanks to brilliant organisation from Neil Potts (he could be finding himself getting busier with club stuff) and everyone who supported us. We'll try not to disappoint next time.
Chris McLeod
---
Grand Max October 2021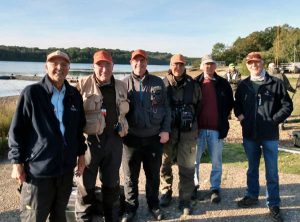 Bewl Water has lost its reputation as one of the best fly-fishing venues but Invicta has a 15 year tradition of entering this prestigious famous floating-line, inter-club competition which started in 1988 and was the model on which our own Invicta-Snowbee competition is based.
We didn't have a big response for team places, the poor results from the fishery deterring our regular competition squad but it was good to enter a team of mostly less experienced members together and get a taste of a big competition on less familiar water.
Jeff Hickson has fished Bewl since it opened and joined Andy Trafankowski, Colin Newton and myself for a practice the day before the match. Light wind and some cloud looked perfect. The water was a bit brown, not unlike we experience at Grafham or Rutland but we found very few fish. Andy was broken near the cages, I lost one of the recently stocked Spartic Char at the net and Colin missed one on dries in the Bewl Straight but that was most of the action and we didn't see any other fish being netted by those other practicing.
On match day we were joined by two new members, Les Plaster and Wayne McMullan fishing his first competition. We had drawn some good boat partners with some iInternational caps especially for Colin drawn with Tom Davies fishing for Team Vision who had won the previous 2 years and myself with Bob Bardon who I had known for 30 years as a fishery ranger and instructor here at Bewl.
Being restricted to floating lines and international rules eliminates a lot of options and so from the start it's about location and fly selection then varying the depth and retrieve as the day progresses.
Bob Took me into 'canoe corner' at the north end of the dam where, in spite of several boats close by, we found a surprising number of small rising fish but which proved elusive for an hour when I took one on a black & green-holo hopper, the first fish we had seen anyone net.
Most of the other boats were in open water drifting onto Chingly point and at the lunch break it was here that Charles Jardine was well ahead with 3 fish but being cagey about the method. Not many fish had been taken and mine was the only fish for our team. Knowing Charles, it was likely he was using small traditional flies and the local Bewl team were using black as main colour so at least we had a plan.
The afternoon was warm, sunny and flat calm until 4pm when heavy cloud developed and a few fish started rising and the odd fish was taken. Bob lost one in the drogue in spite of me pulling it in and cutting his dropper and then after a few swirls, I changed my hopper 12s for 14 black bits sub surface and took a fish immediately but then time was up, I had left it too late again!
On the pontoon there were tales of woe all around and my 2 were the team's total, fortunately they were decent fish for 3lb-12oz, the heaviest bag of 2 fish and enough to secure 11th place of 13 teams. All the Invicta team had tried their best and kept trying to the end but in spite of a few swirls and taps had not netted a fish.
After dinner the results were declared and top rods were Charles Jardine and Baz Reece with 5 each but Baz had the heavier bag and his Chingley Chompers to take 2nd place with 10 fish and Charles' team Bewl Select in 3rd with only his 5 fish. Winners for a 3rd in a row were Vision netting 11 fish and only one blank. Vision were always favourites with a team of 6 England rods: Ash and Tom Davies and Brain and Joel Beeney, Gary Morris and Sean Brooks.
The difficulty of the fishing was illustrated by only 37 of 77 rods catching 57 fish and my 2 were enough for 5th individual place!
A big thanks to our team for making the effort to represent the club at Bewl, It was a good learning experience for us, our Colin Newton summed it up. 'I was drawn with young Tom Davies they had fished the day before and found lots of follows but no takes to small black pearl crunchers and they all agreed to stick with them but vary their retrieve. When Tom was smashed-up he quickly produced a spare leader already made up with 4 more of the same flies and was fishing again within 2 minutes.' Tom had 4 identical leaders with the same 4 flies tied up on each one at the ready.
The event was highly organised with a quick lunch and away again just like our Snowbee-Floating line which we look forward to on Grafham next spring.
David Moore – Team Coordinator
Team Photo L to R:  David Moore, Les Plaster, Wayne McMullan, Andy Trafankowski, Jeff Hickson, Colin Newton.
"Back to Top of Page"
Maitland Trophy – Grafham 29th August 2021
The Maitland trophy is an annual match previously competed by teams from GWFFA and RWFF but this year Invicta were invited to take part. 
A number of our anglers had managed to practice on the Friday or Saturday prior to match day with the findings being that fish were high in the water and predominantly on the north shore with a number also on drifts off of the inlet area. Dries or washing line tactics were the reported methods to use but the fishing was not easy.
Match day saw an overcast sky and a light northerly wind so hopes were high. Teams were of 16 anglers with the top 12 results of each team to count. On the start all boats headed for the north shore with an even split choosing church bay or pig bay and a few heading to the willows. It soon became apparent that it was not going to be easy and reaching the 12 fish limit was looking very far away. Those catching were on washing line but very few were catching consistently. In the afternoon a change of tactics by some to fast glass or di3 lines and pulling saw better results but it remained tough going. 
The result was determined by number of fish, with time of first catch also being required in the event of a draw. No one managed 12 fish but top individual was Rich Cooper of RWFF who had 11. The important team result was close but Invicta won by 4 fish with consistent catches throughout the team proving decisive. 
Congratulations to all who took part in a very enjoyable match. For those of you who were fishing a match of this type for the first time, I hope you enjoyed it and would encourage you to  take part in the AMFC matches next year which are run in a similarly friendly manner. Hopefully we will be invited back next year when the match will be at Rutland. 
Keith Gilchrist (Team Captain)
"Back to Top of Page"
AMFC (Association of Major Flyfishing Clubs) 2021
The AMFC (Association of Major Flyfishing Clubs) is a series of club based matches.  Invicta like to encourage as many members to get involved as possible, and runs 2 teams. There are 3 groups and we have our A team in Group 2 and the B team in Group 3.
Round 3 match at Draycote – 18th September 2021
Invicta fielded two teams of eight members who hadn't fished the previous two rounds at Draycote on a bright flat calm morning, our A team competing in Group 2 and B team in Group 3. The match was fished catch and release with a 12 fish limit and time bonus.
Most of us had practiced for one or two days and found the fish high in the water and either dries or stroking intermediate lines with two blobs, or boobies with nymphs in between were the two best methods. There was a big hatch of daddies on match day but they were not quite as effective as might have been expected.
Gary How started well on a fast- glass near the west dam and Jeff Hickson too on dries.  Fraser Duffy Jnr, had a slow start near Sailing Club and M buoy but changed to twiddling hoppers sub-surface to catch his 12 fish limit further out before 5pm. Gary took his 12 just in time but Mark Searle unluckily lost a fish at the net and stuck on 11 drifting a bit further out from the dam than Gary. 
Jeff Hickson ended with 9 all on dries also at the western end of the reservoir. The other team members David Moore, Graham Bodsworth, Alan Briggs and Mick Newton all caught between 3 and 6 fish contributing to their team bags, both of which totalled 31 trout for close finishes in both groups.
On the day, our A Team was placed 2nd of 4 in G2 and B Team 4th of 6 in G3.
Provisional result shows both teams have ended 2nd in their respective Groups over the 3 rounds so a very creditable performance and especially as we fielded 24 different members and nobody fished twice whereas most clubs used a smaller pool of their best anglers.
A big thank you to everyone who took part and we look forward to the full league program of 6 rounds returning next season. With so much interest among Invicta club member we will be asking the AMFC for a change in the rules to allow 3 teams next year although less-thriving clubs will probably object.
David Moore – Team Coordinator
---
Round 2 match at Rutland – 24th July 2021
Invicta fielded two teams in the second AMFC on a much welcomed, cooler day after two weeks of very high temperatures. Practice had shown the fish sitting very deep and not very interested in being caught. Neil Potts had worked out what, we hoped, would be the way by catching on a Di7 or 8, counting it down a long way and slowly twiddling or drawing it back. Needless to say, this didn't work on the day. But, amazingly, there had been some success the previous evening with dries, so many of our rods went out on that, or fished light lines.
The day started with everyone being handed returns cards, on which to note your twelve caught and released fish, and a bottle of sanitiser. The sanitiser made sense. The number twelve was a bit optimistic.
All the boats aimed for the dam, Fantasy and Sykes Lane assuming that the deeper water was where the fish would be – and they were there alright but not to be caught. The water was cooler at that end of the lake and crystal clear. The winds were light – it looked perfect.
Terry Bayes started well on a glass line and blobs, but, for others, the dries failed to produce lock ups. Loads of swirls and interest, but the fish were still reluctant. Washing line with the booby pulled through the surface did attract lots of interest though, and every now and then a fish would grab the fly. (Why dozens of follows produce nothing, then one will swallow it and get deeply hooked, is a mystery. Quite frankly, one I could do without.) Those fish were still chasing right up to the end of the day, so at least it proved that they weren't all at depth. Perhaps that surface pulling method would have worked right at the beginning of the day while we were persevering with dries, but when the sky lightened and things warmed up, the fish became even less interested; so most of the day was a grind. If you hadn't caught in the morning you were struggling.
A tough day but probably better than expected given the roasting Rutland had taken for a week or so before. But very good all round efforts from the two Invicta teams, and many thanks to David Moore for organising Invicta and to the AMFC committee for organising the day.
A Team
Keith Gilchrist, Chris McLeod, Terry Bayes and Neil Potts netted a total of 10 fish which was enough for joint second place with Greylags and just one fish behind Bewl A. Terry was equal Top Rod with 5 fish
B team
Sam Smith, Pete Skelton, Simon Peck and Allan Sefton totalled 7 for 2nd place behind the RNRMAA with 10. Top rod was Pete Skelton with 3 fish on a very hard day when the rod average was only 1.4
After these two rounds our A Team is top of 5 in Group 2 and B Team is 3rd of 6 in Group 3
The third and last match is at Draycote on Sept 18th when our teams are:
A – Gary How (Cpt), Mark Searle, Graham Bodsworth, Alan Briggs
B – David Moore (Cpt), Mick Newton, Jeff Hickson, Fraser Duffy Jnr.
The club will have been represented by the maximum 24 different members over the three rounds which shows the strong interest within our club.
David Moore and Chris McLeod
---
Round 1 Match at Grafham – 22nd May 2021
This year's AMFC league has been replaced with three 4-rod matches for all three groups and Invicta A & B teams took part in the first at Grafham on Saturday 22nd May. The weather conditions were relatively kind with only one downpour & brief periods of gusty winds. In keeping with the Invicta team ethos, team members shared information on locations (mainly North shore) & tactics. It was a catch and release match capped at 12 fish (4 points each) with a time bonus.
The "A" team finished top of Group 2, 20 points ahead of Greylags. All 4 team members achieved the 12 fish limit, with particularly creditable performances from Mark Mathieson & Peter Brewer; with Mick Facey & Tony Smith finishing "close to the wire". Mark's stellar performance utilised his well- proven midge tip nymphing skills & Pete achieved success with changing lines, flies & locations in order to continue catching. Mick Facey & Tony Smith stuck to the church bay area and fished on fabs/buzzers.
The "B" team finished 5th in Group 3, a good result considering that Les Plaster and Pete Webb had not fished an AMFC before and that Les had to leave early as he had suffered from the cold. Pete fished in Church bay where he got his 12 fish (well done for his best competition result), drifting onto the bank picking up fish quite close in on 3 ft midge tips and using fabs, buzzers and nymphs. Jeff Price had a very good day too taking 10 fish for his best competition result. Andy Trafankowski started in Church Bay and drifted down to Willows picking up fish all the way down on pink fabs and nymphs. Once his boat partner (Soldier Palmer) had bagged up he lent Andy his "Deadly" Pink Fab – however it was no different to his own pink fab!
All team members commented on their sociable & helpful boat partners in this successful & alternative AMFC event.
Special thanks extended from Tony Smith to his boat partner Paul Wild who was very patient, gracious & helpful.
Good luck to Invicta teams for the remaining AMFC events but above all – enjoy the fishing.
The next round is at Rutland Water 24th July, the A team is Keith Gilchrist (Cptn), Chris McLeod, Neil Potts and Terry Bayes. Our B Team is Sam Smith (Cptn), Pete Skelton, Simon Peck and Allan Sefton.
David Moore
"Back to Top of Page"

Tuesday Evening Club Social Fishing at Grafham
---
Week 14 (Final)
It was another tough evening for most anglers with fish not really in a feeding mood. On this final week only two anglers could have finished in the league's top spot, Albert Coales and Sam Smith. As it turned out, Albert had more important things on his mind and didn't fish as he was going to see a girl…oh to be young! However he won the league without fishing because Sam Smith was unwell so couldn't fish. Congratulations to Albert on such a strong performance over the series.
Most went out on floating or midge tip lines and struggled. Rob Edmunds initially tried tip line methods although he moved over to a fast sinker on the boils for a while but didn't get much action, he did however find enough fish to finish the evening in joint top spot with 5 fish.
Meanwhile Peter Brewer had decided that the inlet and boils were likely to be worth trying for the first hour or so and soon found action on a di7 snake combo although making them stick was a different matter, he lost fish after fish before netting his first. This pattern continued and he had at least 10 fish slip the hook, however it was enough to persuade him to stick with the boils and he did finally net 5 to be joint top.  
Keith Gilchrist and Jonny Bromilow had 4 each and Steve Harding had 3 but the majority struggle and 9 anglers either had one or blanked.
A very sociable post fishing evening was enjoyed at the Wheatsheaf and Rob accepted the league winner's prize on behalf of Albert.  
We also welcomed our 100th member of the season, Graham Mills.
Rod Average: 2
Jonny Bromilow won the free boat ticket.
---
Week 13
Another tough evening but a good turnout of 19 with 5 non-members including Tim Shepherd, who confessed to not having fished for years did well to catch 2 fish.
Star performer was Sam Smith, who was on his own, fishing into the inlet boil, fast retrieving a snake on a booby basher to net 9 in rapid succession in an hour. Sam had to leave early and was off the water before most of us had a pull.
Most tried all sorts of methods, from floaters to Di7 but few fish were showing in spite of what looked perfect conditions. A few fish were tempted mostly drifting 100 to 200 yards off the inlet and as usual some came off at the net and there was the odd breakage to add to the frustration.
Next week is the final week, going into the final week we have a very interesting situation. If Sam smith catches 6 fish, we have him and Albert both on 60 points. If this happens, the procedure is to take the best of 11. If still a draw, best of 12 etc.
Rod average 1 (from those recording a result)
Pete Brewer won the free boat ticket.
---
Week 12
Cancelled due to storm conditions.
---
Week 11
The foray out on to Grafham this evening was all too brief. Thirteen anglers braved the conditions of thirty-four degrees of sultry heat which turned into dramatic, threatening skies that ultimately delivered on their threats.
Thunder broke on one side of the lake, before covering it shore-to-shore, and rain of almost biblical proportions soaked us through. Discretion being the better part of valour, we headed for home with all boats in before 8pm. Fishing with a thunder storm over your head never makes sense.
The North shore was in the main non productive with the only consistent catches coming from the dam and boils area. Top rod Albert Coales took a quick 7 fish on a floater and washing line with crunches behind the booby before heading in and boat partner dad Rob had 5. Sam Smith stuck to the margins of the boils to take 5 on a di8 and snake combo.
The Wheatsheaf kindly obliged by bringing the sandwiches forward to 8:30pm and we all enjoyed drying out!
Jeff Price won the free boat ticket.
Rod Average 1.6
Many thanks to Richard Slater for contributing to the report and taking the photo.
---
Week 10
Conditions were good with cloud and a warm north breeze, the sort of evening we pray for and 17 anglers took part. 
No one method cracked it. Fish caught at various depths from Roly Poly to nymphs on a floater. Finding the right depth was reported to be difficult with fish moving up and down in the water.
Some headed for the Boils and caught fish easily but most opted for the North shore spread between G and Hedge End. The fish stocked on the south shore 2 weeks ago have moved across to the North and there was lots of action here to plopped boobies and FABs pulled just under on 6ft tips and intermediates. However, the ratio of bow-waves to netted fish wasn't great and a lot of fish were lost but it was all good fun even for those two who lost them all!
Richard Slater made a guest appearance and caught 6 with Hare's Ears on washing line. However Albert Coales was top rod again with 12 fish from various spots with Sam Edmunds taking 9. Four more rods caught their 6 fish for maximum points.
Fish were still moving as we left the water just after sunset thanks to the AW wardens for giving us those extra minutes.
The Wheatsheaf was excellent as usual, Dave Segust topped a good evening by winning the boat voucher.
Rod average 4.2
---
Week 9
With the England football team playing their semi final on Wednesday night it was great to see 16 anglers turn up to fish given the windy conditions.
With Sundays club Carr Cup day fresh in people's minds most of the 8 boats started drifting from the lodge and west bank into open water. A fast glass or di 3 pulling blobs and boobies through the upper layers was the favoured method. However, action was slow and only a few fish were showing with the wind making things difficult.
Top rod on the evening was Sam Smith, with 9, he and Albert Coales found fish on a long drift to hedge end and managed a few more from the north dam. From 8pm onwards a few anglers started catching on floating lines and the evening total reached 32 fish.
One angler in particular, Edze Dijksterhuis, had just purchased a new rod from the shop and gave it a good test by landing 2 trout including a lovely fish of 3lb.
Rod average: 2
                                                                           Edze Dijksterhuis won the boat voucher.
---
Week 8
A depleted turnout of 11 due to the England-Germany football match and probably a better evening's fishing than many had anticipated.
Most fish were caught out from the Lodge and Lodge Bank, no doubt enhanced by the spell of cooler weather and a recent stocking.
Fish were close to the top. Some sort of sinking line and blobs and boobies were the main method with some decent grown on fish caught along with the stockies.
Rob Edmunds was top rod with 15, closely followed by Albert Coales with 13. Previous joint leaded Sam Smith caught 3 but this now leaves Albert one his own at the top of the table and Rob moving up into 2nd spot, but we are only just over half way so plenty of time for movement in the table.
We finished up as usual in the Wheatsheaf and did our best to get through a mountain of sandwiches and chips.
Wayne Allen won the boat voucher.
Rod average 5.8
---
Week 7
Numbers were down slightly, no doubt due to the England football match. It was another tough evening with a third of anglers blanking.  No single method seemed to be doing the business.
Sinking lines and lures took their share but fish were also caught pulling a blob close to the surface.
Water temperatures were lower than the previous week but still not low enough to getting fish actively feeding. Fish were caught as usual around the inlets where presumably oxygen levels were higher, but the margins were generally unproductive.
The fish of the evening fell to Bill Manley who caught a splendid 6 lb plus fish.
Albert Coales and Sam Smith were the best two  rods with 10 and 8 respectively and now jointly share the league top spot.
We all enjoyed sandwiches and chips afterwards in the Wheatsheaf.
Rod average 2.2
The Edmunds family tradition continues with Rob winning the boat ticket.
---
Week 6
After several weeks of mucky water at Grafham it is now beginning to clear. Most  anglers had only two places on their mind as to where to fish and that was the inlet and the boils. However these proved not to be not very productive and after reporting only a few follows several boats moved to open water.
After half an hour it became clear that tonight would be a tough nights fishing and with 12 blanks that proved to be the case. The method seemed to be switching between deep sinking lines to tip lines and hopefully come across fish. This worked for top rod Rob Edmunds who had one on each method. This leaves Rob at week 6 on his own at the top of the table but only one fish ahead of the following pack.
Wayne Allen has a habit of catching big fish at the moment. Last week it was a 5lb rainbow this week it was a 5lb zander, unfortunately they don't score any points! However, he was one of very few who managed to catch a fish.With the clearer water and cooler temperatures prospects for next week look better. Hope to see you there…
Jonny Bromilow won the boat voucher.
Rod average 0.47
---
Week 5
Another good turnout with 20 anglers on a warm evening and a pleasure to fish in shirt sleeves until sunset.
Grafham is filling up with murky river water and the entire reservoir was warm and brown. Everyone quickly homed in on the two areas of moving water, the middle inlet and the aerators at the tower. It's not everyone s idea of fly fishing but the fish were up in the water and some very good conditioned fish if 3lb plus were taken with Wayne Allan catching a 5lb rainbow. Albert Coales is very good on the boils taking around 25 pulling a Di5 then 10 on a team of hoppers.
Everyone caught fish including new member John Goringe who travelled up from Hampshire especially for his first session with the club and was rewarded with 3 good fish.
Rob Edmunds won the lucky boat voucher.
Rod Average 6.5
.
---
Week 4
Twenty four of us left the harbour with tactics ranging from di8 booby bashers and lures to floating lines and nymphs, and everything else in between that!
Boats headed to the willows, Gaynes and the dam. The boils were on but with fishing only allowed while drifting away from them a few boats gave it a go but after a couple of fish they moved on.
Rob Edmunds was top rod with 13 fish and this also included a lovely rainbow of 5 1/2 lbs. A number of other anglers did well and caught 7 or more fish. Dave Seagust had his best Tuesday evening so far and had plenty of action drifting between A and Q bouy. He started on a di5 and boobies and, like most people, finished the evening on a floater and washing line tactics. Matt Allen, making his first Tuesday night appearance, did a couple of drifts along Plummers and on the first drift caught 5 fish using a di3, blob and a cormorant, in total 90 fish were caught.
A good turn out with Twenty one of us staying to enjoy sandwiches and chips in the pub, along with plenty of banter and stories about fish dropping of at the net.
Sam Smith won the boat voucher.
                                                                      Rod average 3.7
---
Week 3
Bright conditions, coloured areas and very little ripple always make things a bit more challenging and the rod average was down on the previous two weeks.
Grafham has started to colour up in some areas and anglers headed to the clearer water on the north side. Albert Coales sticking to his reliable sinking line roly poly technique was once again top rod with 17 followed just 2 behind by father Rob Edmunds. This leaves just four anglers with maximum point with Bill Manley and Sam Smith sharing top four spots with Albert and Rob.
Jeff Hickson put in another good performance catching 9 fish mainly on drifts between the Willows and Marlow jetty with a Di3 and blobs and is in the chasing group just 3 point behind but at this early stage positions can change rapidly.
With his luck, Albert Coales should start doing the National Lottery, once again he won the boat ticket!
Rod Average 4.6
.
---
Week 2
23 anglers turned up this week. Gaynes which has been popular earlier in the week has started to get an algae bloom so valley to the sailing club proved popular drifts for those that didn't want to travel across to the north shore. The south westerly wind made drifts parallel to the bank easy with fish showing between 50 and 150 yards out. Mick Facey was the most successful south shore angler with 17 fish followed by Graham Bodsworth with 15, Jeff Hickson with 14 and Jeff Price 13.
Meanwhile last week's top rod Albert Coales and boat partner Wayne Allan, and Rob Edmunds and Sue Potts headed for the north bank. Rob Edmunds and Sue Potts had mixed fortunes with Rob taking 17 and Sue catching a single fish.  Albert is a real master of roly poly and used his skill to pull blobs and catch consistently throughout the evening taking 26 fish and finish top rod once again.
Rod Average 8.8
Paul Heavens won the boat ticket.
–
---
Week 1
After a day of showers and breeze, the evening turned out to be very pleasant with no rain and a reasonably mild southerly breeze.
30 anglers turned up and it was nice to see a good number of recent members joining in. Boats set off in various directions but many favouring Gaynes which had been producing good catches. However it was the north shore that proved to be the most productive with Albert Coales taking the highest bag of the evening.
Most anglers took a relaxed view of the evening fishing buzzers and nymphs and probably had their minds on the post fishing visit to the Wheatsheaf, but Albert in ever competitive mode said that he knew the wind would push fish north and put on a di5 sweep and roly-poly'd two cormorants with a tequila booby on the point to take 26 fish constantly moving between G buoy and Hill Farm.
Ten anglers including recent member Anthony Mottram managed to catch the 6 fish limit and a total 171 fish caught.
Rod Average: 5.7
The boat ticket was won by Albert Coales.
–
"Back to Top of Page"
---
Carr Cup 2021
---
Round 7 (Final) – Grafham 5th October 2021
Another good turnout for the last of this year's Carr Cup matches, 31 members tempted by the prospect of friendly competition and free chips and sandwiches in the Wheatsheaf. The weather forecast wasn't good and the 20mph gusting to 35mph Westerly winds dominated the day.
Reports of bank anglers catching close to the North Shore drew boats initially across the lake and a few fish were taken mostly on FABs and Boobies before the wind strengthened and veered to make it impossible and they moved across towards the relative shelter of the Seat and Sludge banks where Terry Bayes, Mark Brace and Sue Potts had taken 2 or 3 early fish close to the weed-beds. By 12.00 the fleet of 15 boats was mostly crowded between the Seat and Gaynes but everyone kept drifting and with good boat etiquette fish were taken slowly but steadily although boat pressure took its toll later on. A few boats bravely headed to the south dam and Mick Facey took fish on hare's ears in the waves, almost on the concrete. 
Conditions were very testing in the afternoon but some of our most consistent rods overcame them taking their 8 fish limits on floating lines and washing line although Terry Bayes straight-lined hare's ears to be the first to get there.  As usual when it's tough there is a gap between those who crack it and those who don't, 19 of us struggled with 2 or less but 5 overcame conditions to take 7 or 8.
There was no shortage of stories exchanged over a drink in the Wheatsheaf afterwards; who was moat soaked? Who lost most fish? Who lost most leaders? ….and who chopped most gear off in the prop? However, Chris McLeod's experiences were by far the most chaotic and I will leave it to Chris to tell them. (see Members Contributions page)
Top rods on the day were Terry Bayes, Mark Searle, Ray Storer and Keith Gilchrist all catching 8 and Gary How 7, all using similar tactics with floating lines, hare's ears and diawl bachs along the Sludge Bank.
As this was the last round of a highly successful Carr Cup and without doing the sums it must have been the best attended this century. Big thanks to Mark Searle for all the organisation and Alan Prevost for handling all our payments and to the 6 fisheries we visited.
Congratulations to our Champion of the 2021 Carr Cup Series: Fraser Duffy Junior with 275 points, followed by Keith Gilchrist 270 and Terry Bayes 265; such a close finish to a very competitive series. Let's hope we can present Fraser with the trophy at an Annual Dinner in the spring.
---
Round 6 – Rutland Water 11th September 2021
Leading up to the sixth Carr Cup match of the year, normal autumn weather had suddenly developed into a roasting heat wave, which did nothing for the fishing. Reservoirs across the country saw catch returns plummet as fish switched right off;
so prospects weren't brilliant when 27 Invicta members met on a quiet, cloudy morning.  Many started the day with a Simon Peck and pals breakfast cob in the car park. This is becoming a bit of a tradition and certainly replaces the lack of facilities provided by the fisheries.
We knew little had been caught in recent days, even though the weather had cooled and a nice breeze had picked up, but also that 2000 fish had been stocked recently. So members did manage to work up a small amount of enthusiasm especially when fish were chasing first thing and one or two rods started to bend.
The favoured, and almost only, area for most was outside the Lodge, with boats in search of those recent stockies. Some did try elsewhere but this proved unproductive and all gradually returned to East Creek and Church Bay although, as the day wore on, things slowed considerably even there. The sky lightened, the clouds broke up and the sun came out which ensured that most fish were caught in the early part of the day, with very few coming in the afternoon. Andrew Bate did manage to squeak out 5 on his floater and fry patterns to finish top rod, Terry Bayes and Pete Skelton managed 3, there were a lot of 2s and Steve Harding took a lovely four pound fish for the best of the day.
By mid afternoon most had had enough and everybody was off the water by five o'clock. All in all a disappointing day and one that most would want to forget fishing-wise with only a 1.3 rod average, but Invicta days are always friendly and companionable so it's always a pleasure to meet up.
Thanks to Mark Searle for the organisation and to Paul Heavens for updating the league table and website.
Hopefully the waters will pick up soon and we can look forward to our next meeting on 5th October at Grafham.
Chris McLeod
---
Round 5 -Draycote Water 7th August 2021
Never believe the weather forecast when it's changeable and showery. Many were put off this event as strong wind, rain and thunder were predicted. As it turned out, the conditions were almost perfect. Mainly cloudy skies, warm, a gentle breeze and fish right up in the surface layer
29 members ventured out full of anticipation after good fishing reports in the previous days. Very few fish were showing, but as we knew they were well up, most put on the lighter lines with dries and washing lines being on display as the boats left the harbour. Rainbow Corner as ever was a starting point for many, but also the open water, the Lodge dam and into Toft. Virtually no one went over the far side were the breeze made it less comfortable anyway.
The action – initially mainly follows and swirls – was immediate although some found it tricky to start. At last, after lots of hot weather the temperature had dropped and fish were willing to chase, with a good proportion locking up.
We didn't stop for lunch but did finish a bit earlier at 5.30pm. Top rod by a long way was the very consistent league leader Fraser Duffy Jr with 21, all returned, followed by Andy Trafankovsky on 17, Chris McLeod on 12, Mark Searle on 11 and Keith Gilchrist on 10. There were ten 8 fish limits with a total of 196 fish caught for a rod average of 7.75.
There were all the usual tales afterwards. Tony Smith had 1 at lunchtime, switched to dries and reached his limit in an hour. Mark Searle lost 5 of his first 6 fish hooked and then they started sticking. David Moore stuck on 7 until the dying minutes; another great day at an in-form Draycote.
Huge thanks, as ever to Mark Searle for the organisation and to the staff at Draycote for looking after us so well.
Chris McLeod
---
Round 4 Grafham – 4th July 2021
Results at Grafham had been improving over the previous week and 5,000 trout stocked 6 days before had begun to settle down and with heavy cloud and a light southerly wind the 31 members were looking forward to a good day for this 4th Round match.
Most of the boats started with drifts off the Lodge bank but after 30 minutes quite a few nearer the Lodge had moved off, unaware of Albert Coales and Johnny Bromilow towards the West Bank taking fish from the start with Albert taking 8 in their first long drift.
The other boats staying on these drifts across the open water had a good morning whereas those moving elsewhere were struggling with the odd fish.
As information spread across the lake more boats returned to the western drifts but fish were getting cagey. Keith Gilchrist and Sam Smith had caught their 8 fish before moving near the dam and Sam took the best fish of the day 4lb-12oz with a blob 4ft under a bung.
The Edmunds-Coales family were all catching steadily pulling hard across the top with Albert on top form pulling 3 boobies and catching at both ends of the reservoir to finish with 28 well ahead of the field. Rob ended with 15, Sam Smith 14, Keith Gilchrist and Sam Edmunds 13 and Fraser Duffy Jnr 10 fish, which sees Fraser jnr move to the top of the table. Also very noticeable is Steve Harding's consistency with him now sitting in 4th spot.
Ten of the 31 anglers caught their 8 fish for maximum points and the total catch 183. It had been a day for hard pulling and you needed to be in the right area in the morning and the high rod average of 5.6 concealed a hard day for the 14 members who caught three or fewer trout.
Examining a couple of fish afterwards I found daphnia in one and tiny olive buzzer pupae in the other, always resulting in finicky fish.
A big thank you to Mark Searle for organising the day and for volunteering to fish alone after several last-minute changes.
The next round is at Draycote on Saturday 7th August, please pay early if you want to fish.
The Voucher donated by Anglian Water was won by Fraser Duffy Snr.
---
Round 3 Eyebrook – 12th June 2021
A record of 42 Invicta members fished Eyebrook in the 3rd round of our Carr Cup series, a credit to the club and the popularity of this fishery.
Most of the fleet started with a drift across the bowl towards the dam in the NW breeze with a few heading into the western shallows. Reports suggested the catchable fish were going to be deep in the main bowl and although there were plenty of fish rising in the margins and upwind areas this proved correct.
 A few fish were taken on dries early on and this attracted a few boats from the deeper water but by 1pm everyone was in the bowl where those able to cast a long fast-sinking line had been taking fish consistently especially over a relatively small area in the very deepest part of the reservoir.
Casting snakes 40 yards on a Di8 is a skill which few members possess but those who have it caught big numbers and the top 4 rods caught at as many as the other 38 rods!
The usual, highly competitive battle between father and son, Rob Edmunds and Albert Coales ended for a narrow win for Albert, probably, 37-35 but it's not easy keeping count in this speed fishing and Fraser Duffy jnr netted 25 with Pete Webb and Sam Edmunds also in double figures.
Our dry fly specialists who normally excel at Eyebrook had an unexpectedly hard day with a lot of swirls but not many properly hooked, although Graham Bodsworth took 4 and lost a few more on CDCs.
The fish were a good size and in excellent condition and total catch was 218, a rod average of 5.2 and even capped at 8 it was 3.5.
Our thanks go to Ifor Jones and Jim Wright for looking after us and donating a boat fishing voucher for a lucky draw won by Jon Swain.
The next round is at Grafham on Sunday 4th July, please pay and enter promptly to help Alan Prevost and our bookings manager Mark Searle who deserves a medal for arranging such big entry days.
David Moore
---
Round 2 Ravensthorpe -9th May 2021
Ravensthorpe is always a popular venue for Invicta days and with our increased membership it was over-subscribed and a second day is being arranged for the overflow.
Our 30 members took the whole fleet of 15 boats and set out in heavy persistent rain but thankfully the forecast strong winds held off until midday. Several members had fished here in the week and most started downwind towards the Coton end fishing washing line buzzers and a FAB on the point which had worked so well in practice.
Several boats were into fish quickly but unusually there were big differences between partners who thought they were fishing identically. The fish were being very selective about how they wanted the flies presented, static and at the right depth and on the lift and hang but as the wind started to swirl this became quite tricky.
Mark Searle and Keith Gilchrist were keeping level but both in bursts but Mick Facey and Frazer Duffey Jnr. were but well ahead of their normally very successful partners.
David Moore and Steve Harding stayed further upwind from the main fleet starting 100m out from the dam and took 12 in two drifts with David getting his 8th at 11.15 fishing a fast 6ft tip and hanging deep, 11 of his first 12 all taking the FAB before Steve switched to a snake on fast-glass and took a couple nearer the west bank. David changed to an unweighted black snake on a Di5 to take another 6 fish and with Steve on 12 they finished top boat with 30.
Mick Facey fished the same cast all day a FAB with 3 buzzers on a Snowbee buzzer tip also taking 18 fish as did Frazer Duffey Jnr. and Keith Gilchrist, Mark Searle, Wayne Allen and Alan Briggs all caught 10 or more.
In total there were 13 rods catching 8 or more for their maximum 50 points and 217 fish were taken and mostly released, a rod average of 7.3 and everyone commented on the quality and hard fighting fish.
Chris McLeod caught his 8 but not without considerable difficulty and his hilarious account of the day is posted on this website under the 'Members Contributions' page, it's a very good read and full of learning points, especially for Chris !
Our next round is at Eyebrook on the 12th June, demand is already high so make your payment and complete the form now.
David Moore
---
Round 1 Pitsford – 7th April 2021
A hard overnight frost and a bitter NW wind didn't deter a record turnout of 38 members fishing our first outing of the year and we were all full of our usual early season optimism.
Covid-19 restrictions required a staggered start and no weigh-in and so we couldn't compete for the Graham Williams Trophy however Carr Cup points were at stake for the more competitive while we welcomed many new members to their first day with Invicta.
Most boats headed up wind towards the main bowl although a few briefly tested the usual favourite areas en route but without much success. Early fish came to boats drifting onto the Pines but with strengthening winds boats accumulated in the shelter of Brixworth Bay and most opted to anchor 40m from the bank. There was a big hatch of buzzers but fish were taking bright FABS and blobs, snakes and diawl bachs as well as buzzers mostly fished high in the water.
Albert Edmunds pulling his favoured blob and snake combination on a Di5 drifted onto the Pines all day to take the biggest bag of 17 fish and father Rob took 15 on similar tactics. Fish of the day was a fine 6lb brown caught by new member Andrew Bate, weighed and witnessed it's set down a good marker for the best brown of the season trophy.
Chris McLeod and new member Fraser Duffy Jnr. drifted through the Narrows pulling boobies to take 17 as well as getting a lot of other action. The best option seemed to be find free water ahead and wait for the roaming pods. All were clean, well mended, actively feeding fish of a good size, with some better ones in the mix. After a quiet morning Peter Brewer and Paul Heavens found fish between the Dam and Stone Bay and amazingly there were soon 12 boats anchored in a line catching fish steadily, Johnny Bromilow experienced 4 double hook-ups in rapid succession, losing a lot of flies but still catching his 8 fish target. Tony Smith and Simon Peck found fish in the opposite corner with 20 to the boat and all before we discovered that 1500 fish had been stocked off the causeway in the morning!
At the count 13 of the 38 rods recorded 8 or more fish and even capping catches at 8 the rod average was still nearly 5.
A big thank you to Mark Searle for organising a very difficult day with so many late changes to cope with. Our next round is at Ravensthorpe on Saturday 8th May but it is already over-subscribed.
David Moore
"Back to Top of Page"
---
Invicta v Fly Fishing Large Reservoirs
Grafham Water 27th-28th May 2021
Our Annual Pilgrimage was unavoidably cancelled because of Covid restrictions however the newly formed FFLR club was looking for a fixture to practice AMFC conditions and so we offered them a team competition for the same days rather than cancel our boats.
Like Invicta, FFLR has a lot of new anglers who are keen to try competition fishing but alongside some very experienced match anglers and has entered two teams for this year's AMFC matches, so we paired the boats to mix this factor and get the most out of the experience of fishing to AMFC rules.
Thursday involved teams of 12 with a few rods loaned to the other side to balance the draw. Grafham looked perfect with a light ripple and clear water and several of us got off to a quick start before the sun got high and it became very difficult.
Mark Searle, fishing in Pig Bay, was advised by Gary How to remove his FAB and straight-line buzzers, this worked immediately for Mark and he finished top rod, well ahead with 13 but ironically, Gary stopped catching ending as our second rod with 6.
We capped the scores at 12 each and Invicta totalled 54 to be beaten by FFLR's 64 thanks to much more consistent results.
On Friday, we had teams of 17 and with the experience of the previous day telling us to straight line with skinny 12 & 14 buzzers but a heavier 10 on the point we were optimistic. Conditions looked good for this method with very mild, light winds and cloud but it was even harder.
Graham Bodsworth was our top rod with 8 fish towards the Dam and Willows by sticking to the method and his was the best boat with 17 fish. Our Northampton group of Pete Webb, Terry Bayes and both Fraser Duffy Snr and Junior all caught 6.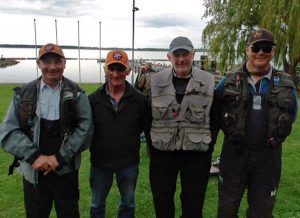 Top rod in the match was FFLR's Trevor Bourne with 12 taking his last 4 fish in 30 minutes pulling blobs on floating line well out from the Lodge !
At the count, FFLR had beaten us comfortable with 78 to our 59 with most of their novices catching reasonable numbers, no doubt a reflection on our helpful members.
Fishing this as a purely team event without any individual weigh-in or prizes created a friendly atmosphere and without the need for entry fees. Anglian Water kindly gave us a discount on the boats which funded two boat vouchers which they matched with two more so we were able to give these in a 'blind pairs' draw which added a bit of fun. Special thanks go to Pauline Gibb working on her own in the Lodge on the first day, so efficient and keeping her cool under pressure throughout.
On a personal note it was a bit chaotic 'herding the cats' but it was always going to be exciting organising something with the ever-enthusiastic Neil Cohen and anglers from all over the country, 'Never again!' I said immediately afterwards but there have been lots of positive comments from both sides and in particular, many very kind comments about Invicta posted on the FFLR website and it's 'WhatsApp' groups set up specially for both days: great for enhancing our reputation as the 'Friendly Club', so maybe I will start thinking about next year after all.
David Moore
"Back to Top of Page"