Membership enquiries to the Membership Secretary:
INVICTA FLY FISHING CLUB OF CAMBRIDGE
Steve Harding
51 Harrow Road
Leighton Buzzard
Bedfordshire
LU7 4UF
Telephone: 01525 854683
Mobile: 07877 313516
Join Invicta Fly Fishing Club
Two ways of joining:
1) The PDF format membership form below can be opened and printed  on any computer that has Adobe Reader, then filled in and  posted to the membership secretary with a cheque.  You can still pay the fee by doing a Bank transfer if you prefer.
Invicta membership form 21 (PDF version)
2) If you have 'Word' software the membership form below can be filled in and saved to your computer then emailed as an attachment to the membership secretary. You can then pay the membership fee by doing a Bank Transfer.
Invicta membership form 21 (Word version)
Bank Sort Code: 20-43-63      Account Number:70514004
Invicta FFC Constitution and Rules: Invicta Constitution and Rules 2021
Members fishing in an  Invicta FFC event or as part of an Invicta Team enjoy the security of knowing that they are covered by 'Public Liability Insurance' up to the sum of £10,000,000
Please note:
Data Protection Act 1998 and General Data Protection Regulations 2018. 
Some of the information contained on these form will be stored on computer file. This will be used for mailing club correspondence and distributed to other Invicta FFC members. Please state if you wish any of this information not to be used in this way and erased from our computer records.
If you allow us to store this information, you may change your mind at any time by contacting the membership secretary who will confirm once your data has been removed.
Invicta FFC Chairman:
Allan Sefton
Invicta FFC President:
Bob Ayres
Invicta FFC Booking Officer:
Mark Searle
email Mark: Click Here
Invicta Treasurer:
Alan Prevost.
15 Willingham Road
Over,
Cambs
CB24 5PD
E-mail Alan: Click here
Website enquiries and submissions:
Paul Heavens
E-mail: Click here
All other enquiries to Club Secretary:
Paul Stevens
E-mail: faith.paul@btinternet.com
Telephone: 01480 403529
Don't forget your Rod Licence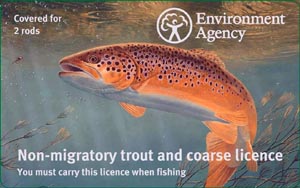 Buy yours online here.